Thomas Rhett Defends Label Mate Taylor Swift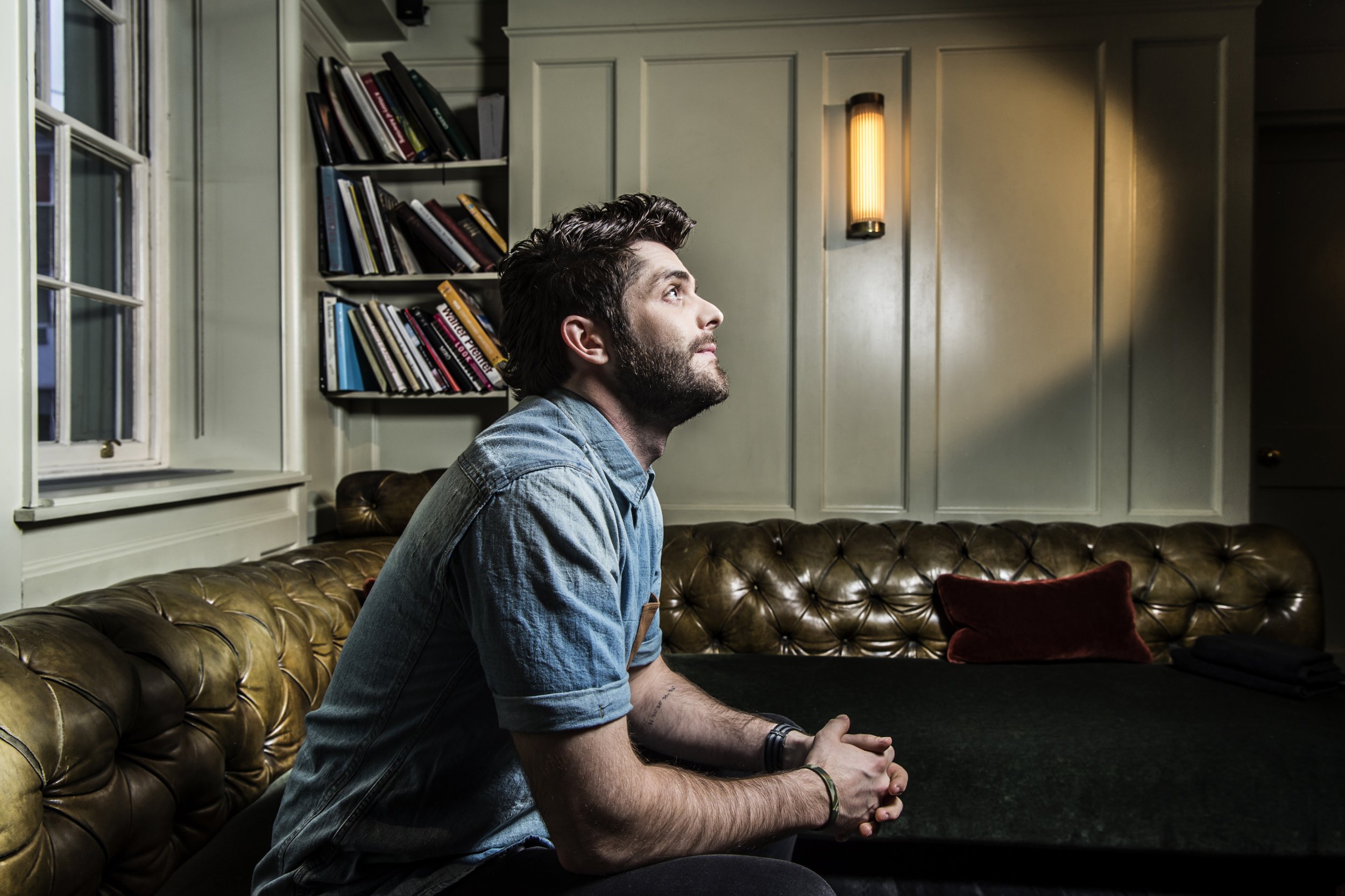 Rising country music star Thomas Rhett has a few words of encouragement for his label mate Taylor Swift: "She's having a tough week, I feel for her. I'll always be a fan of hers."
Twitter users celebrated Swift's supposed downfall this week, after two high-profile incidents appeared to dent her public image. A large mural even appeared in Melbourne, Australia, Tuesday marking the "death" of her career.
But Rhett, 26, tells Newsweek he is confident that Swift will rise above the controversy. The singer grew up in the same social circles as Swift in Nashville, Tennessee, and they are both signed to the country label Big Machine Records.
"I hate negativity in general," said Rhett. "We as artists, we pour so much into our music and put out something we believe in… it sucks that people tear you down."
"It comes with the gig," he continued. "I used to struggle with that pretty hard but now I feel it's better than not having anyone talk about you at all. You have to shield yourself against it and believe in what you're doing. If you're a good person that's all that really matters."
Swift made headlines Monday when her continued feud with rapper Kanye West and his wife Kim Kardashian West erupted across social media. Kardashian West leaked a phone call between Swift and West discussing his contentious song "Famous," which features the lyrics: "I feel like me and Taylor might still have sex / I made that bitch famous." Swift denies West's claims she knew or approved the lyrics, but the rapper and his wife contend she gave him her blessing to release the track.
The renewed feud with the Wests comes just days after Swift's ex-boyfriend Calvin Harris fired his own shots at the popstar on Twitter. He accused her of trying to "bury" his career after it emerged she had co-written his song "This is What You Came For," featuring Rihanna, under the pseudonym Nils Sjoberg.
Rhett added: "She really is one of the nicest, smartest people I've ever met. The way that she treats people rubs off on me."
As well as being on the same record label, Rhett's wife Lauren is among Swift's circle of female friends—although she isn't part of that famous "squad," he says.
"Once Taylor met my wife, they hit it off more so than me and her did. Before I knew it, Taylor was calling her to come over and hang out with her friends," Rhett explained. "Every time we see Taylor at her shows, she is nothing but kind. My wife isn't part of the Gigi [Hadid] squad, but they're definitely more than acquaintances."
Country crossover
If you don't already know Thomas Rhett, you soon will. In June, the singer's musical love letter to his wife, "Die a Happy Man," was named the top country song at the Billboard Music Awards. The video features Lauren and has notched 66 million views on YouTube.
Despite the track's success, it took some convincing to get his wife to appear in the video, Rhett tells Newsweek. "My wife does not like to be in the spotlight, she hates when I put her onstage, but it made the video and the song so much more special to have my actual wife in the video and getting to show our love.
"I've pretty much been married for the majority of my career. I think my fans know who my wife is. So for me to put a random female [in my video], slow dance with her, and pretend that I like her, that would be inauthentic to me—and probably to my fans as well."
Rhett is the son of 1990s country singer Rhett Atkins, who has not released new music in nearly a decade. Rhett has picked up his father's mantle with two studio albums, 2013's It Goes Like This and 2015's Tangled Up, released via Big Machine. He is also the first artist to release music through the label—which counts Swift, Tim McGraw and Reba McEntire among its roster—in the U.K., where country music is not nearly as appreciated as it is in the U.S.
Rhett hopes to change that. He believes his fusion of the genre with elements of pop and R&B will appeal to fans of more mainstream music. "People understand where our country music started and where it's evolved to now—a lot of us are infusing other genres into what we grew up on, which for me was '90s country," he said. "I was introduced to a lot of genres [when I was younger] and I like to use that in my music. I think that makes my music more accessible."
The one thing Rhett wouldn't alter about the country genre, however, is the loyalty of its listeners. In the U.S., country music fans continue to drive sales of physical music, despite a decline across the rest of the industry. "More so than falling in love with the music, they fall in love with you, your life and the person that you are. I think once they love you in the beginning, they're with you until the end," said Rhett of country music fans. "It's tough to say that about a lot of other genres."
But Rhett is keenly aware of the changing times in music. Artists like his label mate Swift have been battling streaming services such as Spotify and YouTube to better compensate artists for views of their work. Rhett, meanwhile, believes there is another group being left out of the conversation—the people that write the songs that we listen to on the radio.
He said: "Coming from a songwriter background, if things become free all the time, a lot of great songs won't be written because there's not a lot of motivation to write them. My sympathy goes to the songwriters that pour their hearts and souls into these songs that artists are cutting. I hope we can figure out a way for songwriters to be [better] compensated."
Thomas Rhett's new single "T-Shirt" is out now. Tickets are onsale for his tour of the U.K. in November.