Thomas Walkup and the Spirit of March Madness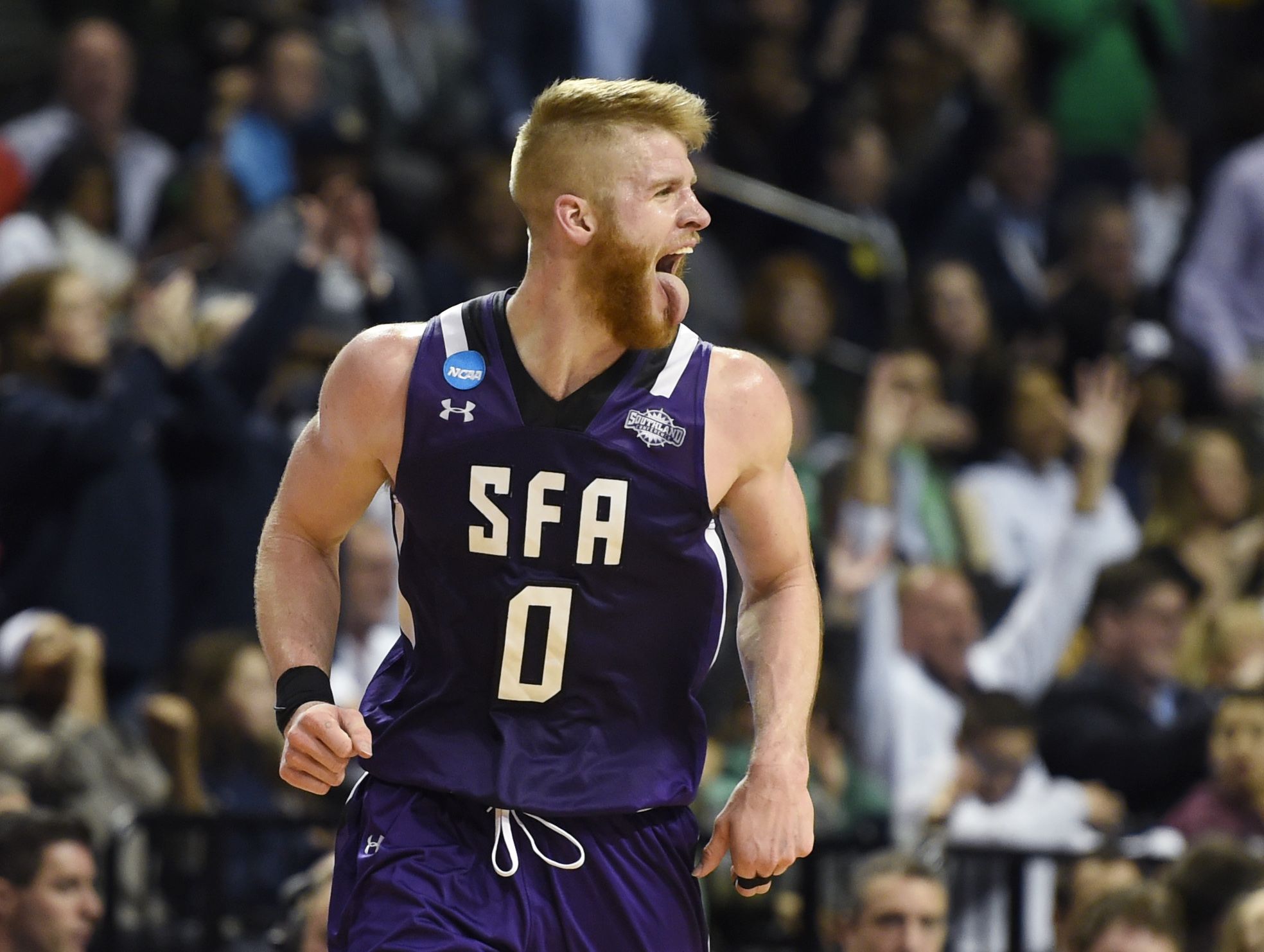 Thomas Walkup stood tall in front of his locker, his eyes moist, his replies sincere and sober. Behind him a postgame meal sat untouched in a plastic container, the condensation occluding the contents inside from view. As Walkup's teammates from Stephen F. Austin (SFA) sat in front of their lockers, ravenously devouring roast chicken, the 6-foot-4-inch senior with the sculpted physique patiently fielded inquiries.
"This is my favorite weekend of the year," Walkup said minutes after playing the final game of his collegiate career. "We were one of the big moments of the show."
They certainly were. From the moment 14th-seeded SFA took the floor in their purple uniforms to face No. 3 seed West Virginia last Friday inside the Barclays Center in Brooklyn, Walkup quickly became the main attraction. With his shaggy strawberry blond beard and hipster coif—buzz cut on the sides with a tossed salad up top—the Pasadena, Texas, native resembled many millennials in nearby Williamsburg. Only his chiseled arms set him apart, but with that added feature he bore an uncanny resemblance to the team's mascot, the Lumberjack.
Walkup scored 54 points in SFA's two games, more than anyone in the NCAA tournament except Oklahoma's Buddy Hield, who is a Naismith Player of the Year candidate and a first team All-American. The SFA standout averaged 18 points per game this season but did not make anyone's All-American team. Like his program, which entered the tourney with the nation's longest win streak—20 games—his invitation to the Big Dance came without fanfare.
Oh, but what an entrance Walkup made. Comfortable at either guard position, he confounded West Virginia and Notre Dame with court awareness and sublime ball-handling skills. On Friday evening, in the Lumberjacks' 70-56 upset of the Mountaineers, Walkup walked up to the free throw line 20 times—and converted 19 of them. In Sunday afternoon's one-point loss to the Fighting Irish, Walkup scored 13 of his team's final 22 points. He was the most dynamic player on the court, if not the entire tournament.
"I don't think we've played against a guy with a feel for the game like that in a long time," says Notre Dame coach Mike Brey, whose Fighting Irish have faced six schools that advanced to the Sweet 16 this season. "Walkup plays like a seven- or eight-year veteran."
Too quick for anyone his size, too fast for anyone who with equal strength, Walkup was a matchup nightmare for his opponents. No one could guard him. No one could take eyes off him. "He's our school's all-time leading rebounder too," says SFA coach Brad Underwood, who dresses and speaks like a detective from Dragnet. "Thomas led us in assists. He led us in steals. He's a special player."
Of the 32 Division I conferences, only one this season, the Southland, boasted a school that went undefeated throughout its conference schedule: SFA. The Lumberjacks finished 18-0, won their conference tournament and entered the postseason on that aforementioned 20-game win streak, the nation's longest. As they entered Sunday's second-round game versus No. 6 seed Notre Dame, only one of the Lumberjacks' previous 21 foes had even come within 11 points of them.
How did so few of us beyond the borders of Nacogdoches—a Texan town that most reporters can spell correctly only after sneaking a peek at a press release—know about SFA and Walkup? How, in that fallow sports period between the final snap of the Super Bowl and the tipoff of March Madness, had none of us unearthed this gem? "You tell me," replies Underwood. "If you're not in a power conference, nobody wants to talk about you."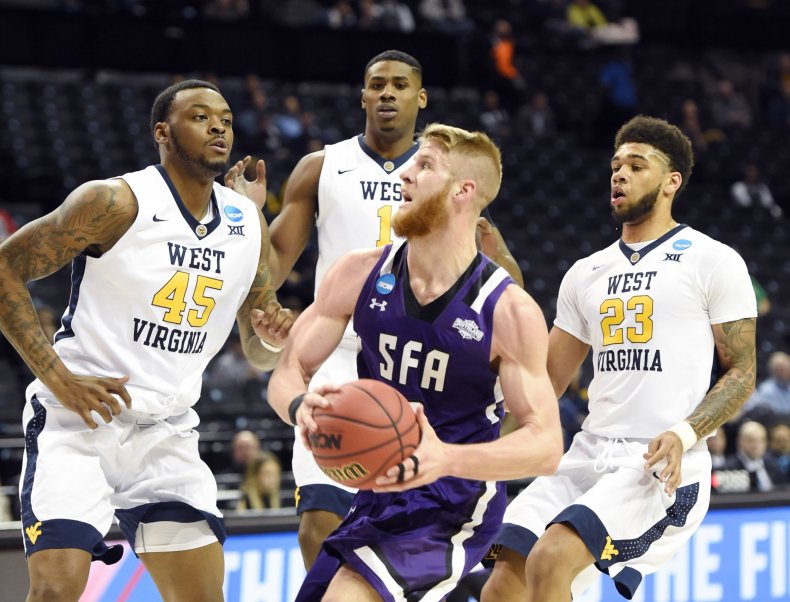 Underwood, 52, is in his third season at Stephen F. Austin. He had never been a head coach at the four-year college level before being offered the job a few months shy of his 50th birthday. Since his arrival, the Lumberjacks are 53-1 in conference play and 89-14 overall. This was SFA's third straight NCAA tournament. For those who speak fluent college football, SFA is Boise State and Underwood its impassioned advocate.
"We can't get a major Division I school to come to our arena to play," says Underwood. "We had to appease our season-ticket holders and try to get a D-I school to come play us this season. We could only get one, Texas Southern," a program that exists in the same, ESPNU-at-best orbit.
With 2:05 to play on Sunday, Walker made two free throws—he finished 26 of 27 from the line over the weekend—to give the Lumberjacks a 75-70 lead over the Fighting Irish. The sporting public had its new favorite underdog. It was not just that Notre Dame is one of the true Goliaths of college sport; New Jersey Governor Chris Christie, whose daughter is a student manager for the team, was in attendance, rooting for the Irish. "Fairy tales can come true, it can happen to you…"
It was not to be. SFA did not score again. Notre Dame freshman Rex Pflueger, a 6-foot-5-inch Southern California native, tapped in a missed shot with one hand with 1.5 seconds to play. The Irish won, 76-75, and Walkup, who embodies everything there is to love about the tournament's opening weekend, exited the court with tears welling in his eyes.
"Thomas is a better kid than he is a player, and that's what I'll miss," Underwood said of his departing senior. " He's funny. He's smart. How do you not fall in love with a kid like that? He's everything that this is about."
Underwood is right. Each winter the Super Bowl ends and the world of sports goes into hibernation. Sure, there are still games and athletes to marvel at (thank you, Stephen Curry). But sports fans settle in for a long winter's nap. Each year it is March Madness that heralds the end of our hibernation. Each year an unforgettable team or player, or both, captures our fancy. This year we witnessed Thomas Walkup. And we woke up.