Who's The Villain In 'Thor: Love and Thunder'? Meet Christian Bale's Gorr
Thor: Love and Thunder has released a new trailer that gives Marvel fans their first glimpse of new villain Gorr the God Butcher, played by Oscar-winner Christian Bale.
The Thor 4 trailer reveals Gorr as a villain with ashy grey skin, a scarred face and white robes. Perhaps the gods made fun of the character's monochrome pallor as a kid, because now he is known as the God Butcher—pretty bad news for the MCU's favorite god, Thor (played by Chris Hemsworth).
Gorr the God Butcher is a relatively recent addition to the Thor comics, but has made an impact in his first decade. Selecting Bale as the character continues the tradition of casting Oscar-winning actors to play Thor bad guys, following Cate Blanchett's turn in Ragnarok.
Here's what we know about Gorr the God Butcher from the comics, and what the makers of the movie have said about their version of the character.
Who is Gorr the God Butcher?
In the comics, there is a dark existential question at the heart of Gorr—though as existential bleakness is hardly a box-office draw, it remains to be seen how much of this will translate into the movie. That question is—how can we believe in a higher power when there is so much suffering in the world?
Gorr comes from a planet on the brink of starvation, where he sees his family, wife and all but one of his children die of hunger and/or earthquakes.
This Job-level suffering might cause even the most staunch believer to question their faith. In the MCU, however, the gods are not only real but sometimes walk among mere mortals.
Gorr stumbles across two gods fighting, and one of their weapons decides to turn into what the Marvel Wiki poetically calls "an amorphous mass of living darkness." This darkness bonds to Gorr, becoming the very metal-sounding All-Black the Necrosword. With this weapon, he vows revenge on all the gods who forsook him, and pledges to kill them all.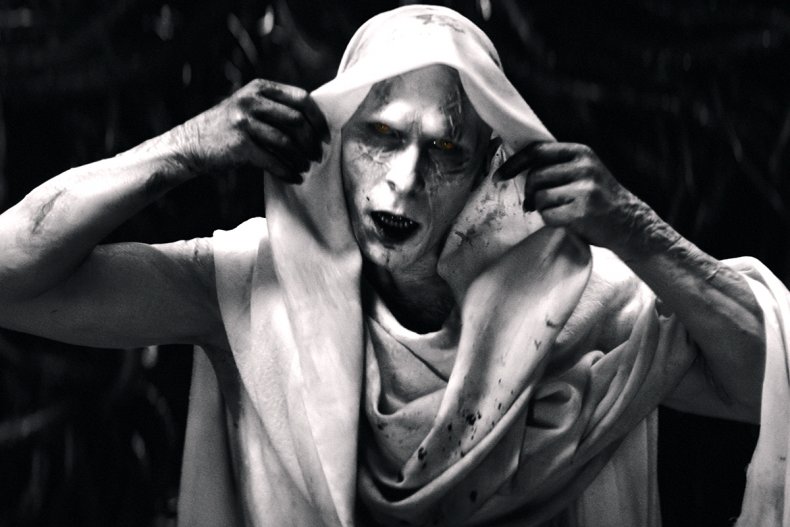 Of course, this eventually puts him in the path of everyone's Asgardian. How much of this storyline Love and Thunder will take has not been revealed, but IMDB lists the movie's tagline as: "Thor enlists the help of Valkyrie, Korg and ex-girlfriend Jane Foster to fight Gorr the God Butcher, who intends to make the gods extinct." As revealed in the Thor: Love and Thunder trailer, another of those gods is Zeus, played by Russell Crowe.
In an Associated Press interview, director Taika Waititi said of the film: "It's a great, really fun, weird little group of heroes, a new team for Thor with Korg, Valkyrie, and The Mighty Thor. And, in my humble opinion, we have probably the best villain that Marvel's ever had in Christian Bale." He added in an Entertainment Weekly interview that the character is "very layered."
When the character's action figure was first revealed, there were grumbles among Marvel purists as the movie version has a nose. This is a slightly different look from the comic version, who is somewhere between Voldemort and a white version of the Heartless from Kingdom Hearts. Thor 4's Gorr has more of a '90s Marilyn Manson vibe.
Gorr's co-creator Jason Aaron said of this in his Substack newsletter: "As the guy who co-created him, along with Esad, I'll just say that it wasn't Gorr's nose (or lack thereof) that made him the tragic and deeply disturbed God Butcher that he was. Trust in the face of Christian Bale. Need I remind you, it's a pretty goddamn talented face."
Thor: Love and Thunder comes to cinemas on July 8.