Those Exposed to COVID With No Symptoms Don't Need a Test, Florida Health Department Says
The Florida Department of Health updated its guidance for COVID-19 testing on Thursday, and said that for those who have been exposed to the virus but don't have symptoms, "COVID-19 testing is unlikely to have any clinical benefits."
In a statement on Thursday, the department said it had issued updating testing guidance "to maximize the benefits of COVID-19 testing in Florida." The new guidelines come as the state has seen high demand for testing as the highly contagious Omicron variant spreads.
The department says that those who have COVID symptoms and who are at an increased risk of experiencing severe illness from the virus should "get tested for COVID-19 soon after symptom onset" and "seek early monoclonal antibody or antiviral drug treatment and seek other medical treatment as necessary."
Those who have symptoms, but are not at increased risk for severe illness should "consider getting tested for COVID-19 soon after symptom onset," and "seek medical treatment only as necessary," according to the overview of the guidance.
The overview notes that many infected with the virus "may have no symptoms or a mild illness," and also recommends that if someone becomes symptomatic they should "avoid contact with others."
The new testing recommendations contradict guidance from the Centers for Disease Control and Prevention (CDC). The CDC recommends that not only people who are symptomatic but also those who have been exposed to someone infected with COVID-19 should receive a test.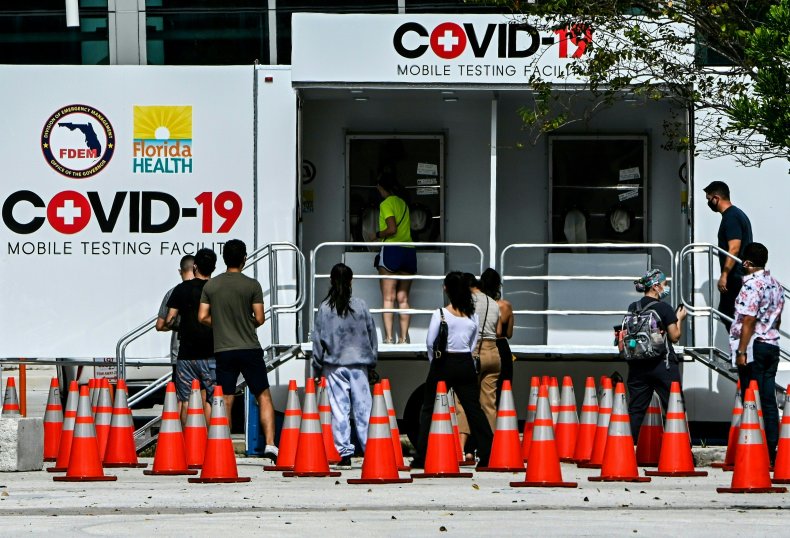 Individuals "who have come into close contact with someone with COVID-19 should be tested to check for infection at least 5 days after they last had close contact with someone with COVID-19," according to the CDC.
Like other states, in recent days Florida has seen long wait times at COVID test sites, and a surge in cases.
Florida Governor Ron DeSantis said at a Monday press conference that the state would be updating its COVID-19 testing guidance and that it was working with Florida Surgeon General Dr. Joseph Ladapo to do so.
"He's going to work on some guidance to say let's test for a reason," DeSantis said.
During the Monday news conference, Ladapo said: "We need to unwind the testing and living one's life around testing."
"My goal is to put out testing that doesn't restrict access to testing, but reduce the use of low-value testing and prioritizes high-value testing. High-value testing is likely to change the outcome," Ladapo added.
When reached by Newsweek for comment, a spokesperson for the Florida Department of Health referred to Ladapo's comments at press conferences with DeSantis in recent days.
"As he says, this guidance is about impactful testing with a focus on what will actually change clinical outcomes," the spokesperson said.