Those Investigating the Last Insurrection Need to Focus on the Next One | Opinion
"Our democracy remains in danger. The conspiracy to thwart the will of the people is not over."—Rep. Bennie Thompson (D-Miss.), chair of the Jan. 6 committee
At the first public Jan. 6 committee hearing last week, vice chair Liz Cheney (R-Wyo.), correctly noted that the attack on the Capitol was "not a spontaneous riot." The attack was a complex quasi-military attack planned by a cabal of Trumpists, Oath Keepers, and Proud Boys who had been plotting since November 2020. That's when then-President Donald Trump, desperate to stay in power, encouraged his Twitter followers to come to Washington on Jan. 6: "Be there. Will be wild!"
Trump's tweet was "a pivotal moment" that "led to the planning" of the assault, according to Cheney, who called out the Proud Boys for leading "the invasion of the Capitol and the violence that day." However, Twitter wasn't the only social media or tech platform used to plan and carry out a violent attempt to overturn a legitimate election.
In the hours before the Jan. 6 attack, Steve Bannon used his podcast, which was available from YouTube and could be downloaded via Apple and Google, to spout election fraud lies and incendiary rhetoric to enflame followers. Roger Stone did the same through his Parler account, and the Proud Boys used Parler to plan the attack. Parler was still available on Apple and Google app stores on Jan. 6, providing a potent weapon to any insurrectionist with a smartphone.
Facebook, too, struggled with content that violated its user guidelines, and ultimately, endangered our democracy. An internal, post-Jan. 6 review found that Facebook failed to rein in "Stop the Steal" groups that were spreading election fraud lies.
In the aftermath of the insurrection, social media and tech companies took steps that could help prevent the next insurrection. Trump, whose words and actions encouraged violence, was booted off Twitter and Facebook. Shopify removed Trump's campaign store. PayPal shut down some of the groups that supported him. YouTube cracked down on election disinformation, and after the Capitol attack, permanently banned Bannon. Apple and Google removed Parler from their app stores.
Whether you love Big Tech companies or despise them, there's no doubt that they have their hands full managing the content posted by users. It's a never-ending game of Whac-A-Mole.
It is especially troubling, then, that Congress is on the brink of making it more difficult for platforms to fight misinformation. The problem comes in the form of a Big Tech antitrust bill that has both bipartisan support and bipartisan opposition.
Republican Senators Ted Cruz (Texas) and Josh Hawley (Mo.)—along with Representative Matt Gaetz (R-Fla.)—have inserted language that would allow Republican state attorneys general to sue on behalf of anyone or any product that is being de-platformed.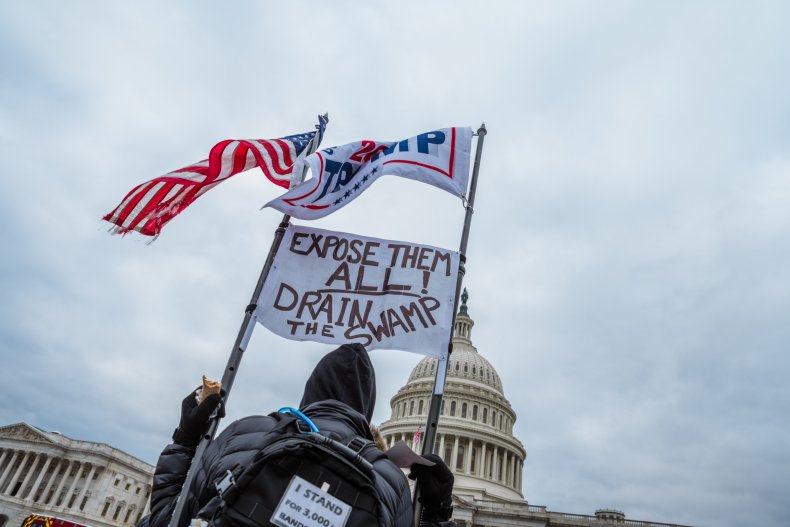 Senator Alex Padilla (D-Calif.) agreed with the law's intent but has stressed the importance of "not inadvertently facilitating hate speech." This concern has Democratic Senators Cory Booker (N.J.) and Mark Warner (Va.) rethinking their support of the bill.
It's clear to me that our democracy hangs in the balance. The stakes here are too high for horse-trading and wishful thinking.
I spent decades covering politics and Congress, and I know the difference between a principled compromise and a poison pill. I also understand the impact of misinformation, and the importance of fighting it. We need guardrails, both online and on cable television, to keep extremists from steering us over a cliff. This language must be removed from the antitrust bill if Congress wants to regain the trust of voters, who are appalled by what they saw on Jan. 6.
Of course, there are other steps we have to take. We need to support the Capitol Police, share information across agencies, figure out how to talk to each other even when we disagree, even when some of us seem untethered from reality. And, yes, we need to vote against election deniers and vote for those who would choose small-d democracy over partisanship and power. Yes, we have to fix all that and more.
But right now, Congress can do something to rein in misinformation, whether it's anti-vax propaganda or election lies, by cleaning up the antitrust bill.
It's one step on a long, long journey, the goal of which is the same as that of our founders: to form a more perfect union, one where we have a shared appreciation of the values that bind us, where we have peaceful transitions from one administration to the next, and where our democracy persists and grows stronger.
Carl Cameron is the co-founder of Front Page Live and a former chief political correspondent for Fox News.
The views expressed in this article are the writer's own.