Those Who Didn't Evacuate for Hurricane Laura Told to Put Name of Next of Kin in Ziploc Bag
Louisiana officials, on Wednesday, issued a warning to those not evacuating for Hurricane Laura, telling them to put their next of kin in a Ziploc bag.
In a Facebook post, the Vermilion Parish Sheriff's Office in Abbeville, Louisiana, wrote "Those choosing to stay and face this very dangerous storm must understand that rescue efforts cannot and will not begin until after storm and surge has passed and it is safe to do so."
"Please evacuate and if you choose to stay and we can't get to you, write your name, address, social security number and next of kin and put it a ziplock bag in your pocket," the Facebook post said. "Praying that it does not come to this!"
The Facebook post also ordered evacuations for several areas due to the projected track and strength of the hurricane.
"If the storm maintains its current track and projected strength as a CAT 3 or 4, it will cause massive tidal flooding with a possible 12 to 18 foot surge and catastrophic wind damage to structures in Vermilion Parish creating a very dangerous situation to include loss of life," the post said, adding that a curfew was in place beginning on Wednesday at 9 p.m. local time, until further notice.
The Vermilion Parish Sheriff's Office told Newsweek that they had no further comment on the warning issued on Facebook.
The warning from the Vermilion Parish Sheriff's Office came shortly before Hurricane Laura made landfall in Cameron, Louisiana, at around 1 a.m. Thursday. According to the National Hurricane Center, the storm was expected to bring damaging "damaging winds and flooding rainfall" across Western and central Louisiana. Laura was classified by the NHC as a Category 4 hurricane.
"Life-threatening storm surge continues along much of the Louisiana coastline," the NHC wrote in an update on Thursday morning.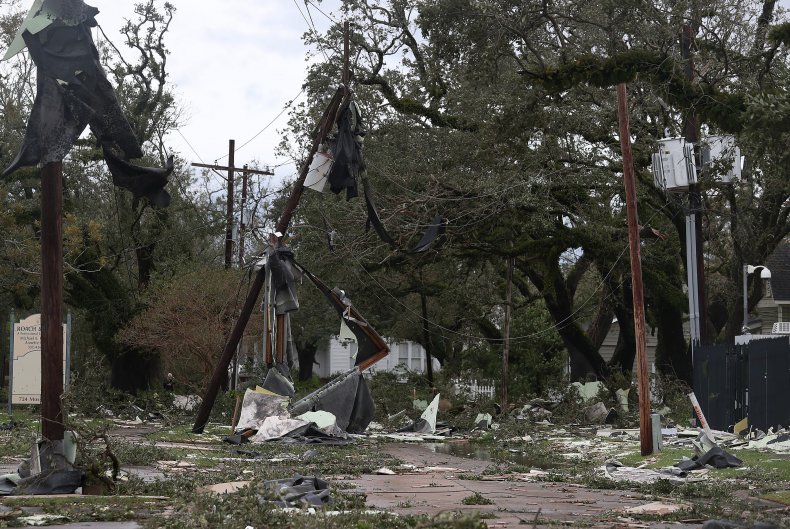 Tony Guillory, president of Calcasieu Parish's police jury, in Louisiana, told ABC 13 news in Lake Charles that people who didn't evacuate were seeking assistance, but the storm complicated rescue procedures.
"People are calling the building, but there ain't no way to get to them," he told the news station.
Prior to the storm Louisiana officials ordered thousands of residents to evacuate as wind speed and storm surges increased. Photos posted across social media, showed the damage caused by Hurricane Laura on Thursday morning.
"First light is revealing the incredible damage #HurricaneLaura did here in #LakeCharles #Louisiana over night," one Twitter user wrote, with a video that showed the Capitol One Tower in Lake Charles.
On Thursday morning, Louisiana Governor John Bel Edwards took to Twitter to tell residents that the threat from Laura "is ongoing."
"Stay home, continue to heed the warnings and instructions of local officials and monitor your local news to stay informed," the governor wrote.