Thousand-Year-Old Saudi Arabian Tombs Provide New Glimpse Into Linked Civilizations
The long history of the Arabian Peninsula is a bit clearer due to recent research.
A new archeological study suggested that a network of lost highways in the peninsula, which is now Saudi Arabia, are approximately 4,500 years old and linked together in a purposeful way.
The study, titled "The Middle Holocene 'funerary avenues' of north-west Arabia" and published in peer-review journal The Holocene, explored how many of the pathways are flanked by stone monuments which are actually ancient tombs.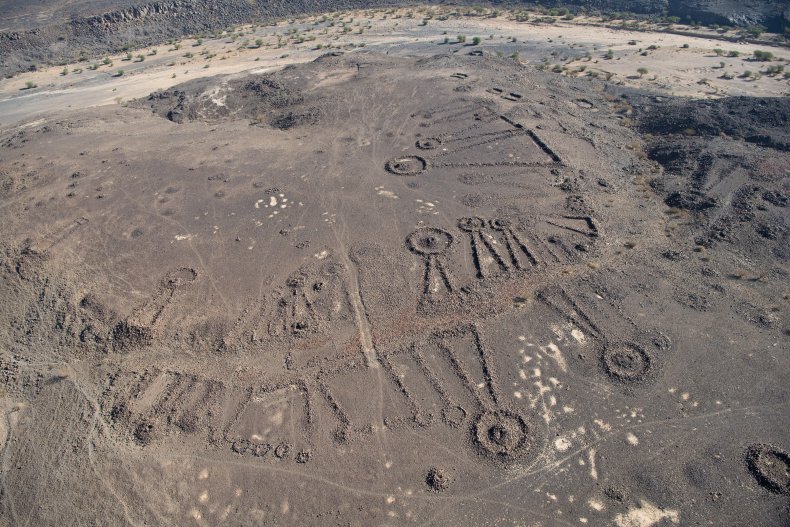 It also showed how animal herding and drought avoidance were accomplished as the aforementioned avenues led individuals to water sources.
"Thousands of kilometers of these composite path and monument features, 'funerary avenues,' can be traced across the landscape, especially around and between major perennial water sources," the study said. "By evidencing routes of human movement during this period, these features provide an emerging source for reconstructing important aspects of ancient mobility and social and economic connectivity.
"They also provide significant new evidence for human/environment interactions and subsistence strategies during the later Middle Holocene of northwest Arabia, and suggest the parallel existence of mobile pastoralist lifeways and more permanent, oasis-centered settlement."
Dr. Matthew Dalton, lead author of the study, is a research associate at the University of Western Australia. He and other archeologists from the university conducted research for what is their fourth peer-reviewed article within the past year, working under the Royal Commission for AlUla.
Dalton told Newsweek that the team has studied the region's features for four years, using satellite imagery and hundreds of hours of helicopter photography to trace funerary avenues over 160,000 square kilometers of northwest Arabia.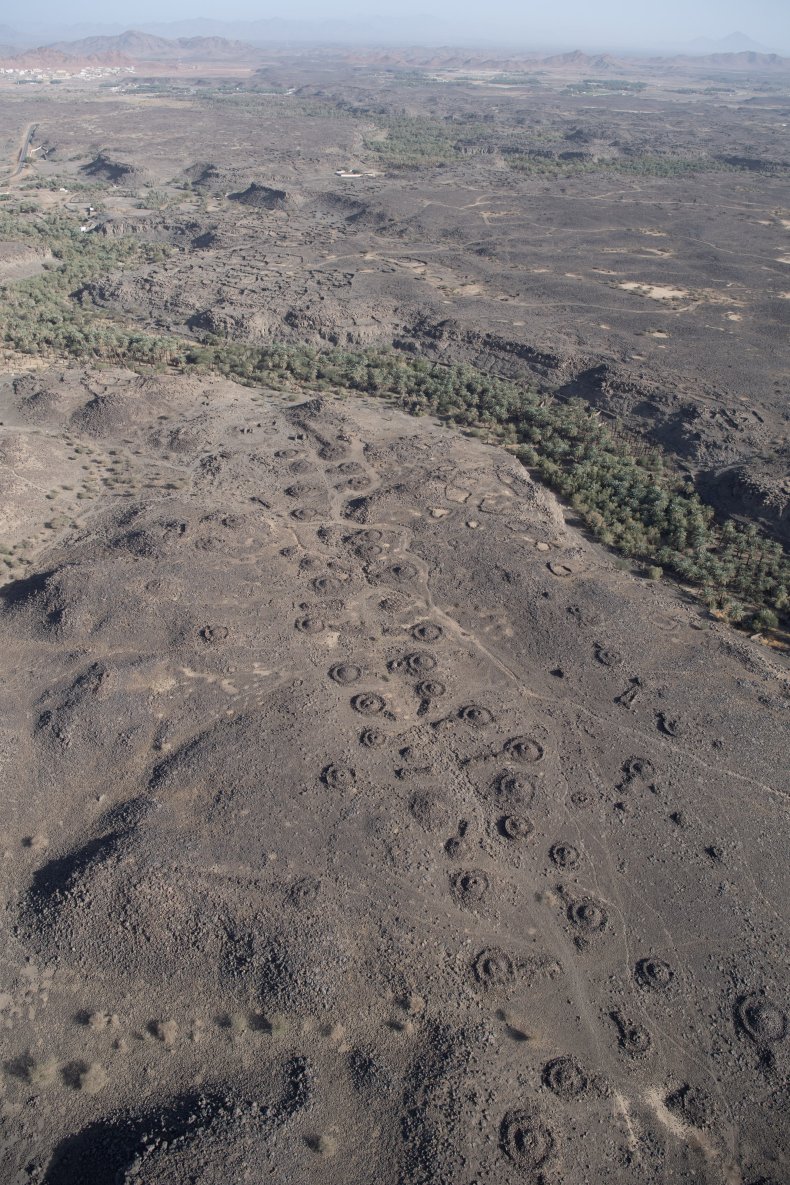 To determine the age of the avenues, tombs were tested in a scientific manner.
"Our team was invited by the Royal Commission for AlUla to study parts of AlUla and Khaybar counties in northwest Saudi Arabia in 2018," Dalton said. "We work alongside Saudi and international heritage professionals to record and analyze monuments from around 6,000 BCE through to recent times.
"Incredibly well preserved stone 'pendant' tombs and long-distance funerary avenues are amongst the most common monument types in the region. Local people have known about them for thousands of years, and now Saudis are using Google Earth, drones and light aircraft to explore them from the air."
Funerary avenues were "the major highway networks of their day," Dalton said, showing that populations living in the Arabian Peninsula during the Bronze Age "were far more socially and economically connected to each other than previously thought."
He said that oases in the area, especially in Khaybar, exhibit some of the densest concentrations of funerary monuments ever known.
"The sheer number of Bronze Age tombs built here suggests that populations had already begun to settle more permanently in these favorable locations at this time," he said. "Alongside other recent discoveries, this is really changing the way we look at the early history of the Arabian Peninsula."
Amr AlMadani, CEO of RCU, said that the additional knowledge of the region's ancient inhabitants reveals that "they lived in harmony with nature, honored their predecessors, and reached out to the wider world."
Saudi Arabia "is a home for top-flight science," he added.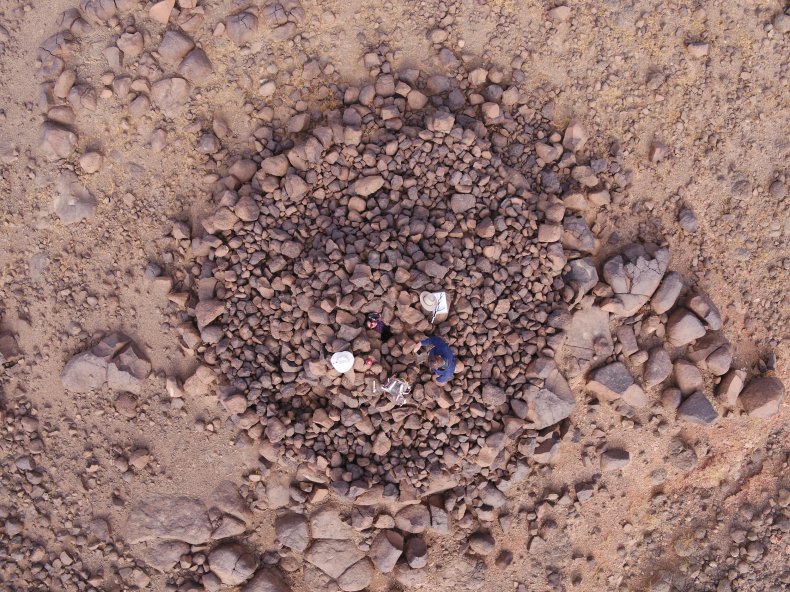 Research teams are expected to continue to explore that specific region this year. Dalton said there are still unknowns, such as how the people lived and interacted with neighboring societies, or how they viewed death and the afterlife.
"These and other recent findings in Saudi Arabia are amongst the most exciting archeological discoveries being made worldwide," Dalton said. "They're coming to light now in part because archeological fieldwork in the country has increased so much in recent years. We've seen a huge interest in this heritage both in the country and internationally, and this will only grow as more and more fieldwork takes place.
"The best way to learn more is by studying more of these tombs and the places that ancient people actually lived. This is a massive undertaking, and it's going to be really exciting to see what new evidence emerges over the coming years."