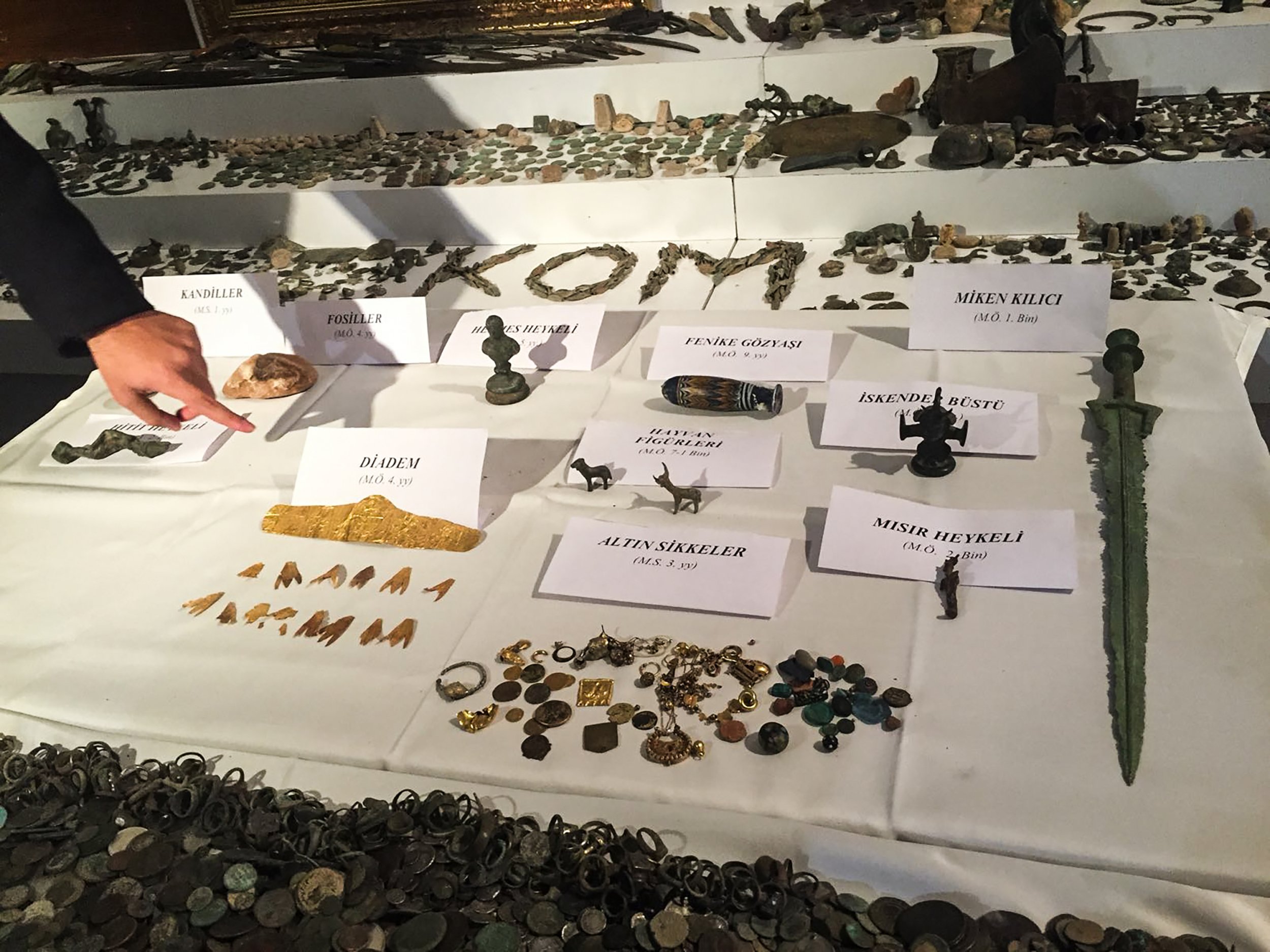 In the largest raid of its kind, police in Turkey seized thousands of ancient artifacts dating back to various eras from Greek, Egyptian and Anatolian civilizations, officers announced on Thursday.
Security officers had kept an eye on the smuggling network for three months, suspecting that the participants were attempting to sell the ancient items abroad, Reuters reported. Then on December 12, they launched their first operation—called "Operation Zeus"—that resulted in the capture of 19 suspects, according to the Daily Sabah, a Turkish newspaper.
Among the 26,456 artifacts recovered, many were ancient coins. Other notable items were a 3,000-year-old Mycenaean sword, a queen's crown marked with golden leaves and an illustration of Helios.
"The retrieved artifacts… [are] more valuable than the artifacts in the inventory of an average-size museum," Istanbul police said in a statement.
The items—which were found across four Turkish cities—will be given to the Istanbul Museum of Archaeology.
Security sources believe the suspects were trying to take the objects to other countries and sell them to museums for millions. Illegally smuggling, trading and selling such ancient treasures has long been a problem in Turkey—a country filled with rich history resulting from its many storied civilizations and ancient cities.
Over the past decade and a half, there has been an uptick in antique gold coins exported to the U.S. from Turkey, according to a 2016 investigation by Live Science. During a 13-year-period—1989 to 2002—about 2.5 pounds of antique gold coins were exported from Turkey to the U.S. Then in 2003, the year the Iraq War started, the number began to rise. Between 2003 and 2010, 57 pounds were exported. It rose even higher over the next six years, jumping to 112 pounds between 2011 and July 2016. From 2003 until 2016, the U.S. Census Bureau estimated $283 million of artifacts made their way from Turkey to the U.S. It's unknown exactly what caused the surge, but looting is suspected.
"It is extremely difficult to prove that any single artifact that arrives in the U.S. has been looted," Erin Thompson, a professor of art crime at the City University of New York, told Live Science. "Middlemen are experts in making looted and smuggled antiquities look like they are part of the legitimate market by cleaning and restoring them and creating forged paperwork that makes it seem like Egypt gave permission for its export."
Like Turkey, Egypt is also experiencing an increase in artifact exports. In late 2016, the U.S. Immigration and Customs Enforcement (ICE) conducted a multiyear investigation that led to the return of an ancient mummy hand to the Egyptian Embassy. Between 2007 and 2016, ICE has found and returned more than 7,800 artifacts to more than 30 countries, according to a statement from the agency.