Thousands Arrested for Stopping Women From Entering Indian Temple Despite Supreme Court Ruling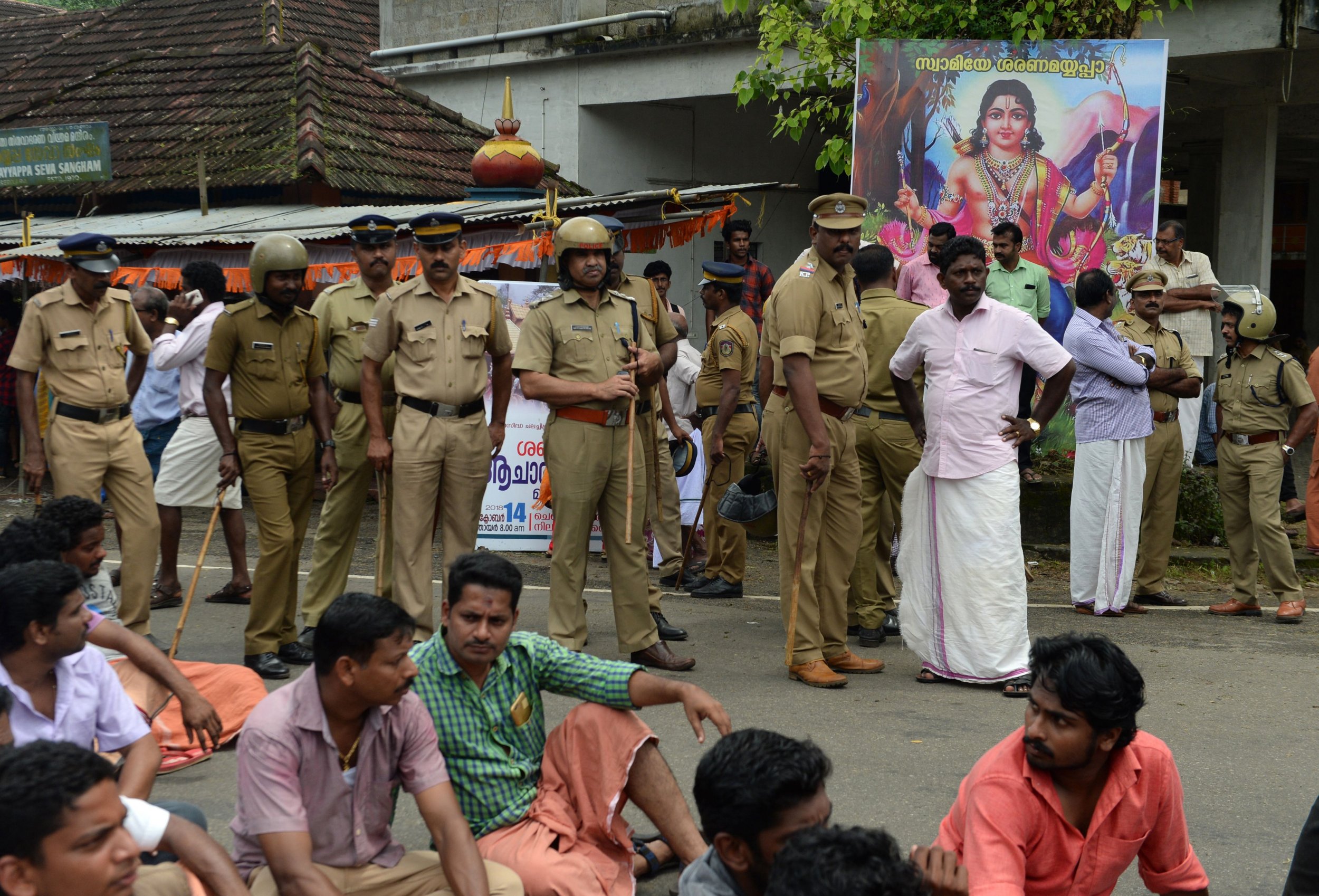 Indian police arrested at least 2,200 people following violent protests to stop women of "menstruating age" from entering a Hindu temple.
The arrests took place in the south Indian state of Kerala, as protesters complained about a recent court ruling that allows women between the ages of 10 and 50 to enter the Sabarimala Temple, where a celibate deity is worshipped, NDTV reported.
"We have arrested those who prevented women from entering the temple and also those who violently protested against the court's order. We hope that this will act as a deterrent when the temple reopens in November," a senior police officer told the BBC.
The arrests occurred over a period of two days, but authorities released at least 1,500 of the more than 2,200 people arrested on bail in order to keep jails from overflowing. Pinarayi Vijayan, the state's chief minister, reportedly ordered the arrests after meeting with police officials.
"Cases have been registered as that's the way it should be done. We have also decided to set up a special committee to see that the upcoming festival season (starting on November 17 for two months) does not see a repeat of the situation in October," Director General of Police Loknath Behra said, according to NDTV.
The temple, dedicated to the deity Ayyappan, is open for short periods of time throughout the year. Hinduism perceives menstruating women as unclean, and protesters say that Ayyappan is a bachelor who himself gave the order to not let women of a certain age into the temple.
Some members of a group called Shiv Sena even threatened to commit suicide if women entered the temple.
"Seven members of our organization are ready to sacrifice their lives if the women come forward to defy the customs and traditions of the temple," Peringamala Aji, a leader of Shiv Sena said, according to Reuters.
In fact, protesters from another group had to save a woman who tried to commit suicide after seeing attempts by other women to enter the temple.
Women could not make it into the temple last week, despite state police sending around 1,300 officers to protect those who tried to make their way through the group of protesters. Authorities were outnumbered by protesters who became violent, forcing officers to fight back.
"They attacked the police vehicles and the policemen. We had to resort to physical intervention," Behra said, following the incident, according to CNN.
India's Supreme Court repealed the centuries-long ban at the end of September, saying that the constitution "protects the equal entitlement of all persons."