Thousands Attack Police, Burn Station in Effort to Lynch Man Accused of Desecrating Quran
Thousands of people attacked and burned a police station in Pakistan after the group of people attempted to lynch a man who was accused of disrespecting the Quran, the Associated Press reported.
The thousands of protesters burned four police posts and a police station overnight after police officers refused to hand over a mentally unstable man accused of insulting the Quran. Police officers were forced to bring in more troops to help contain the protests. No officers were hurt in the attacks, local Officer Asif Khan said.
Police officers stopped the mob from lynching the man and moved him to another district for safety. The detainee was arrested a day ago and officers are still investigating the claim. They did not disclose his name.
Khan said police avoided using force to prevent casualties among the protestors. Officers tried to resist the crowd of thousands but ultimately fled after they started to attack the police buildings.
Authorities said they had arrested around 30 people in connection with damaging the police station, VOA News reported.
Residents said tension was still high in Charsadda, a district in Kyber Pakhtunkhwa. Police were deployed to prevent further unrest. Khan said they involved a local Islamic cleric to help diffuse the tension between protesters and encourage the demonstrators to let the law decide what happens to the man who allegedly insulted the Quran.
For more reporting from the Associated Press, see below.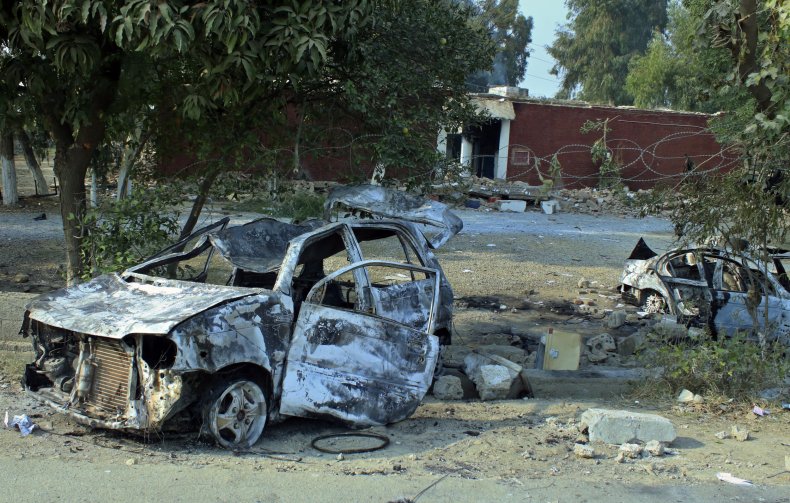 Blasphemy carries the death penalty in Pakistan, where mere allegations of the offense are often enough to provoke mob violence. International and domestic rights groups say that accusations of blasphemy have often been used to intimidate religious minorities and settle personal scores.
In 2017, a group of students at the Abdul Wali Khan University in the northwestern city of Mardan attacked and killed another student, Mohammad Mashal, after accusing him of sharing blasphemous content on Facebook.
A Punjab governor in Islamabad was also shot and killed by his own guard in 2011, after he defended a Christian woman, Aasia Bibi, who was accused of blasphemy. She was acquitted after spending eight years on death row and, receiving threats, left Pakistan for Canada to join her family.
An anti-terrorism court in eastern Pakistan issued a death sentence in July to a former security guard who in 2020 shot and killed his bank's manager after accusing him of insulting Islam's Prophet Mohammad.
However, not all who are sentenced to death see the penalty carried through. A Pakistani appeals court in June acquitted a Christian couple sentenced to death several years ago on blasphemy charges for allegedly insulting Islam's Prophet Muhammad. The two were arrested in 2013 and tried on suspicion of sending a blasphemous text message to a local cleric in Punjab.