Thousands of Barrels of Bourbon Crash to Ground After Building Collapses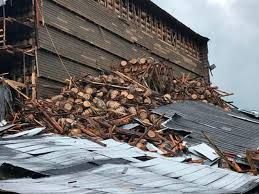 Thousands of barrels of bourbon whiskey crashed to the ground when a Kentucky building where they were being stored for aging collapsed.
About 9,000 stacked barrels of the whiskey came down Friday at Barton 1792 Distillery, where 1792 Bourbon is made.
The building, storing about 20,000 barrels of the bourbon, was having its walls repaired when the roof caved in and half the structure collapsed, according to reports.
Police said that there were no injuries caused by the collapse, as no one was inside the building at the time.
Officials from the state's Department for Environmental Protection were concerned that spilled bourbon from the barrels could contaminate a creek downhill from the collapsed structure, reported WLKY.
But water sample tests so far found no trace of the liquor.
The distillery told WKYT it would close its visitor office and not offer further tours Friday. It plans to reopen Saturday morning.