Thousands Believed to Be Forging COVID Vaccine Certificates in Israel to Avoid Shot
Thousands of Israelis have reportedly forged certification they have received the COVID-19 vaccine in order to avoid getting the shot.
In a speech on Sunday, Prime Minister Benjamin Netanyahu's announced a robust roll-back of coronavirus lockdown restrictions. His cabinet voted to approve the easing of the country's lockdown on Monday, paving the way for all Israeli people to visit shops, malls, museums and libraries.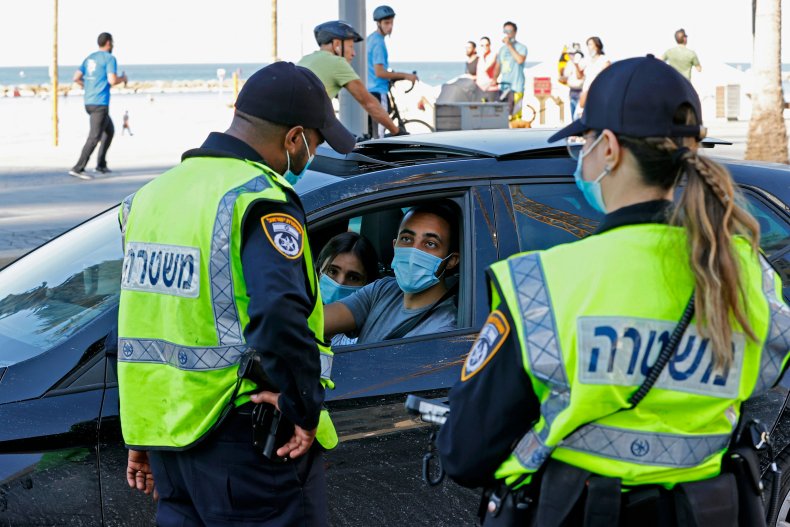 Netanyahu's plan will also provide access to more events and activities to those who can prove they've received the vaccine through a digital check system.
Beginning Sunday, a "Green Badge" will determine who is permitted to return to gyms, sporting events, cultural venues, hotels and pools, specifically. Anyone who wishes to go to one of these public venues must carry their badge, which has a scannable QR code that certifies they've been vaccinated or previously recovered from COVID-19.
"We will get back to life with the green passport," Netanyahu said on Sunday.
The plan will help launch Israel back to normalcy - and Netanyahu has promised that Israel will be fully recovered to ordinary life by March.
Israel is ahead of most countries in vaccinating its population. The country announced that 4 million Israelis were vaccinated on Tuesday, but The Times reported that people younger than 50 have been increasingly hesitant to receive the shot. And doubt regarding the vaccine's efficacy has risen as deadlier COVID-19 strains spread at a rapid pace. One poll released Tuesday by the Rushinek Research Institute found only 41 percent of Israeli parents intend to vaccinate their children.
So people are reportedly taking alternate routes to bypass Netanyahu's passport system. Israeli television station Channel 12 reported that over 100,000 users have joined groups that provide forgery services via Telegram, an instant messaging platform.
Cybersecurity expert Ran Bar-Zik called the health ministry's badge a "holiday for every forger" in a Facebook post on Tuesday originally cited by The Times.
"Already there are tens of thousands faking," Bar-Zik wrote. "Without connecting to an external database no one can know it's a fake. And here is the mighty default. Because you can very easily make a signature in a way that would have prevented it hermetically. How? Digital signature. Easy to realize but a little hard to understand."
According to Bar-Zik's post, the technical flaw is the badge is not encrypted. This means there is no "private key" that locks away user data - so it's easy for a forger to change the badge's digital signature, falsify the certificate and gain access to restricted spaces.
The easily-faked badge raises the risk that individuals without the vaccine may be able to bypass official checks and still participate in Israel's expanding public life.
Netanyahu's administration has already anticipated that forgeries could occur. Anyone caught with a counterfeit vaccination certificate could be fined $1,500, according Israel's Health Minister Yuli Edelstein. He said on Tuesday: "Those who think this a game and print a vaccination certificate without being vaccinated will be caught and their activities may end with them in jail."
"We are doing everything to prevent this and we will use all means at our disposal against the forgeries," Ronni Berkowitz, a member of the Health Ministry's enforcement division, said to Channel 12. "These people are, in the end, endangering all of us. They can spread the disease and also bring in new variants."
"Whoever does not get vaccinated will be left behind," Edelstein said. Dr. Maya Peled Raz said to The New York Times that limiting some personal freedoms may be worthwhile for the greater good as countries plan how to reopen.
"That may involve some damage to individual rights, but not all damage is prohibited if it is well-balanced and legitimate in order to achieve a worthy goal," Peled Raz said to The Times.
Netanyahu's administration has kept messaging clear that getting a COVID-19 vaccine is an option, but not a requirement.
"There will be no forced vaccination in Israel; those who choose not to be vaccinated — it is their choice," Edelstein said. "[There] won't be any personal sanctions against those who do not vaccinate."
Newsweek has reached out to Israel's Ministry of Health for comment.