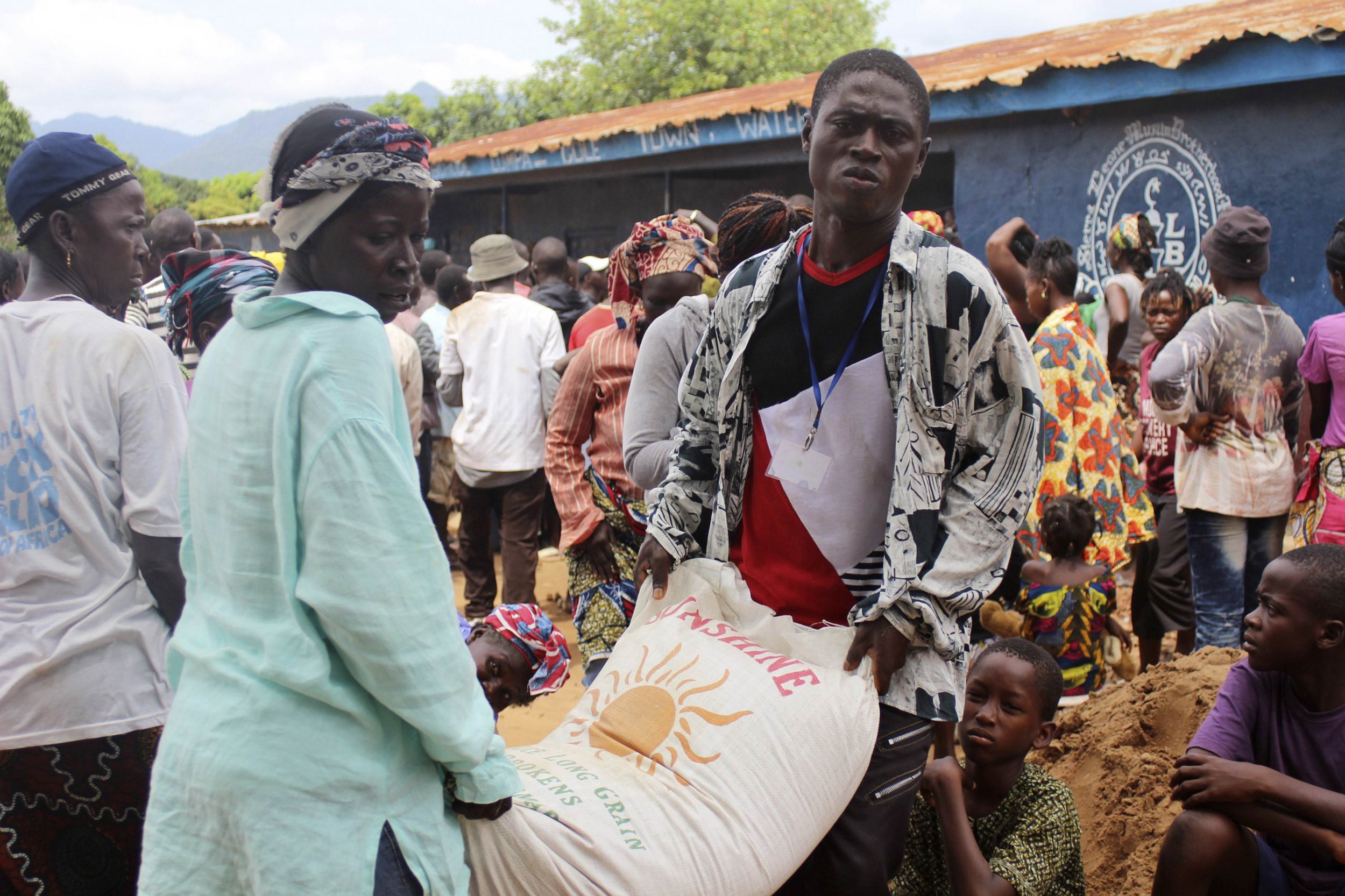 Lack of food has caused thousands in Sierra Leone to break strict Ebola quarantines because aid is failing to reach them, The Associated Press reports.
Those living in the large areas of the country where quarantines have been enforced are being ordered to stay indoors, but find that food isn't coming to them.
"This is a huge concern," Jeanne Kamara, country director for Christian Aid in Sierra Leone, said in a statement. "People infected with Ebola are desperately searching for food and are in turn exposing others to the disease. They are jostling with people in the market and infecting others through bodily contact. We urgently have to provide food to those who need it to prevent the risk of further spread."
While food is being delivered to Sierra Leone's population by the government and the U.N.'s World Food Programme (WFP), there are still "nooks and crannies" in unreachable pockets of the country, Kamara said Tuesday.
The WFP is working in all three of the countries worst hit by Ebola—Liberia, Guinea and Sierra Leone—and says it is currently reaching 12 out of 13 districts in Sierra Leone, which encompasses around 400,000 people.
In an effort to prevent the disease from spreading, Sierra Leone enforced a three-day lockdown in September and since then has continued strict quarantines, the BBC says. But those measures haven't stopped the number of cases from rising "frighteningly quickly" in recent days in rural areas of the country and the capital of Freetown, the BBC reports.
The quarantine imposed in Kenema, the third largest town in Sierra Leone, is having "a devastating impact on trade," according to the Disasters Emergency Committee (DEC), an umbrella group for humanitarian organizations that includes Christian Aid, Oxfam and Save the Children. Trucks carrying food can't freely drive around Kenema, and the price of food is rising as it becomes increasingly scarce, according to the DEC.
Authorities in Sierra Leone said they intend to keep the quarantine in place for one year. In September, more than a million people found themselves unable to move around freely after the districts of Port Loko, Bombali, Moyamba, Kenema and Kailahun were put under quarantine, in addition to 12 tribal chiefdoms, Al-Jazeera reports.
Worldwide, nearly 5,000 people have died from the latest outbreak of Ebola, and more than 13,500 have been infected, according to the most recent figures from the World Health Organization.