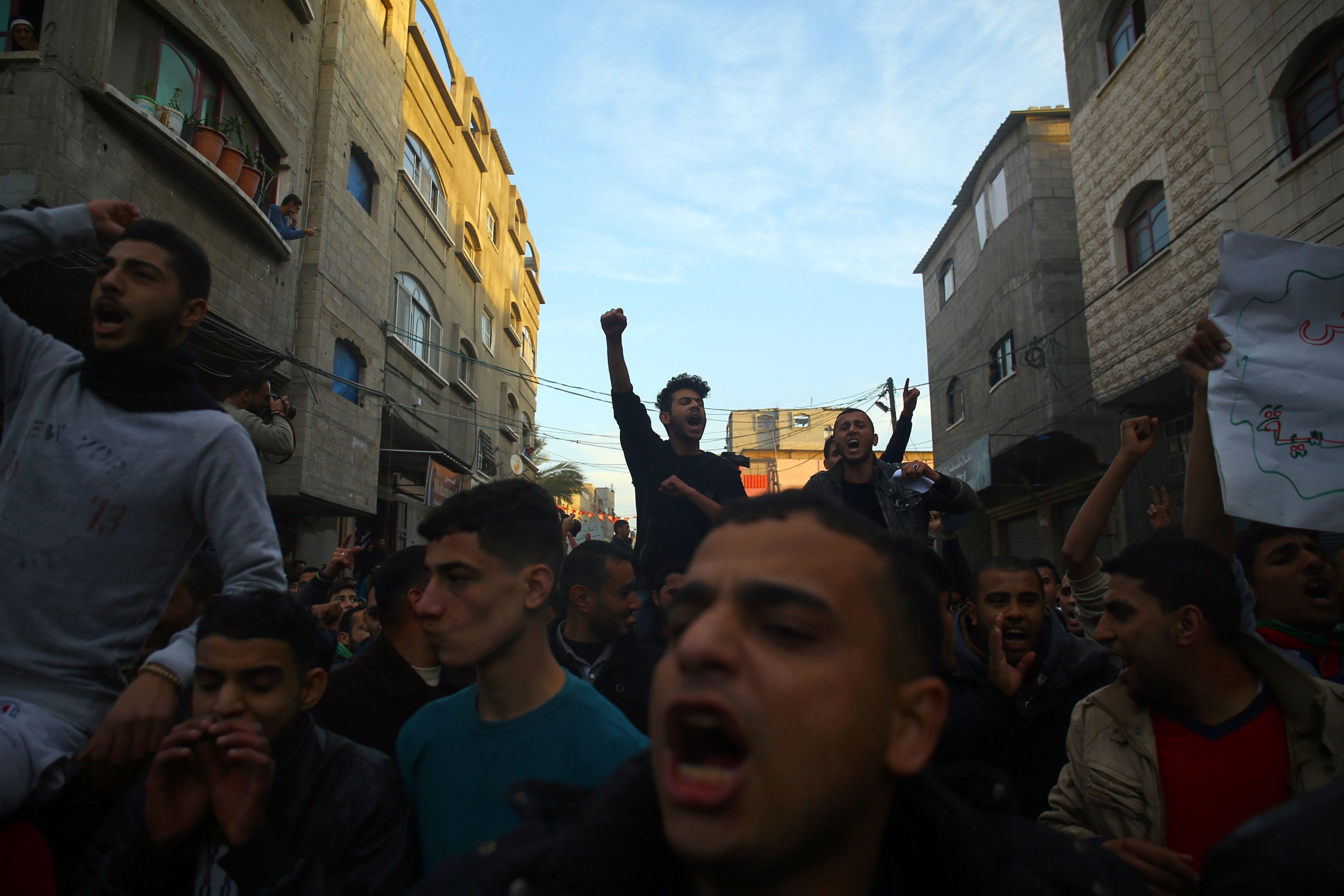 Thousands of Gazans took to the streets on Thursday to protest crippling electricity shortages in the bitter winter weather.
An estimated 10,000-strong crowd began the march at the Jabaliya refugee camp in the northern Gaza Strip and headed towards the offices of an electricity company, in one of the largest displays of unrest in the territory since Palestinian militant group Hamas took control in 2007.
Protesters directed their anger towards Palestinian political leaders: Mahmoud Abbas, President of the Palestinian Authority, and Ismail Haniyeh, Hamas's leader in Gaza, shouting: "Oh, Haniyeh and Abbas, we are being trampled!" according to eyewitnesses, the New York Times reported. They burned tires and threw stones outside the electricity company offices.
Hamas security forces fired weapons into the air to break up the demonstration.
Anger has been rising in Gaza over the electricity shortages, which have seen a halving in power for many residents, who are receiving just three or four hours of electricity a day, instead of previous eight-hour cycles.
A day before, Hamas arrested comedian and singer Adel Al-Mashoukhi for posting a video on Facebook lambasting the power shortages.
In the video, shared thousands of times and viewed more than 300,000 times, Mashoukhi says: "Enough, Hamas! Enough, Hamas!" He decried conditions in the territory, saying there were "no jobs, no border crossings, no food, no water."
Palestinian infighting between Hamas and the Palestinian Authority (PA) which presides over the West Bank, has led to the cuts, alongside a greater demand for fuel among Gazans as temperatures drop. The PA pays for the fuel that Israel and Egypt supplies for Gaza, usually transferring it to the territory without applying many taxes. But it is now refusing to exempt Hamas from the taxes. As Gazan unrest grows, the militant group is blaming PA for the power shortages.
The power shortages are compounded by the fact that Gaza does not receive or produce enough electricity for its population of nearly two million people. The only power plant in the territory produces just 30 megawatts, half of its potential output, while Egypt provides 30 megawatts and Israel 120 supplies megawatts. Overall, this amount to less than half the minimum 450 megawatts that Gaza requires to power its population.
Israeli and Egyptian electricity supplies to Gaza are also cut from time to time for political reasons, in response to Hamas rocket attacks on Israeli cities. Both countries are at odds with Hamas, particularly Israel, which has fought three conflicts with the group since 2008 and maintains an economic blockade on Gaza.
Much of the territory remains damaged from the seven-week summer conflict with Israel in 2014, including the only power plant in the enclave, and reconstruction has been scant.
Nickolay Mladenov, U.N. envoy for the Middle East peace process, said he had concerns about the "tense situation" in the coastal enclave and called for calm.