Thousands Flee Southeast U.S., Heavy Traffic Ensues Ahead of Hurricane Dorian
Millions in Florida, Georgia and the Carolinas are facing evacuation orders ahead of Hurricane Dorian's possible landfall in the Southeastern U.S. The storm, which has been downgraded to a category 2 Tuesday, is continuing north after ripping through the Bahamas over Labor Day weekend.
In Georgia, evacuation plans are in place for roughly 300,000 people living east of Interstate 95. Early Tuesday, the state's I-16 became a one-way evacuation route for those fleeing Dorian. Mandatory evacuation orders issued by Governor Brian Kemp went into effect for the coastal counties of Glynn, Chatham, Liberty, McIntosh, Bryan, and Camden as of 12 p.m. Monday.
Dorian is expected to travel up to Georgia Wednesday night into Thursday. Residents along the state's coast are bracing for heavy rains, strong winds and storm surge from the slow-moving storm.
On Sunday, South Carolina Governor Henry McMaster issued mandatory evacuation orders for approximately 830,000 people living in eight counties along the coastline including Colleton, Beaufort, Jasper, Charleston, Dorchester, Berkeley, Horry and Georgetown.
"We know we can't make everybody happy, but we believe we can keep everyone alive," McMaster said during Sunday's press conference.
On Monday, South Carolina officials noted heavy traffic leaving popular resort areas such as Hilton Head Island and Myrtle Beach. According to state Transportation Secretary Christy Hall, at least 10,000 people were leaving each hour from the Charleston area on I-26.
Meanwhile, North Carolina's Dare County has released a map of possible hurricane evacuation routes for people leaving the eastern part of the state — suggesting that evacuees heading north take HWY 64 West to I-95. This came after county officials issued a mandatory evacuation Monday beginning Tuesday at 12 p.m. for any out-of-town guests and 6 a.m. Wednesday for residents.
"Our state is facing the very real likelihood of storm damage," North Carolina Governor Roy Cooper told reporters in a conference on Monday.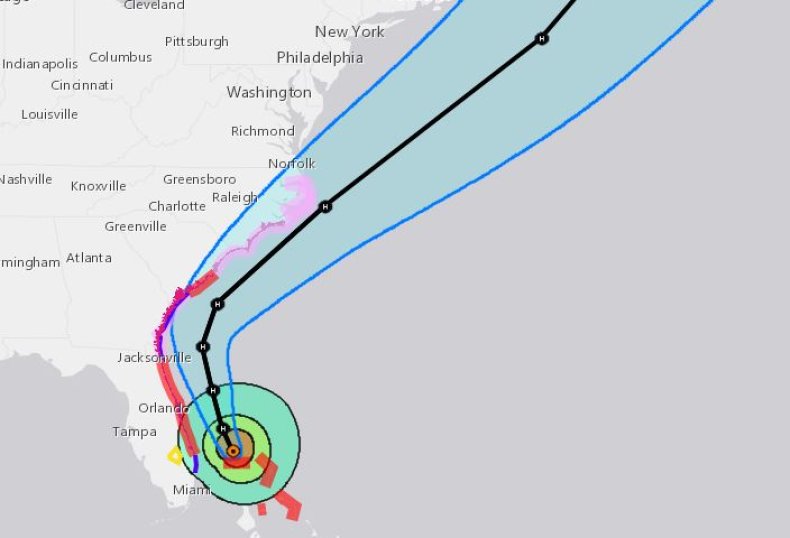 In Florida, Martin, Palm Beach, Brevard, St. Lucie, and St. Johns counties are currently under mandatory evacuation orders, while voluntary evacuations have been issued for Flagler, Nassau, Osceola, Glades, Hendry, Okeechobee, and Highlands counties.
According to the Florida Department of Transportation, Governor Ron DeSantis suspended tolls on the state's Mainline, Alligator Alley and the Sawgrass Expressway to "allow for quick and safe evacuation if necessary."
"We are continuing to make all necessary precautions in urging people out in the state of Florida to make their preparations, heed evacuation orders," DeSantis said during a press conference Sunday. "This storm has tracked further west, slightly, but still further west than we had hoped."