Thousands Defy California's Shelter-in-Place Order to Flock to Rodeo, Delay County's Reopening
Thousands of people reportedly defied California's shelter-in-place order to attend an annual Mother's Day rodeo—and delayed the reopening of the county it was held in.
The Cottonwood Rodeo was held in Shasta County on Sunday despite Gov. Gavin Newsom's ban on large gatherings due to the coronavirus pandemic.
On Monday, officials in Shasta County condemned the event, saying it had reportedly attracted around 2,000 people, many of whom didn't wear masks or practice social distancing.
They said it had caught Newsom's attention and directly caused the delay of the county's reopening of restaurants and certain businesses.
"Mass gatherings are very high risk events that can spread COVID-19 to many individuals at one event," the Shasta County Health and Human Services Agency said. "The County condemns this mass gathering and officials are taking steps to investigate the event and will take action accordingly."
Officials said they had reached out to the rodeo organizer last week, but he had refused to cancel.
"I am not happy and the state isn't happy and it's impacting the approval of our variance," Shasta County Health Officer Karen Ramstrom said in a statement.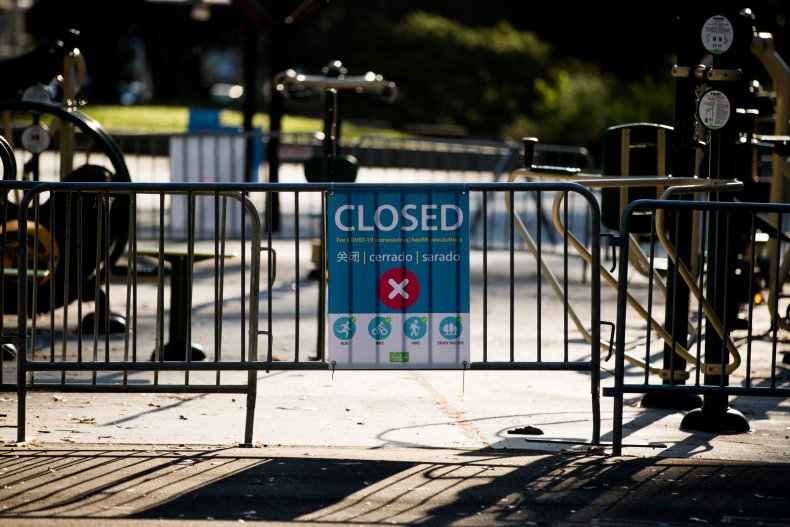 "We're all frustrated. It was inappropriate and it put the community at risk of disease transmission among attendees and the people they are in contact with, which could include vulnerable people who did not attend. It jeopardizes the ability for all Shasta County businesses to move forward into full Stage 2 opening, which delays our economic recovery."
The rodeo organizer has been contacted for comment.
On Friday, Ramstrom had said that Shasta County had met the criteria for phase 2 guidelines which would have permitted the opening of businesses, including shops, dine-in restaurants, shopping malls, car washes, pet grooming, tanning facilities and childcare facilities.
Meanwhile, Shasta County Sheriff Eric Magrini told the Redding Record Searchlight that his deputies wouldn't be enforcing Newsom's order at the rodeo on Sunday.
"We are not condoning their actions. We continue to work toward enforcement through education," he told the newspaper.
He added that he had spoken to the organizer who assured him that food and alcohol wouldn't be sold at the event, hand washing stations would be set up and social distancing guidelines would be handed out at the entrance.
But videos posted on social media of the rodeo showed people crowded together and many lining up at food trucks and outside toilets.
Some attendees defended their decision to KRCR News.
"This event has been going on for 50 years, it is a tradition for probably most of us, the rest of them that are here have been tired of being cooped up for months," Daniel Warner said.
Don Johnson added: "We have constitutional rights. We have inalienable rights given to us by God."
But others on social media branded those who attended the event "selfish."
"Cottonwood held a rodeo today with over 2,000 people showing up," one person tweeted. "People are so damn selfish."
Another added: "So embarrassing that shasta county threw a rodeo against state orders and now the reopening has been pushed back... y'all so selfish and for what? some horses?"
Last week, Newsom said California is moving into phase two of a four-phase reopening plan for the state. Stage four would see mass gatherings allowed again.
California has more than 67,000 confirmed cases of COVID-19, the disease caused by the novel coronavirus, and 2,770 deaths, according to the latest figures from the state's health department.
This infographic, provided by Statista, shows the U.S. states with the most COVID-19 cases as of May 12.