Thousands Gather for Second Day of Pro-Democracy Protests in Hong Kong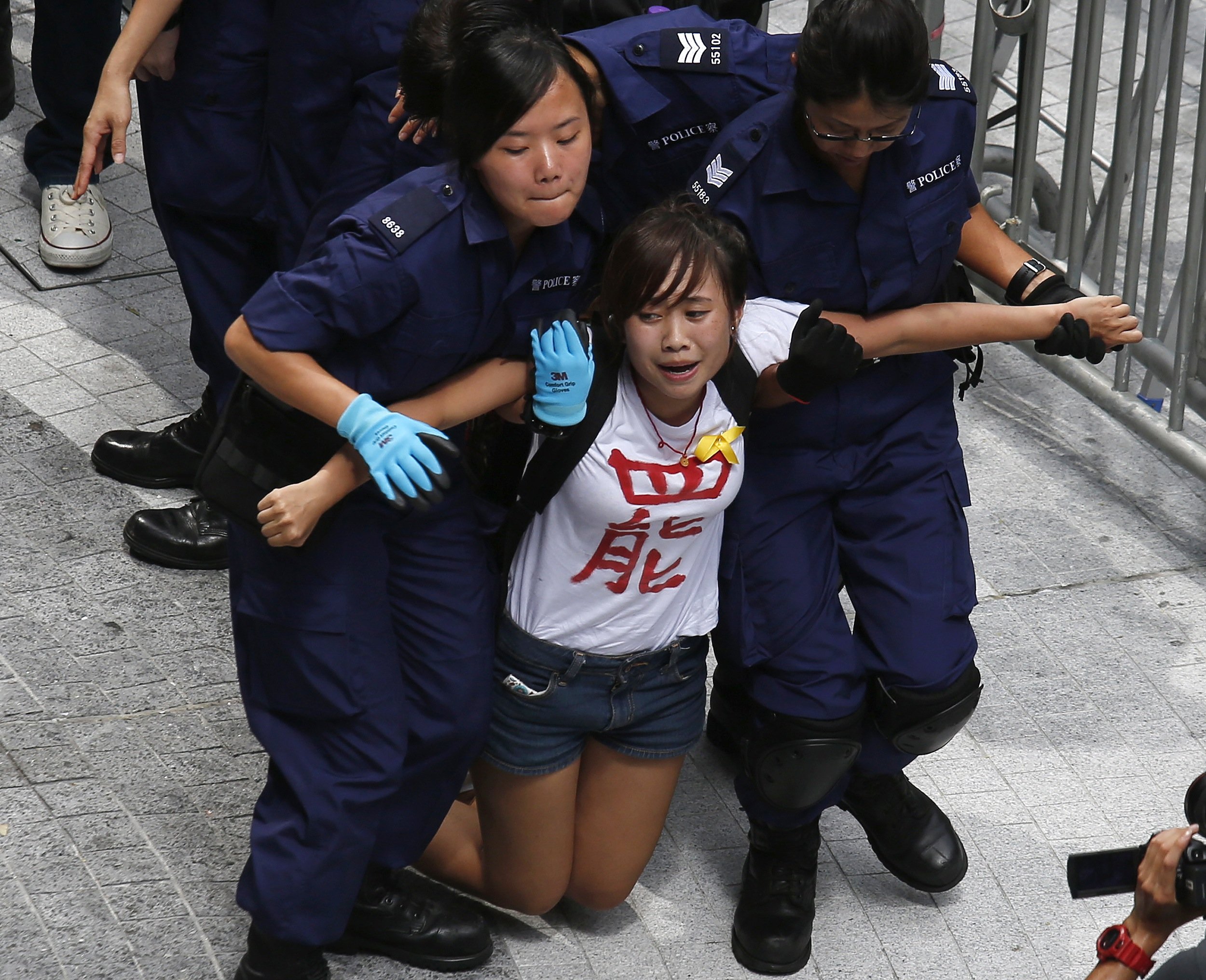 In Hong Kong, protests continued for a second day following a night of rare political violence in the territory. Tens of thousands of demonstrators opposed to China's plans to limit the choice of candidates in elections for the territory's next Chief Executive have rallied near the city's government headquarters. They are calling for the release of protesters detained by police following clashes on Friday night, which left more than 30 people injured.
More than 70 people, many of them students, were arrested Friday after some two hundred protesters burst through a police cordon into Hong Kong's Civic Square – a formerly public space which the authorities fenced off this summer in an attempt to limit protests near the government offices. Police in riot gear sought to repel them using pepper spray. Many of those detained were later released, but Joshua Wong, the 18-year old leader of Scholarism, a high school students' movement, was refused bail. Police have reportedly said he is being held on three separate charges, but have not given details of these.
Several thousand protesters massed close to the area during the day on Saturday, saying they would not leave until Wong and others were released. They also called for Hong Kong's Beijing-backed Chief Executive, Leung Chun-Ying, to come out and meet them, something he has so far refused to do. By Saturday evening, many more had joined the protest, though police later sought to block walkways leading to the area. Leaders of the demonstrators said they were prepared for further police action during the night, and called on more citizens to join them.
The rising tension follows a week of strikes by Hong Kong university and high school students, in protest at the rules drawn up by China for the election of the city's next Chief Executive in 2017. Under the terms of its agreement with Britain for the return of Hong Kong to Chinese sovereignty in 1997, Beijing promised to grant the territory elections with full universal suffrage within twenty years. However, proposals announced by China late last month – while allowing public voting – limit candidates for the 2017 leadership contest to "two or three" people, who must "love China," and whose nomination must be approved by the majority of a Beijing-appointed selection committee. The rules, which are more draconian than those in past leadership contests, are seen by many in Hong Kong as designed to prevent members of the city's liberal democratic camp from standing for election.
On Saturday evening, 23 leading members of Hong Kong's democratic camp issued a statement accusing the police of excessive use of force, and stressing that the students had not used violence. They also called for fresh public consultations on the future electoral process, and demanded the return of full public access to Civic Square. Since the summer, the square has only been open to the public between 11 am and 6 pm, and demonstrations are only permitted with official permission on Sundays and public holidays.
The president of Hong Kong's Legislative Council, pro-Beijing politician Tsang Yok-sing, rejected allegations of police brutality, saying students had charged the area, and police had had to respond to a situation which had become "out of control." Hong Kong's Security Secretary Lai Tung-kwok, meanwhile, expressed regret at the clashes, which are unusual in a territory where growing opposition to China's political domination over recent years has been mainly peaceful.
The rising tension comes ahead of a previously planned mass peaceful protest in Hong Kong's central business district on October 1st, China's national day (a public holiday in Hong Kong). Leaders of the Occupy Central movement, a separate grouping co-founded by two university professors, rejected calls from the students to bring the protest forward after Saturday's arrests, but said they planned to go ahead on October 1st as planned.
The protests have clearly alarmed Beijing, which has denounced student demonstrators as "extremists", and accused them of being manipulated by hostile foreign forces. China has sought to block discussion of the protests in Hong Kong on its domestic Internet – though pictures of the protests were still circulating on Chinese social media sites on Saturday.
Analysts say Beijing is in no mood to compromise on its plans for Hong Kong at a time when the leadership of President Xi Jinping appears both increasingly assertive and increasingly paranoid about perceived threats, both domestic and international. Yet China's tough line on political reform in Hong Kong, and the police's clampdown on the protests, have clearly alienated many in a territory where many observers had previously expected that the return to Chinese sovereignty would lead to growing political apathy. One supporter of the Scholarism group, who observed Friday night's clashes, said no one had expected the police to use such force, and described the scenes as "horrible" and "shocking."
Yet with Chief Executive Leung Chun-Ying thought to be under pressure from Beijing to stand firm, it remains to be seen whether the Hong Kong authorities can defuse the current stand-off without further inflaming public anger.