Demonstrators gathered in Berlin to support Black Lives Matter on Tuesday, after Minneapolis resident George Floyd's death last week incited protests against police violence and racism in the United States and across the world.
Videos of the latest demonstration in Germany's capital city were shared to Twitter by participants and reporters Tuesday morning. One tweet's caption, posted by political strategist Travis Akers, said thousands were involved in the Berlin protest, "calling for a stop to human rights violations in the U.S." A large crowd of people chant "black lives matter" and cheer with signs raised while listening to an organizer speak in the post's accompanying video.
This appears to be the most recent rally held in Germany following 46-year-old Floyd's death on May 25. Floyd died following his arrest, which was recorded by civilians who witnessed it. The video showed former Minneapolis police officer Derek Chauvin kneeling on Floyd's neck for nearly nine minutes, as Floyd told officers he couldn't breathe until he goes still. Chauvin was fired from the police department one day later, as were three additional officers involved, and taken into custody on third-degree murder and manslaughter charges last Friday.
Protests that began in Minneapolis early last week quickly spread to dozens of U.S. cities as well as others abroad over the weekend. On Sunday, hundreds of demonstrators participated in a rally outside Berlin's U.S. Embassy while protestors in the United Kingdom marched to the U.S. Embassy in London, The New York Times reported.
Additional reports and video footage shared to social media over the last several days have shown gatherings of various sizes taking place in numerous cities, including Amsterdam, Tokyo, Toronto and Barcelona. Demonstrations expressed solidarity for Black Lives Matter and denounced systemic violence and racism by law enforcement authorities.
Germany's Minister of Foreign Affairs, Heiko Maas, has commented on protests that have taken place since Floyd's death in the U.S., some of which led to fires, looting and physical injuries.
"I hope that the protests in the United States, which are peaceful, will no longer result in violence, but much more that these protests will make a difference," Maas wrote on Twitter Tuesday morning, referencing Black Lives Matter in his tweet.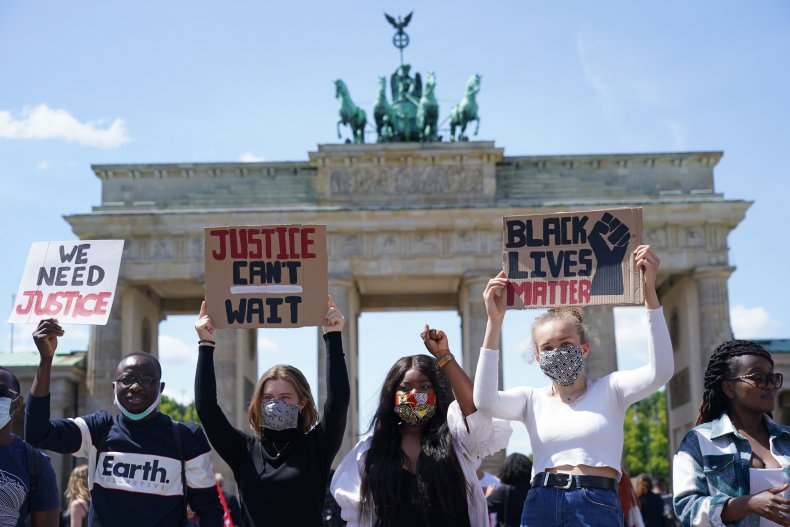 The Foreign Minister also discussed U.S. protests during a public address in Berlin on Tuesday, according to multiple outlets. Acknowledging that many demonstrators have protested nonviolently, Maas reiterated his hope that "these protests have an effect in the United States."
Newsweek reached out to Maas' office for additional comment but did not receive a reply by time of publication.