Thousands March in Protest Against Muhammad Cartoon Contest
Thousands of protesters took to the streets of Pakistan Wednesday, in a march that was organized after a Dutch politician announced plans to hold a Muhammad cartoon contest in November.
The protest was organized by leaders who are demanding a halt to the cartoon contest. Otherwise, they will request cutting diplomatic ties with the Netherlands.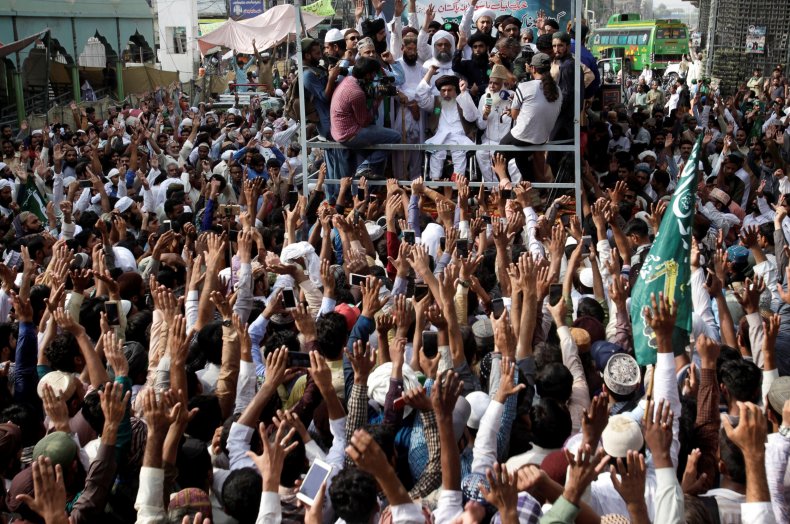 "We will reach Islamabad and then decide the next plan of action. We can be martyred or arrested, but we will not return until either the cartoon contest is stopped or the Dutch envoy is expelled," said Peer Afzal Qadri, who organized the march and is the leader of the Tehreek-e-Labbaik political party.
Dutch politician Geert Wilders announced the launch of the contest, which has so far received 200 submissions. The winner would receive a prize of $10,000.
"Very few in the West understand the pain caused to Muslims by such blasphemous activities. Our government will raise the matter in the Organization of Islamic Cooperation and get the countries there to come up with a collective policy that could then be brought up at international forums. This should have been done a long time ago," Pakistan's Prime Minister Imran Khan told the Senate in his first speech since being elected earlier this month.
The Dutch government has tried to distance itself from the issue. During a press conference, Prime Minister Mark Rutte said that Wilders "is not a member of the government. The competition is not a government initiative."
"This man, Geert Wilders, is known for testing the limits of freedom of expression. He is free to do that. The Cabinet wants to make it clear it is not a Cabinet initiative," Rutte said, according to ABC News.
All drawings and physical depictions of Allah or the Prophet Muhammad are considered to be blasphemous in Islamic tradition, even if it's a respectful representation.
"We told them to stop the protests because the Pakistan government is taking up the issue effectively," an official who was involved in talks between government officials and Labbaik party leaders told Reuters.
Seven people were killed and 200 others were injured when police tried to disperse a similar protest organized by the Labbaik party last year. The rally, which shut down a highway and lasted three weeks, was organized after the party deemed a change in an electoral law as blasphemy.