Photos: Anti-Maduro Protesters Press Early Elections Demand in Venezuela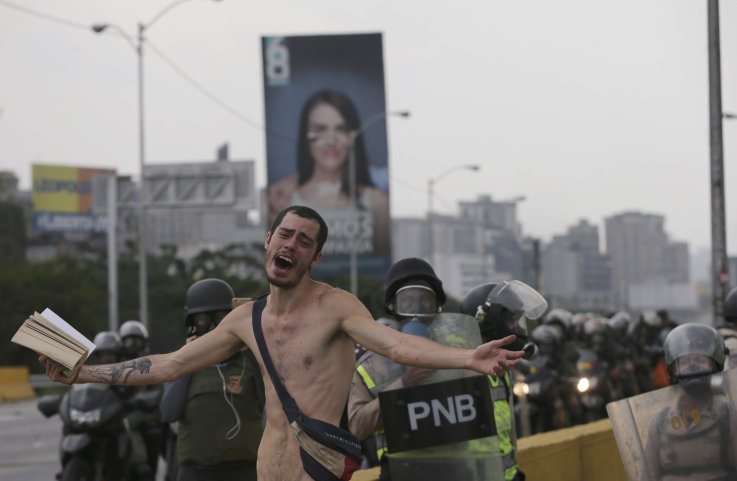 After four weeks of protest, anti-government Venezuelans have settled in for a long standoff with President Nicolas Maduro. Commuters this week were greeted with barricades of garbage and mass sit-ins along major thoroughfares by protesters hoping to press their demand for early elections.
Maduro is accused of eroding democracy and plunging the oil-rich economy into chaos; over the last year citizens have suffered from food shortages and a lack of basic services as crime rises. Clashes have been reported across the country as hundreds of thousands take to the streets in the most sustained protests since 2014. Ten people have been killed during near daily clashes this month between security forces armed with rubber bullets and tear gas and protesters sometimes throwing rocks and Molotov cocktails.
Hundreds have been arrested, but the opposition vows to keep going. Maduro's socialist government accuses foes of seeking a violent coup with U.S. connivance, while the opposition says he is a dictator repressing peaceful protest. Opposition politicians and activists blame the president for the disastrous state of the economy, which contracted by 18.6 percent in 2016. Venezuela's economy is almost entirely based on oil revenues, which have been hit by the crash in oil prices that began in 2014.
"I have an empty stomach because I can't find food," said Jeannette Canozo, a 66-year-old homemaker, who said police used rubber bullets against protesters blocking a Caracas avenue with trash and bathtubs on Monday morning.
Demonstrators wore the yellow, blue and red colors of Venezuela's flag, held signs denouncing shortages, inflation and violent crime, and chanted: "This government has fallen!"
This month's unrest is Venezuela's worst since 2014 when 43 people died in months of mayhem sparked by protests against Maduro, the 54-year-old successor to late leftist leader Hugo Chavez.