Thousands of Refugees Entering Europe From Turkey Clash With Police As Erdogan Says 'We Will Not Close Those Doors'
Greek authorities say that they have deterred thousands of refugees and migrants trying to enter the European Union following clashes on its border with Turkey on Saturday. A Deutsche Welle reporter at the Pazarkule border crossing in the Turkish state of Edirna said that tear gas and pepper spray were used by police on the migrants who had gathered there. Agence France-Presse reported that migrants then hurled stones at the police in response.
The migrant push for the border followed a message by Turkey that, in the wake of the killing of at least 33 Turkish troops in Idlib, northern Syria, following bombardment by Syrian and Russian forces, it would no longer stop refugees trying to enter the EU.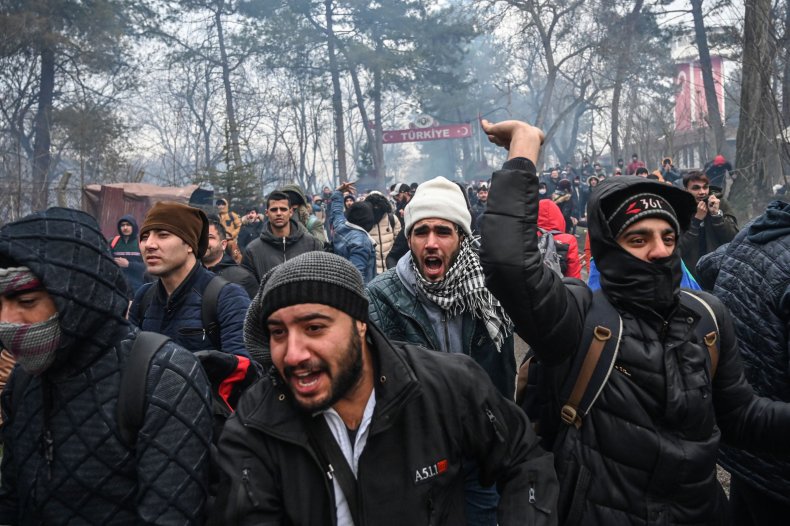 Turkey's communications director Fahrettin Altun said Turkey had "no choice" but to ease border controls because it had not got enough support in hosting Syrian refugees, which number more than 3.4 million, the BBC reported.
Newsweek subscription offers >
Turkish President Recep Tayyip Erdogan is worried that the continued attacks on Idlib will draw hundreds of thousands of more refugees to Turkey, a state inundated by those fleeing regional conflicts. The move to set migrants into the EU may be a ploy to pressure the west and NATO into helping stop the Syrian advance, Sky News reported.
Erdogan said Turkey can not support more people fleeing Syria, telling reporters on Saturday, according to AFP, "We will not close those doors ... Why? Because the European Union should keep its promises," referring to a 2016 deal with Brussels to stop refugee flows in return for aid.
DW described the scene at the border, saying that some tried to cross under a fence into the border area and many had tears in their eyes as they felt the effects of the sprays used by police. Sky News posted video to Twitter of the fracas at the border which included terrified children being carried by their parents.
Greek Prime Minister Kyriakos Mitsotakis said, according to the BBC, that despite the numbers of migrants at the border "no illegal entries into Greece will be tolerated."
Newsweek subscription offers >
Greek government spokesman Stelios Petsas said his country "came under an organized, mass, illegal attack... a violation of our borders and endured it," adding "we averted more than 4,000 attempts of illegal entrance to our land borders."
The former American special envoy to Syria, Frederic C. Hof, has said that the U.S. should step in to help Ankara's operations against Syrian and Russian forces, telling Newsweek that Washington should "be prepared to offer combat air support if Turkish forces come under air assault from any quarter."
Thousands of Refugees Entering Europe From Turkey Clash With Police As Erdogan Says 'We Will Not Close Those Doors' | World