Thousands of Oregon Healthcare Workers Vote to Strike Amid Hospital Staffing Shortage
Thousands of healthcare workers in Oregon have voted to authorize a strike as hospitals scramble to find enough professionals to treat patients amid staffing shortages and coronavirus surges.
In what could be one of the biggest industry strikes in the state's history, nearly 3,400 Kaiser Permanente nurses and healthcare employees voted on October 4 to walk off the job citing the company's current wage proposals, according to the Oregon Federation of Nurses and Health Professionals (OFNHP), the union representing the workers.
"Kaiser claims that we are paid above market rate, but this is absolutely false," OFNHP president and registered nurse at Kaiser Sunnyside, Jodi Barschow, said in a Monday statement. "Kaiser's proposals are an attack on patient care and the frontline healthcare workers who provide it, and all the while they are spreading untruths about how much we make and how they have handled negotiations."
"Lower wages will make it impossible to recruit and retain the healthcare professionals our patients depend on for care. We have a staffing crisis now; what do you think would happen if we allowed Kaiser to offer even less pay to prospective employees?" she continued. "It would create a healthcare disaster."
The vote drew in a 90 percent participation rate among the union's workers and resulted in an astounding 96 percent voting in favor of a strike.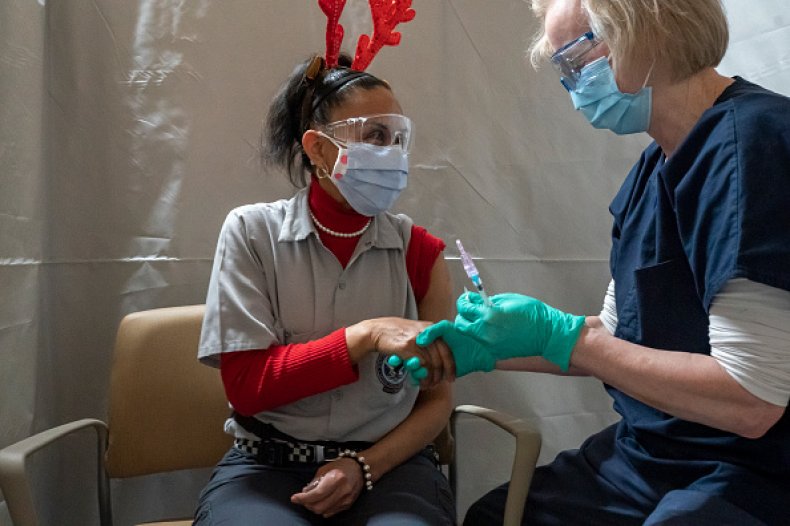 With the authorization now in place, union leaders can call for a strike at any time. Once a strike is initiated, Kaiser Permanente will have 10-day advance notice before workers walk off the job.
"We strongly believe that differences in bargaining are best worked out at the bargaining table, and we have a 24-year history of union partnership which proves that point," Arlene Peasnall, senior vice president of human resources at Kaiser Permanente, said in a statement to Newsweek. "We will continue to work collaboratively with OFNHP to reach an agreement that meets the interests of both parties."
"We are extremely grateful for our frontline health care employees, whose commitment to providing care and service throughout the pandemic has been nothing short of inspiring," Peasnall added.
OFNHP said that Kaiser Permanente is proposing a "two-tier" compensation proposal between its facilities which the union argues would "accelerate the already devastating staffing crisis, putting our patients at risk in the future all around the country."
A poll conducted by OFNHP found that more than 42 percent of those surveyed said the treatment they've received at Kaiser Permanente has led them to consider leaving the medical field entirely, while 60 percent say they are considering leaving the company.
There have been negotiations at both the local and national levels involving a total of 52,000 Kaiser workers who are represented by the 21-union Alliance of Healthcare Unions.
This comes as hospitals across the country face unprecedented staffing shortages that were already troublesome before the coronavirus pandemic began.
During a Thursday press conference, the Oregon Nurses Association (ONA), which represents 13,500 nurses, said that 92 percent of the group have reportedly experienced mental exhaustion and 85 percent have been unable to use any vacation time due to the lack of nurses to cover the time off.
A statewide vaccine mandate could further the already dismal staffing situation.
While 83 percent of nurses have been vaccinated, according to data from the Oregon Health Authority, the mandate, which will go into effect on October 18, could drive out what remains of the workforce.
"We know that upwards of 90 percent of ONA members are vaccinated," Lynda Pond, ONA board president and registered nurse, said on Thursday. "We also know that a small number of nurses across the state have made the decision to not get vaccinated, and those nurses will likely be terminated from their jobs."
Update 10/11/21, 2:36 p.m. ET: The headline of this article was updated to reflect that healthcare workers in Oregon have voted to authorize a strike.
Update 10/12/21, 9:52 a.m. ET: The photo in this article was updated to feature an individual receiving their COVID-19 vaccine in Oregon.