Thousands Protest Against 'Genocidal' Bolsonaro as Brazil's COVID Death Toll Passes 500K
Thousands took to the streets across Brazil on Saturday in protest of President Jair Bolsonaro's failure to properly handle the pandemic, as the country's death toll from COVID-19 has now surpassed 500,000 people.
Protesters held signs calling for Bolsonaro's removal from office, such as "Bolsonaro must go," the BBC reported. Others displayed signs referencing Brazil's death toll, including "500 thousand deaths. It's his fault."
In Rio de Janeiro, demonstrators called Bolsonaro "genocidal" the Associated Press reported. One sign likened Bolsonaro to Adolf Hilter, with "genocida [genocidal]" written across the top.
Brazil has reached the second-highest number of reported COVID-19 deaths, second only to the United States. The Health Ministry released data on Saturday reporting 500,800 deaths from over 17 million confirmed COVID cases. The South American nation has averaged over 2,000 deaths a day for the past week.
The number of cases is expected to get worse as the southern hemisphere heads into winter and variants of the virus have begun cropping up. Only 11 percent of Brazil's population has been vaccinated against COVID, according to local media.
"Herd immunity won't do any good. The only immunity you can get is with the vaccine. There is no early treatment. I have lost millions of friends, almost lost a cousin... people are orphans, fatherless, motherless, and childless," protester Denise Azevedo told Reuters.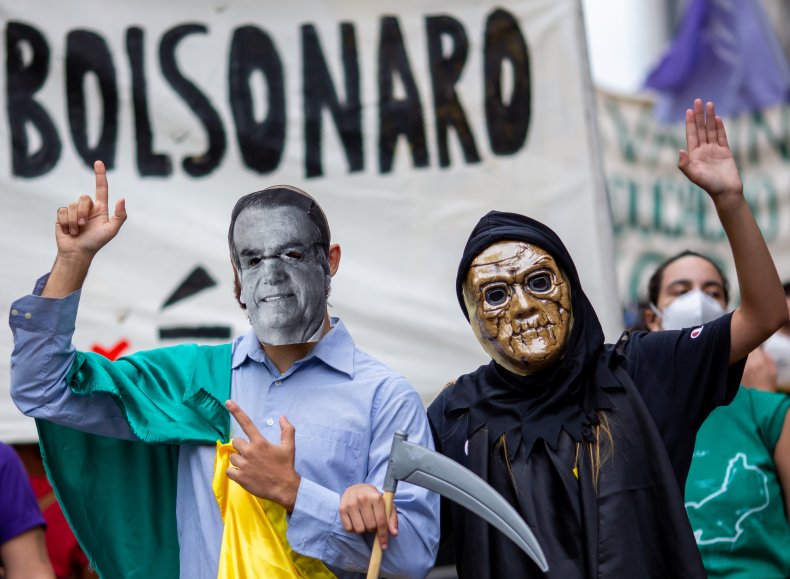 Even if more citizens receive the vaccination, the former head of Brazilian health regulator Anvisa, Gonzalo Vecina, told Reuters there will likely be hundreds of thousands of more deaths.
"I think we are going to reach 700,000 or 800,000 deaths before we get to see the effects of vaccination," Vecina said.
Critics have accused Bolsonaro of failing to take action to contain the coronavirus pandemic, citing the president's refusal to impose a lockdown, skepticism of vaccines, and pushing ineffective drugs like hydroxychloroquine.
Bolsonaro now faces a congressional inquiry into his poor handling of the pandemic, The Guardian reported.
Last Saturday, Bolsonaro led a motorcycle parade through the streets of São Paulo as the 2022 elections grow closer. He was fined for not wearing a mask in violation of local regulations, and has said he will not receive the COVID-19 vaccine.
Protestors against Bolsonaro such as Oswaldo Pinheiro, 75, wore masks and practiced social distancing as best they could during the demonstrations.
"I, even at this age, will be in the fight against this genocidal government, with no respect for the poor. As long as there are other marches I will come," Pinheiro told The Guardian.
Pinheiro is one of few Brazilians to have received the vaccine, according to his daughter Débora Amado, who joined him in the protests in Rio along with her sister Bárbara Amado.