Thousands Protest Death of Afghan Woman Falsely Accused of Burning Koran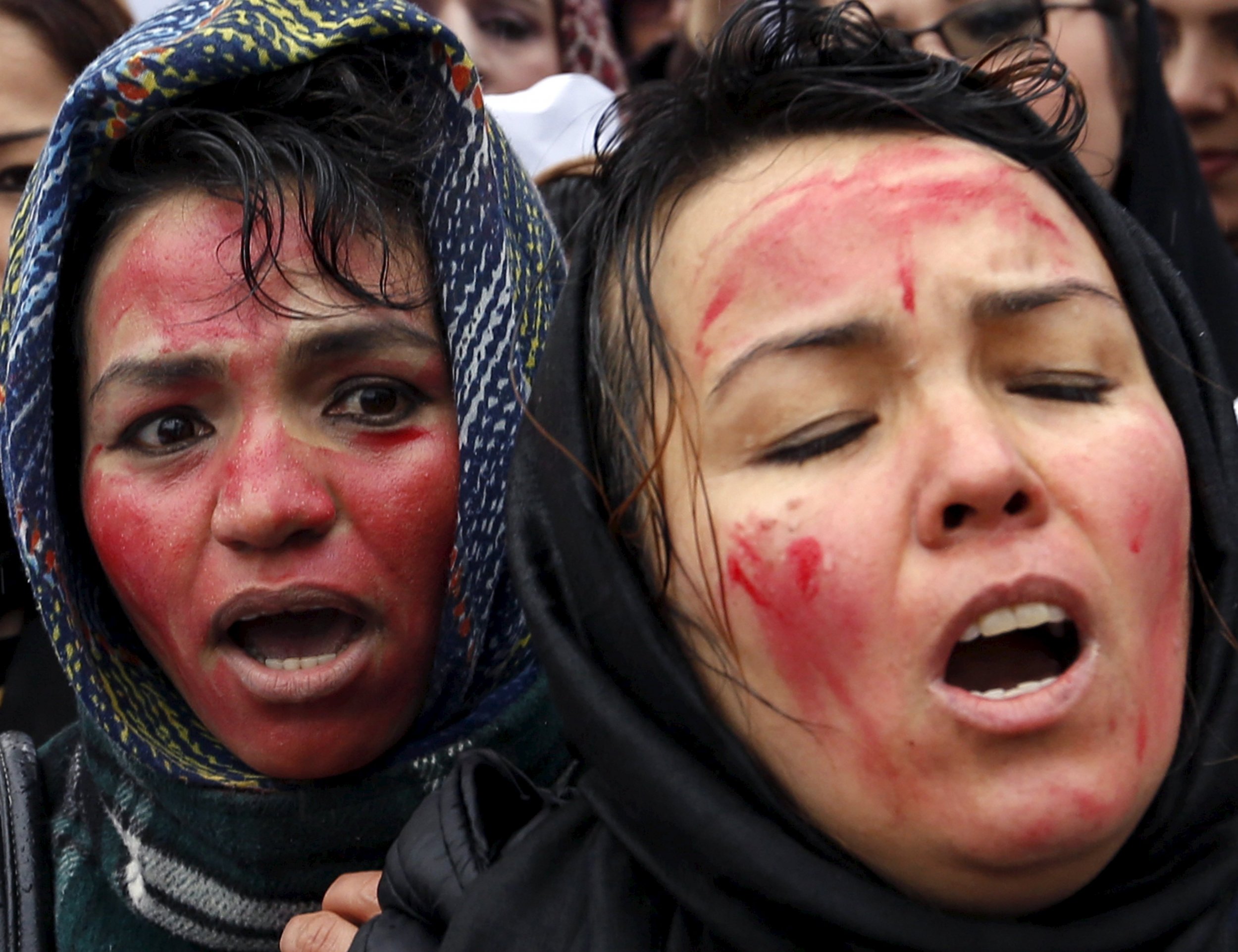 Protests in the Afghan capital of Kabul grew for the second day on Tuesday, days after a woman was beaten to death after being falsely accused of burning the Koran.
On Thursday, Farkhunda, 27, was beaten to death in public by a dozen men after getting into an argument with a mullah who was selling trinkets to women at a shrine, the BBC reports. As the argument escalated, Farkhunda was accused of burning the Koran and the assault took place.
She was then run over by a car and burned before being thrown into a river. As many as 3,000 people marched through Kabul on Tuesday, according to the organizers, the Associated Press reports.
When Farkhunda—who, like many Afghans, goes only by one name—was buried on Sunday, her coffin was carried by female pallbearers dressed in black, a defiant move against tradition that states only men can perform the task, the AP reports. Photos on social media showed men forming a protective human shield around the women as they carried the coffin.
Many of the protesters—who shouted "Justice for Farkhunda!" and "Death to the killers!"—wore masks of Farkhunda's bloodied face or painted their faces red during the two protests this week.
There is no evidence Farkhunda burned the Koran, according to an official investigation. The head of Kabul's criminal investigation, Mohammad Fariz Afzali, suggested that Farkhunda was mentally ill, a claim supported by her parents, according to media reports. However, a neighbor disputed the suggestion that she had a condition as she was a graduate student in religious studies preparing to become a teacher, the AP reports.
The Interior Ministry says 28 people have been arrested in connection with her death and 13 police officers have been suspended. Hashmat Stanikzai, the Kabul police spokesperson, has also been suspended by the Interior Ministry over comments he made on social media supporting the killing.
International rights group Human Rights Watch have urged an investigation into the failure of Kabul's police to prevent Farkhunda's death.
"The brutal murder of a vulnerable woman by a mob on Kabul's streets might have been stopped if the police had done their job," said Patricia Gossman, senior Afghanistan researcher at Human Rights Watch.
"The authorities need to prosecute those involved in this terrible crime and take action against any police officers who let the mob have its way."
The protests coincide with Afghan President Ashraf Ghani's first state visit to Washington. Ghani called Farkhunda's death a "heinous act" and has urged an investigation into the incident.
Ghani and other Afghan government members met with U.S. Secretary of Defense Ashton Carter and diplomatic and intelligence staff on Monday. Ghani will meet with President Barack Obama on Tuesday, when he is expected to ask the president to keep a large presence of U.S. troops in Afghanistan, The New York Times reports.