Thousands of Protesters Surround L.A. Mayor Eric Garcetti's House After He Takes A Knee
Thousands gathered outside Los Angeles Mayor Eric Garcetti's home on Tuesday to protest police violence and racism following Minneapolis resident George Floyd's death last week. Videos of the demonstration, shared by local news outlets as well as civilians on Twitter, showed participants holding signs with messages like "defund the police" and chanting for justice while surrounding Garcetti's residence.
The protest near the mayor's home followed days of large-scale demonstrations throughout Los Angeles. During one held earlier in the day outside of City Hall, Garcetti took a knee beside demonstrators while addressing the crowd, multiple outlets reported. The mayor held a formal press conference from the city's municipal center as protestors stood outside his home, announcing Los Angeles' curfew would remain in place from 6 p.m. on Tuesday through 6 a.m. on Wednesday to discourage destructive rallies.
In a video interview with broadcast station FOX 11, a demonstrator said protests like that one, which was organized by Black Lives Matter, must continue until all officers connected to Floyd's death on May 25 are held accountable. Floyd, a 46-year-old black man, was unarmed and handcuffed when he died in police custody after a white officer kneeled on his neck for close to nine minutes. The officer, Derek Chauvin, was fired from the Minneapolis Police Department one day later alongside three additional officers involved, two of whom were seen pinning Floyd to the ground in one of several videos released later.
Chauvin was arrested last Friday on third-degree murder and manslaughter charges. Hennepin County Attorney General Mike Freeman's office said in a statement on Sunday that Minnesota's Attorney General would assist in evaluating "the cases arising" from Floyd's death, citing "recent developments" with regard to new information obtained. As of Wednesday, the three other former officers involved had not been charged.
During the conference, Garcetti said he was "proud" of city residents organizing nonviolently and reiterated previous calls to end looting, fires and other damage caused by some demonstrations over the last few days, news outlet KTLA reported.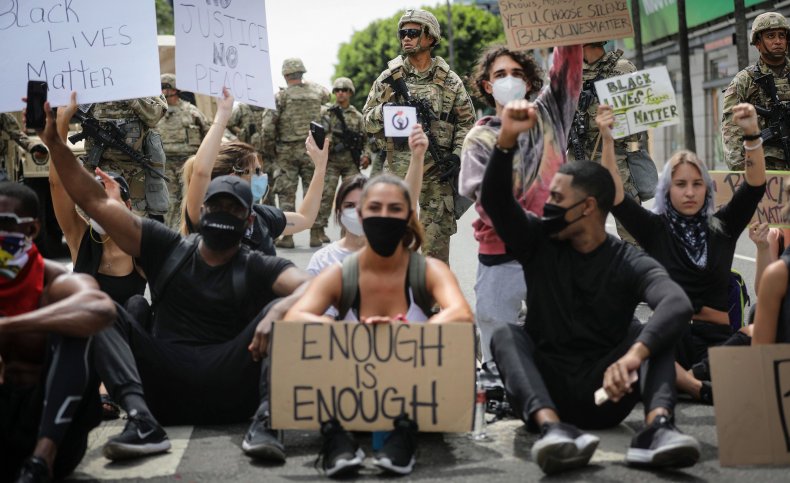 "The focus needs to stay on taking down systemic racism and ending senseless violence against Black men and women — and we can't let a small number of people hijack that movement by destroying property and looting," Garcetti said in a statement formally announcing the city's ongoing curfew across Los Angeles County.
"We are keeping the curfew in place tonight to protect everyone's safety and help our first responders keep the peace," he added.
Newsweek reached out to Mayor Garcetti's office for comment but did not receive a reply in time for publication.