Thousands Raid South Korea Church in Futile Search for Ferry Family Boss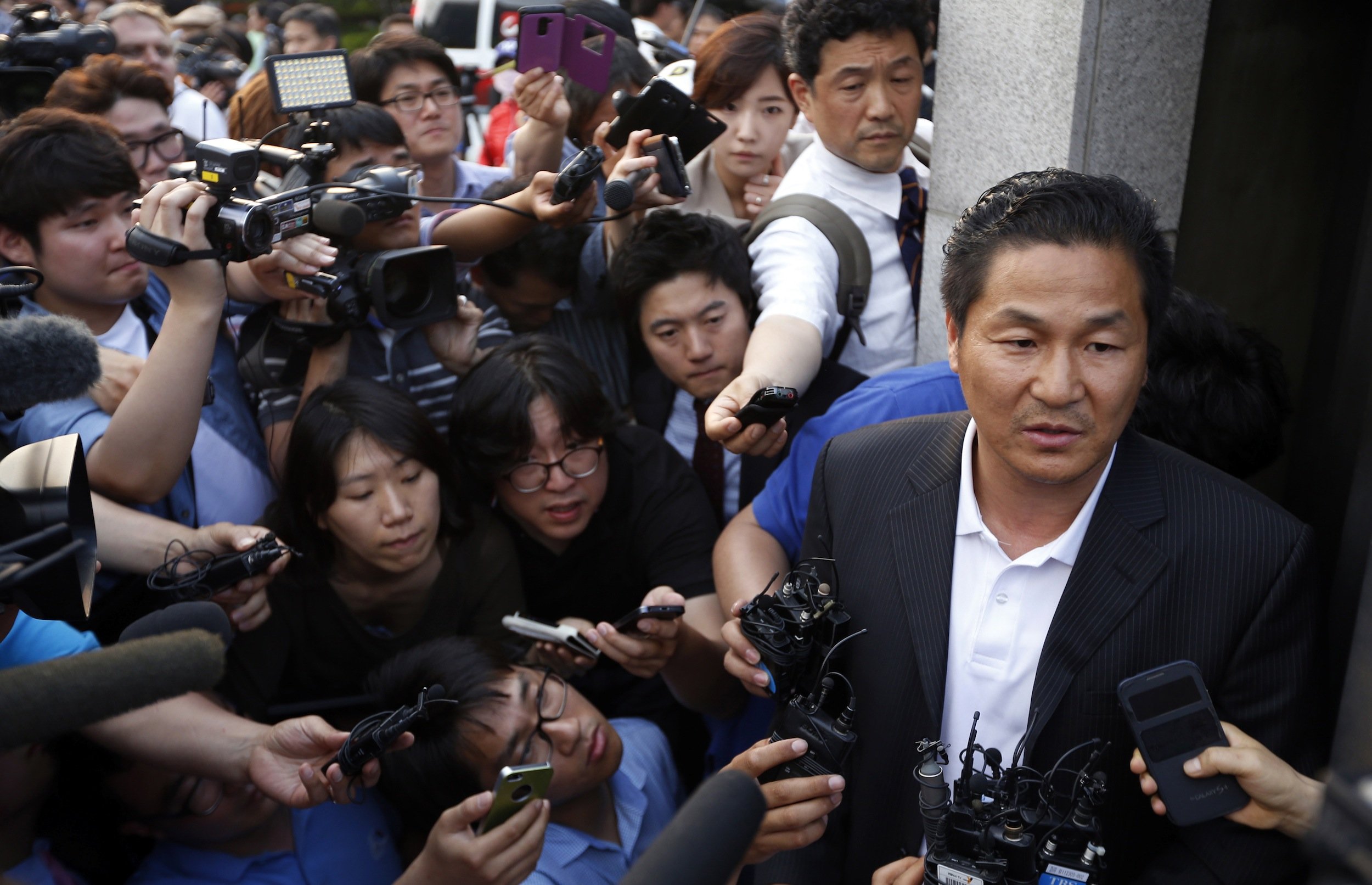 ANSEONG South Korea (Reuters) - Thousands of South Korean police and prosecutors raided a sprawling religious compound for a second time on Wednesday in their search for an elderly businessman linked to a ferry disaster that reduced the nation to tears.
Helicopters flew overhead as officers moved from building to building at the site, believed to cover the size of a dozen soccer pitches, with church members in pursuit, some singing hymns, others chanting "Let's fight with prosecutors and police!"
But the businessman, Yoo Byung-un, also a photographer who was once jailed for fraud and is now South Korea's most wanted man, was nowhere to be found.
Yoo, in his 70s, co-founder of the church which owns the website www.god.com, is wanted on charges of embezzlement, negligence and tax evasion stemming from a web of business holdings centred on I-One-I, an investment vehicle owned by his sons that ran the shipping company, Chonghaejin Marine.
Chonghaejin owned the Sewol which sank off the southwest coast on April 16 on a routine journey from Incheon on the mainland to the southern holiday island of Jeju.
Of the 476 passengers and crew on board, 339 were children and teachers from the same school. Only 172 people were rescued and the remainder are all presumed to have drowned.
The raid came a day after 15 crew went on trial in a court packed with angry parents of the children who died. Four crew face homicide charges after they were seen escaping the sharply listing vessel as the children stayed in their cabins as told.
It also came a day after President Park Geun-hye, whose government was sharply criticised over its handling of the disaster, said "it made no sense" that such an extensive search operation had failed to catch Yoo.
Church members grow organic produce, run a fish farm and hold religious services. Yoo is believed to keep a photography studio inside. As the search operation went ahead, some church members handed out organic ice cream to police and journalists in the sweltering heat.
Yoo and his sons, one of whom is based in the United States, have eluded a police manhunt for nearly a month.
Yoo is a co-founder of the Evangelical Baptist Church that runs the Anseong compound, a two-hour drive south of Seoul. The prosecution has frozen the Yoo family's assets, but news reports said there may be more yet to be identified.
Authorities last month increased the reward for information leading to Yoo's arrest tenfold to the equivalent of half a million dollars.
About 6,000 officials took part in the raid, three weeks after an initial search of the compound.
Chonghaejin Marine did not answer phone calls on Wednesday, while two other firms related to Yoo had no comment on questions as to his whereabouts.