Over 160,000 Russians Call for Putin to Sack PM Medvedev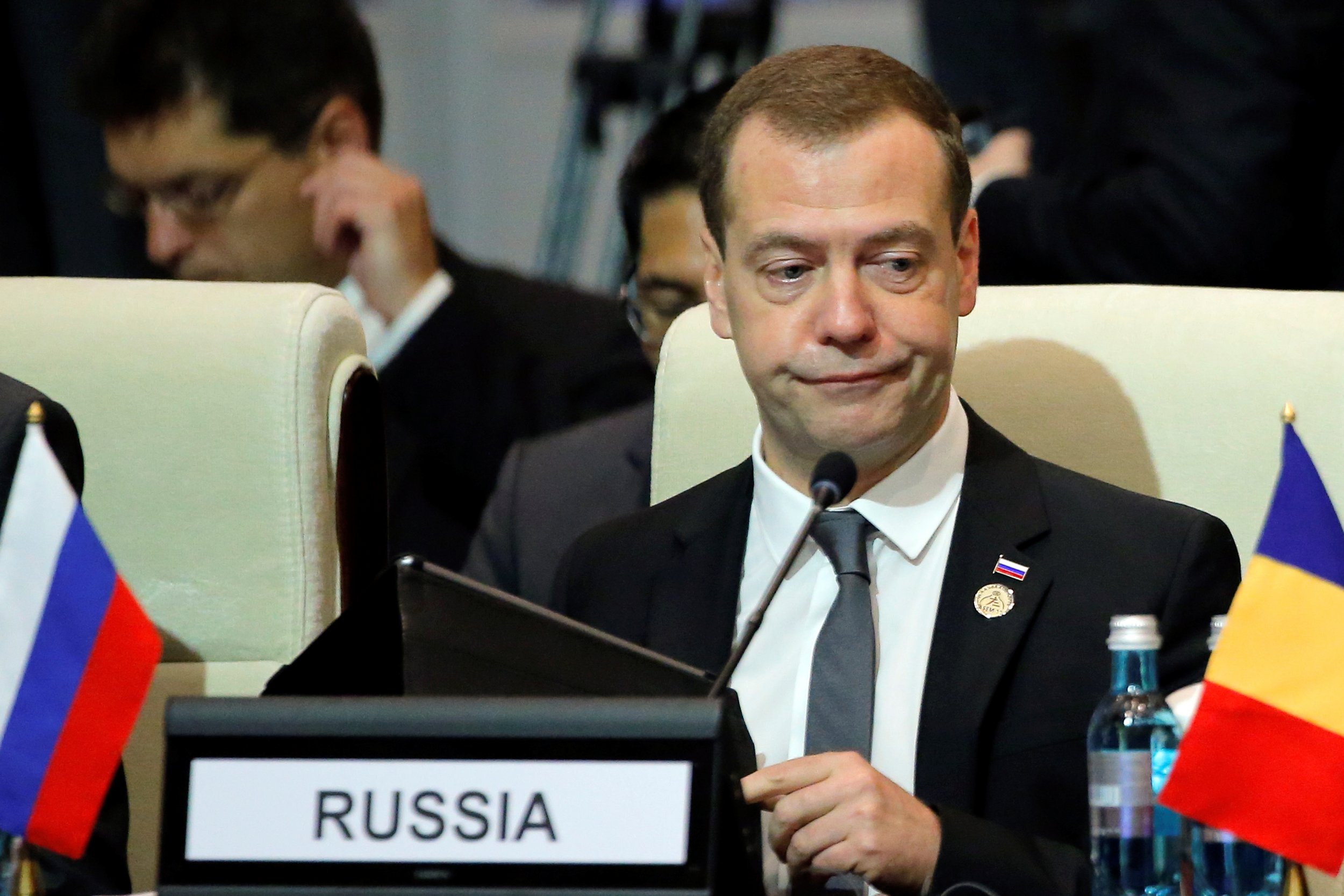 Updated | Russian Prime Minister Dmitry Medvedev is facing calls from the public to resign or be sacked after a series of controversial statements about the Russian economy.
Medvedev is currently holding talks with ministries in a bid to plan the three next annual budgets at once and stabilize the ailing Russian economy. He said it will be difficult not to increase spending.
At a public forum on Wednesday, a teacher from Dagestan asked Medvedev about teachers' salaries and was told by the Prime Minister that he should "try business" if he wants to make more money.
This follows Medvedev's words to a pensioner in Crimea earlier in the summer becoming a meme and a trending hashtag in Russia. When asked whether Moscow would increase pensions in the region, to compensate for the economic crisis that hit after the annexation in 2014, Medvedev told the woman, "There just isn't any money at the moment…but you hang in there."
The phrase has been reiterated by the Russian opposition every time a public official has flashed their cash, most recently in July when Medvedev's deputy was alleged to have spent $1.6 million on private jet trips, including several of them to fly his prized Welsh corgi dogs to shows.
Although Medvedev's words to the teacher prompted lighthearted laughter at the event, Russians across the country do not seem to be seeing the funny side of it all. A petition on website Change calling for Medvedev to be sacked has acquired over 163,000 signatures since starting on Thursday.
"The Cabinet of Ministers should be headed by a competent, educated person who supports the country," the petition's author writes. "Now we see the opposite situation."
"The guy lives in his own little world and judging by his statements he doesn't care at all about the general public," the top commenter, a local from Omsk, writes. Speculation about Medvedev's future grew rife on Thursday, propelling his name to a top trend on Twitter in Russia, with many calling for his resignation.
Members of Russia's Communist Party, including member of parliament Vera Ganzya, who has called Medvedev's statement on teachers "a disgrace." The petition is addressed to Russian President Vladimir Putin but the Kremlin is yet to acknowledge it.
On Wednesday Kremlin spokesman played down reports in the Financial Times that Medvedev would likely be replaced by ex-Finance Minister Alexey Kudrin after the parliamentary elections in September.
This article has been updated with the increased number of signatures to the petition.