Thousands Sign Petition to Stop Anti-LGBT Trump Ally Franklin Graham From Speaking at London Event: 'He Is Not Welcome'
More than 8,000 people have signed a petition calling on event organizers in Britain to cancel an event that would see Trump ally and anti-LGBT+ preacher Franklin Graham appear in London this year as part of a planned tour across Britain.
The petition, organized by action group All Out had initially claimed that Graham would be speaking at The O2, which it noted has the capacity to hold an audience of 20,000.
However, on Tuesday morning, a spokesperson for The O2 told Newsweek that while Graham may have had an interest in holding the event there, no deal was ever made and the event would not be happening at the premises.
While it is still unclear where Graham might host his London event, if at all, the development comes after plans for a similar speaking event in Liverpool were canceled after protesters brought his anti-LGBT+ sentiments to light.
The eldest son of the late preacher Billy Graham, Franklin Graham—who has made clear that he believes gay marriage is a "sin"—had been expected to speak at ACC Liverpool on June 12 as part of a tour across Britain. But a spokesperson for the venue said organizers had recently been "made aware of a number of statements" he had made "which we consider to be incompatible with our values."
"In light of this, we can no longer reconcile the balance between freedom of speech and the divisive impact this event is having in our city," the spokesperson told the BBC in a statement, adding: "We have informed the organizers of the event that the booking will no longer be fulfilled."
In a petition organized in response to a similar event planned in London, protesters described how Graham "travels around the world telling tens of thousands of people that Satan runs the LGBT+ movement."
"He persuades audiences that LGBT+ people don't deserve to have families," the petition's creators state. "He stands on stages in huge arenas warning people of the consequences of being gay, threatening impressionable young people with the 'flames of hell'."
"In short, he spends a lot of time and money telling the world that our love is a sin and encouraging those who want to hurt us. And now he is coming to the UK," they state, before asking signatories to help "send a clear message to this US hate monger that he is not welcome in London or the UK."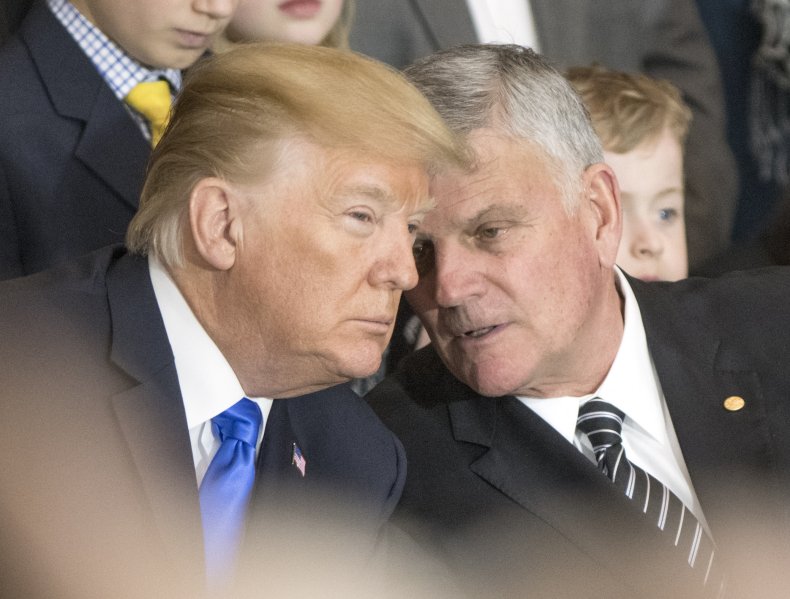 As of late Monday morning, just over 8,300 people had signed the petition, which has been addressed to Alex Hill, the chief executive and president of AEG Europe.
"Graham is a hate preacher. His message is deeply divisive, encourages violence has been condemned by UK Christian leaders," the letter states.
"London is a proudly diverse city and the O2 should not be a venue that amplifies and facilitates hate," it continues, despite there being no solid plans to host the event at the O2.
In a statement sent to Newsweek, Graham condemned the effort to bar him from speaking at British venues.
"For some time I have been planning to come and preach the Gospel in eight cities across the UK in 2020," he said. "Hundreds of churches are working with the Graham Tour UK and praying for these events."
"Some people have said I am going to bring hateful speech to the UK, but this couldn't be further from the truth," he asserted. "I'm coming to the UK to speak about God's love through His Son Jesus Christ. Jesus didn't come to condemn the world–He came to save it. The Gospel is timeless, and Bible-believing Christians in the UK have proclaimed it for centuries."
The preacher then said that he believed that he and other evangelicals were being "discriminated against because of our religious beliefs."
"Cancelling venue contracts based on the demands of one very vocal group, without consideration for the views and rights of the Christians who contracted for the venue, including the views of thousands of other Christians who support it and who would be negatively impacted, does far more to harm and divide society than simply letting the events go on as planned," he said.
"It is wrong for venue managers and local officials to make a decision that disadvantages Christians," Graham added. "It is our hope that venues will allow contracts to remain unchanged."
The preacher said he wanted to "invite everyone to come and hear for themselves the Gospel message that I will share from God's Word. All are absolutely welcome, regardless of their beliefs or background."
Graham has long been an ardent supporter of President Donald Trump's, speaking out in the president's defense in the face of criticisms from others within the evangelical community.
After the magazine Christianity Today, which was founded by the late Reverend Billy Graham in the 1950s, published an editorial calling for Trump's removal from office in December, Graham defended the president against the criticisms.
Trump offered his thanks to the preacher while speaking at the launch of the Evangelicals for Trump coalition in Miami, according to The Washington Examiner.
"I appreciate everything that Franklin has done over the last two weeks," the president said. "Right, he fought very hard for us," Trump said.
This article has been updated with statements from Franklin Graham and The O2. It has also been updated to remove the name and title of The O2 spokesperson at their request.