Thousands Sign Ukraine Petition To Remove Amnesty Chief Agnes Callamard
Ukrainian civil society leaders have started a petition demanding Agnes Callamard resign as Secretary General of Amnesty International, following a controversial report on the war in Ukraine.
Amnesty accused Ukrainian forces of using tactics that "violate international humanitarian law" and putting "civilians in harm's way," by stationing themselves in urban areas.
The report sparked a furious reaction from Ukrainian President Volodymyr Zelensky, who accused Amnesty of shifting "the responsibility from the aggressor to the victim."
In response to the report, a petition was launched by 57 Ukrainian civil society figures, including charity heads, journalists and activists, on the Change.org website.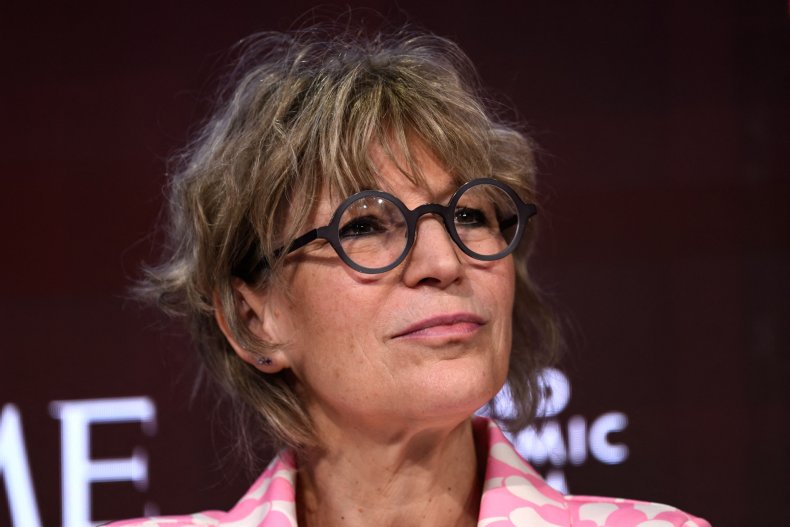 Posted by Maksym Eristavi, chair of the KyivPride Managing Board, it calls for Callamard to resign along with "other employees…responsible for the incident."
The petition reads: "We, the civil society of Ukraine, activists, volunteers, journalists and human rights defenders, are outraged by a series of irresponsible steps by Amnesty International, which put our lives and the lives of millions of other Ukrainians in even greater danger amid the ongoing Russian aggression.
"We demand the immediate resignation of the Secretary General of Amnesty International Agnes Callamard, other employees of the organization responsible for the incident, as well as making a series of steps to prevent a similar situation from happening again in the future."
It goes on to describe the Amnesty report as "a spit in the face of Ukrainian people who risk their lives every day."
Signatories include Volodymyr Sheiko, Ukraine Institute general director, Victoria Voytsitska, National Education Association board chair and Maksym Budyuka, who heads Ukrainian charity Protego.
The petition has also been signed more than 5,700 times by activists and members of the general public.
The petition adds: "Arguments about impartiality or neutrality make no sense, given that the report completely ignores the Ukrainian military and humanitarian context. In addition, Amnesty International's failure to explain the research methodology and provide meaningful evidence further undermined the security of millions of Ukrainians and gave the aggressor a powerful formal and ideological justification for further war crimes.
"The text of the report clearly shifts responsibility to those who defend themselves. This victim-blaming has nothing to do with the protection of human rights."
On August 4 Callamard defended her organization's report on Twitter, commenting: "Amnesty has documented tirelessly Russia aggression, war crimes in Ukraine.
"Today we report on Ukraine tactics endangering civilians. To those who attack us alleging biases against Ukraine, I say: check our work. We stand by all victims. Impartially."
She later added: "Ukrainian and Russian social media mobs and trolls: they are all at it today attacking @amnesty investigations.
"This is called war propaganda, disinformation, misinformation. This won't dent our impartiality and won't change the facts."
After the report was published Oksana Pokalchuk, head of Amnesty International in Ukraine, resigned in protest.
She accused Amnesty of having "created material that sounded like support of Russian narratives," adding: "Seeking to protect civilians, this study instead has become a tool of Russian propaganda."
Amnesty International and Agnes Callamard have been contacted for comment.