Thousands of Taco Bell Fans Sign Petition to Keep Mexican Pizza on the Menu
Taco Bell has announced more cuts to its menu, with the axing of the Mexican Pizza leading to a social media backlash and even a petition signed by thousands of fans.
The latest round of cuts comes after Taco Bell removed multiple items from its menu in August, including the Nachos Supreme and Beefy Fritos Burrito. This time around, there are far fewer items leaving the menu, but that doesn't mean that fans are any less upset.
Taco Bell is getting rid of its Mexican Pizza, Shredded Chicken items (Shredded Chicken Soft Taco, Shredded Chicken Burrito, and Shredded Chicken Quesadilla Melt), and Pico de Gallo.
Mike Grams, Taco Bell president, said in a news release: "We're constantly evaluating ways to provide a more efficient restaurant experience, and have already begun to see progress from streamlining our menu.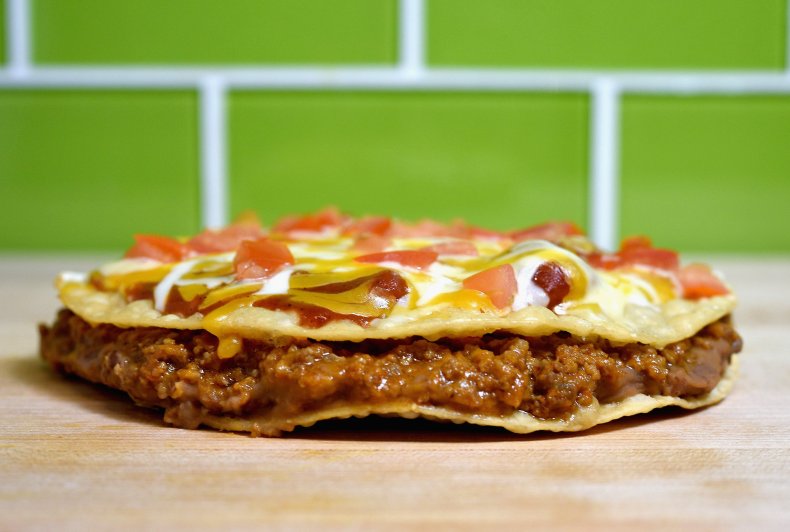 "While we know fans may be understandably sad to see some of their favorites go, this evolution of our menu truly paves the way for fresh new ideas. The creativity and innovation in our kitchen hasn't slowed down at all, and we look forward to rolling out new fan favorites."
Taco Bell was right to anticipate the disappointment fans would feel at the loss of the Mexican Pizza, as a petition demanding that the item remains on the menu already has more than 13,500 signatures.
The petition asks supporters to buy as many pizzas as possible and says: "This is an item loved by many, especially the South Asian community. Losing this item would not only be the loss of one of our favorite foods but a piece of our childhood and heritage as Indian Americans.
"Please band together, show support, and save the Mexican Pizza."
The petition links to an article in The Takeout that explains that while "It may come as a surprise to some people that Taco Bell has danced its way into the hearts of many South Asian Americans." Taco Bell is a great option for South Asians who are vegetarian or want to eat halal, as it is easy to substitute meat for veggie options.
Even celebrities are trying to pressure Taco Bell into rethinking their decision, like singer Doja Cat (who has changed her Twitter username to "taco hell") and said: Please @tacobell bring back Mexican pizza and spicy potato soft taco. I'm asking you nicely first."
Comedian Bert Kreischer said: "PLEASE RETWEET THIS if you think @tacobell is making A mistake by CANCELING the Mexican pizza!!! With enough RT's maybe we can stop this!!!"
However, while fans will be sad to see it go, Taco Bell said that removing the pizza from its menu will help the environment as the packaging accounts for more than 7 million pounds of paperboard material per year in the U.S.
The company also wants to reassure vegetarians who rely on the Mexican Pizza as their go-to order that Taco Bell is still vegetarian-friendly and that veggies can swap out meat in any item for plant-based proteins. Taco Bell also hinted that vegetarians may see more plant-based items on the menu in the near future.
While the fast-food chain is saying goodbye to some fan favorites, they will be introducing some new items to the mix.
Diners across the U.S. will get to try the Chicken Chipotle Melt on November 5 and the Dragonfruit Freeze on September 24, while the Green Sauce—fire-roasted green chilies, pureed jalapeño, and hatch green chiles—is returning to select locations
Plus, Taco Bell will be testing the fan-favorite Quesalupa in Knoxville, Tennessee, from September 24 before relaunching the item on menus nationwide next year. Additionally, to replace the Mexican Pizza combo, the Nacho Cheese Doritos Locos Tacos Supreme with a large drink combo is returning.
But if that's not enough to make up for the controversial menu changes, Mexican Pizza fans can sign the petition to try to change Taco Bell's mind—otherwise, they have until November 5 to make the most of their favorite item.