Thousands Turn Pro-Democracy Celebration Into Protests Against Coming COVID Restrictions
Rallies commemorating the anti-communist Velvet Revolution of 1989 turned into protests against COVID-19 restrictions.
The Czech Republic and Slovakia both held rallies celebrating the anniversary of the revolution. However, both countries saw those rallies turn into protests against both countries' new COVID-19 mandates. Two police officers were injured in Bratislava, Slovakia after the rally crowd detonated firecrackers. No injuries or police interventions were recorded in the Czech Republic's capital of Prague.
These rallies come as both countries reported record amounts of new COVID-19 cases. The Czech Republic saw 22,479 new cases be reported, while Slovakia had 8,342 new infections. New restrictions that would bar unvaccinated people from public events or establishments are expected to be approved by the government. Vaccinated people or those who have recently recovered from COVID-19 will be allowed to attend.
"We find ourselves in a very serious situation," said Czech Health Minister Adam Vojtech in a statement. "There's a real risk that our hospitals will be overwhelmed."
In a similar measure, Slovakia is expected to implement a three-week ban against unvaccinated people from nonessential places. Affected places around the country include gyms, pools and shopping malls. Mass public gatherings among unvaccinated people are also discouraged.
Both countries have vaccination rates well below the average of the European Union. About 57 percent of the Czech Republic and 45.3 percent of Slovakia are fully vaccinated.
For more reporting from the Associated Press, see below: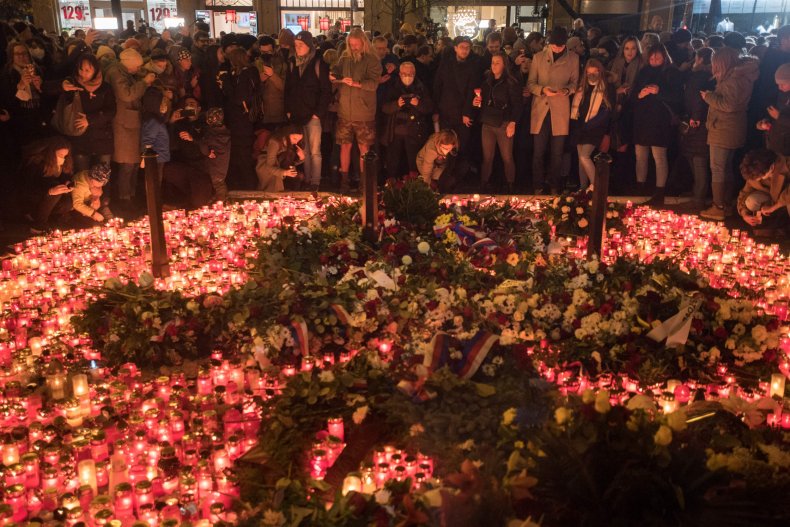 The protesters ignored social distancing and didn't wear masks.
The Czech daily tally eclipsed the previous record set January 7 by almost 5,000 and nearly 8,000 more than just a week ago. The country's infection rate rose to 813 new cases per 100,000 residents over the past seven days, up from 558 a week earlier.
The Czech measures are expected to become effective on Monday.
"It's motivation for the unvaccinated to get vaccinated," Vojtech said.
Exceptions include teenagers aged 12 to 18, medical personnel and visitors at hospitals and nursing homes.
Vojtech also urged companies to cancel their traditional Christmas parties and return to working at home wherever possible.
Slovakia surpassed the previous record of 7,244 set Friday. The Slovak government is planning new restrictions on unvaccinated people as the country's hospitals are getting overwhelmed with COVID-19 patients.
Slovak Prime Minister Eduard Heger said his Cabinet would vote Thursday on recommendations from medical experts.
Slovakia's Health Ministry said 81 percent of the country's 2,879 hospitalized COVID-19 patients are unvaccinated.