Berkeley 'Free Speech Week': Police, Rights Groups Warn Against Stoking Violence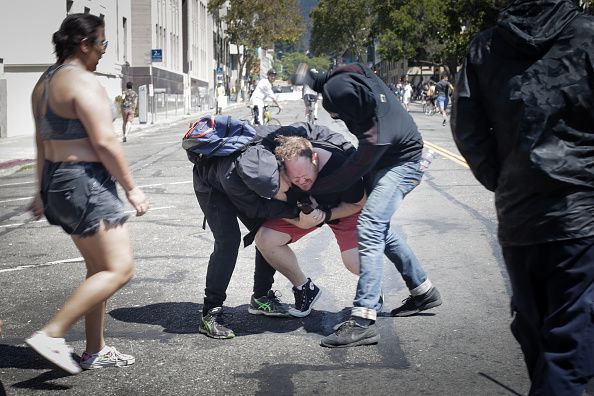 With "Free Speech Week" approaching, students at the University of California, Berkeley, and nearby residents are readying themselves for another potential melee involving alt-right protesters and counterprotesters, and local police and rights groups are warning people to stay out of harm's way.
An event planned by conservative media personality Milo Yiannopoulos, "Free Speech Week" is expected to start on Sunday and feature speakers including Steve Bannon, a former top adviser to President Donald Trump, and lightning rod pundit Ann Coulter.
"If you do go out, don't be baited into a fight," Sergeant Andrew Frankel of the Berkeley Police Department tells Newsweek, referring to people in the area. "If you do go out and witness someone committing a violent crime, please first get out of the way. Then, when you're in safety, film it and send the footage to us, so we can take care of it."
"Free Speech Week" could be the seventh event in the city to stir tensions across the political divide since Trump's election win, according to Frankel's recollection. He says the department has become familiar with what causes violence to erupt and how it manifests when it does.
"We've seen M80s [a powerful type of firecracker] thrown at police and protesters from both sides," Frankel says. "Also, eggs and soda cans get thrown. Sometimes, people use pepper spray and bear spray."
Frankel said the press focuses on whether the protesters at events like these are left- or right-leaning, but he prefers to divide them up into two other categories: law-abiding or criminal.
"I believe that the average protester at one of these events wants to engage with someone who has a different point of view about politics," Frankel said. "Then there are other people who see the events as an opportunity to commit mayhem."
The Southern Policy Law Center (SPLC), one of the nation's leading civil rights groups, is recommending that people avoid mayhem during "Free Speech Week" for entirely different reasons.
"White nationalists and alt-right figures are very interested in getting a foothold in spaces from which they feel they've been cut off, namely government and colleges," Ryan Lenz, a SPLC spokesman, tells Newsweek. "When you confront them physically in the streets, you give them exactly what they want."
Lenz spoke at the Berkeley campus Tuesday night to warn students about the ambitions of the speakers that choose to appear there, and why he believes that college campuses are being targeted for events like the one planned this week. "I think [people like Milo Yiannopoulos] believe that vitriol from counterprotesters validates their claim that their free speech rights are being violated," Lenz said.