'Threats to Democracy' Overtake 'Cost of Living' as Voters' Top Issue: Poll
For the first time in recent months, registered voters in the U.S. say that the top issue on their minds is the threat facing democracy, according to a poll from NBC released Sunday. Previous NBC polls in March and May showed that the top issue on the minds of those surveyed was cost of living.
The poll this time found that 21 percent of voters ranked "threats to democracy" as the most critical matter facing the country, while 16 percent chose "cost of living," which ranked as second. In third was "jobs and the economy," with 14 percent.
The poll also asked voters about their opinion on the investigations into former President Donald Trump's alleged misconduct: 57 percent of voters polled believe they should continue, while 40 percent said they should stop.
Earlier this month, the FBI, with the approval of Attorney General Merrick Garland, carried out a search of Trump's Mar-a-Lago property in Florida as part of an investigation into whether the ex-president mishandled classified documents. Many Republicans have criticized federal law enforcement officials in the wake of the raid, with Trump describing it as part of an ongoing "witch hunt" against him.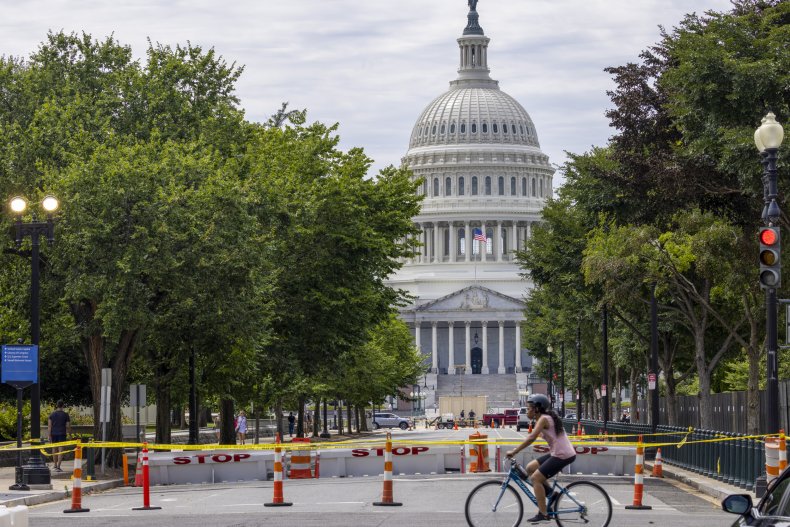 The poll's responses regarding the investigations into Trump's conduct fell largely along party lines, with 92 percent of Democratic voters and 61 percent of independents saying they believe the investigations should continue, while only 21 percent of Republican voters support the ongoing investigations, according to NBC.
The poll was conducted between August 12 and August 16, days after the raid at Trump's Mar-a-Lago home. The poll surveyed 1,000 voters and has a margin of error of 3.1 percent.
Newsweek has reached out to Trump's press office for comment.
The poll also asked voters about their political preferences ahead of the November midterm elections. It showed that Republicans maintain a slight advantage over Democrats in congressional races: 47 percent of those surveyed said they'd prefer a Congress controlled by Republicans, while 45 percent said they'd favor a Congress controlled by Democrats. Eight percent of voters are still undecided.
This week, Senate Minority Leader Mitch McConnell cast doubt on Republicans' chances of retaking Congress' upper chamber, noting that he believes it will be easier for Republicans to win back control of the House.
"Senate races are just different," he said, according to NBC News. "They're statewide. Candidate quality has a lot to do with the outcome."