Nicaragua Human Rights Group Shuts Down After Receiving Death Threats
A Nicaraguan human rights group has closed its offices after receiving "alarming" threats to staff members for its work documenting the government's repression of protests.
The Nicaraguan Association for Human Rights (ANPDH) said it had received a host of death threats and obtained information stating that the Daniel Ortega administration planned to charge ANPDH employees with fabricated crimes.
The association released a statement saying it was temporarily shuttering its offices "in order to guarantee the safety and physical integrity" of its employees but would continue documenting human rights conditions electronically.
"I confess I never imagined witnessing a self-exile in its exact moment. Crying, they said despite the cost, it was worth defending human rights in Nicaragua," Inter-American Commission on Human Rights Executive Secretary Paulo Abrao wrote on Twitter after meeting ANPDH members at a Honduras airport. The team was traveling to Costa Rica.
The rights group claims violence stemming from protests have killed 448 people in Nicaragua since April, when demonstrators first took to the streets to challenge social security cuts proposed by Ortega. After officials violently suppressed the protests, thousands flooded the streets to demand Ortega's resignation.
The number of fatalities reported by ANPDH is significantly higher than tallies by other human rights monitors and the government's own death count. The Ortega administration said that 195 people have been killed, while the Inter-American Commission on Human Rights reports that 317 have died.
ANPDH also indicated that approximately 600 people have disappeared since the protests started.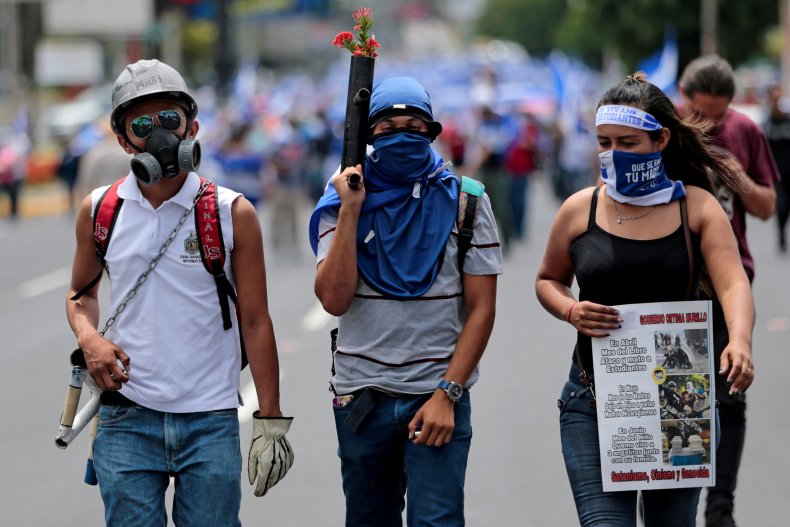 Washington has blamed much of the bloodshed on the Nicaraguan president. However, Ortega has denied accountability for the violent protests and said "terrorists" and "coup plotters" are planning his ouster.
The violence against human rights workers comes as the government reportedly seeks to purge anti-government influences. The BBC reported that "dozens of doctors and health workers have been sacked. They said their dismissals came after they treated injured anti-government protesters," and that professors at state universities have also been fired for criticizing the government.
Roman Catholic Church officials have sought to mediate the conflict and have accused the government of arbitrarily detaining and torturing opposition members. Ortega has also criticized the church, claiming it was supporting "coup mongers."
The unrest has fueled anxiety and uncertainty about the country's future.
"In the face of the government crackdown, street protests, once a daily occurrence, have subsided, replaced by the occasional peaceful march," The New York Times reported. "But the crisis has entered a new phase, colored by widespread dread and a paralyzing uncertainty over what comes next."