Three Additional Victims Identified In Surfside Building Collapse
Authorities identified three additional victims of the Champlain Towers South building collapse in Surfside, Florida on Monday.
The bodies of Frank Kleiman, 55, and Michael David Altman, 50, were both recovered and identified on Monday. Marcus Joseph Guara, 52, was recovered on Saturday and identified on Monday.
The identities of all 11 confirmed fatalities have been released by the Miami-Dade Police Department, with names of the other eight people who died in the collapse having been previously released.
Guara lived at the building with his 41-year-old wife Ana Guara and their two daughters, ages 4 and 11—all of whom have been missing since the building collapse.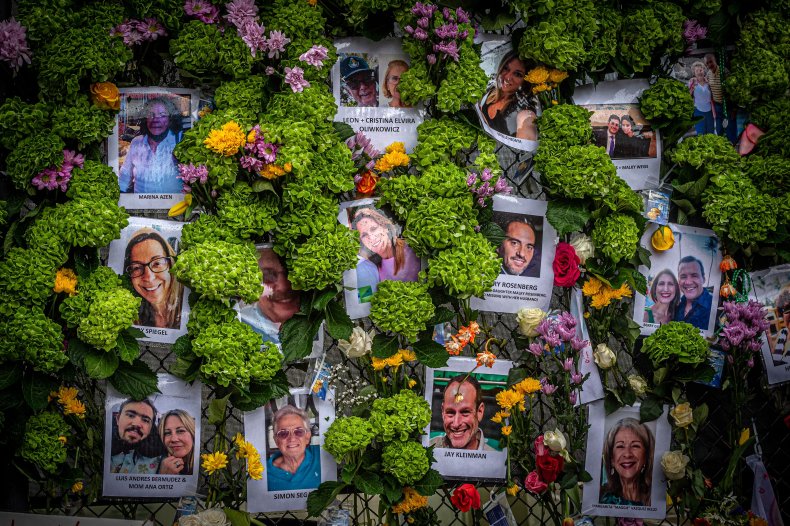 Kleiman's newlywed wife Ana Ortiz and her son Luis Bermúdez were also identified as victims of the collapse. Bermúdez, who used a wheelchair due to muscular dystrophy and owned a clothing company called Saucy Boyz Clothing, described himself as "a creator," lover of sushi and a person with "a big heart" on his Instagram page.
Kleiman's brother Jay Kleiman was visiting from Puerto Rico to attend the funeral of a friend who died from COVID-19. He was staying with their mother Nancy Kleiman, who lived on the same floor as his brother's family. They are both missing.
The family of Altman searched local hospitals and filed a missing person report before the remains of their loved one was found in the rubble, according to WPLG. He lived on the eleventh floor of the building.
Stacie Fang, 54, lived on the tenth floor and was the first victim to be identified. She was pulled from the debris and transferred to Aventura Hospital but later died from blunt force trauma. Fang is survived by her 15-year-old son Jonah Handler, who was also rescued from the rubble.
Antonio and Gladys Lozano, who were due to celebrate their 59th wedding anniversary next month, died in the collapse only hours after dining with their son Sergio, who lived in the tower that did not collapse. Sergio told WPLG that his parents had joked that night that neither of them wanted to outlive the other.
Manuel "Manny" LaFont, 54, was an eighth floor resident who died in the collapse hours after his two children were picked up from the building by his ex-wife, according to People. He was remembered as a loving father, a business consultant and a dedicated little league coach.
Christina Beatriz Elvira, 74 and Leon Oliwkowicz, 80, were also among the identified victims of the collapse. The couple were originally from Venezuela and had recently moved to the building. They are survived by four children and 11 grandchildren.
Miami-Dade County Mayor Daniella Levine Cava said on Monday that 150 people believed to have been in the building were still unaccounted for, while 136 had been accounted for.
"The search and rescue continues," Levin Cava told reporters. "Our teams have made significant progress on the site... These numbers are very fluid and they will change."
Newsweek reached out to Levin Cara for additional information and comment.