Advertising Professors Assess the Bud Light Fiasco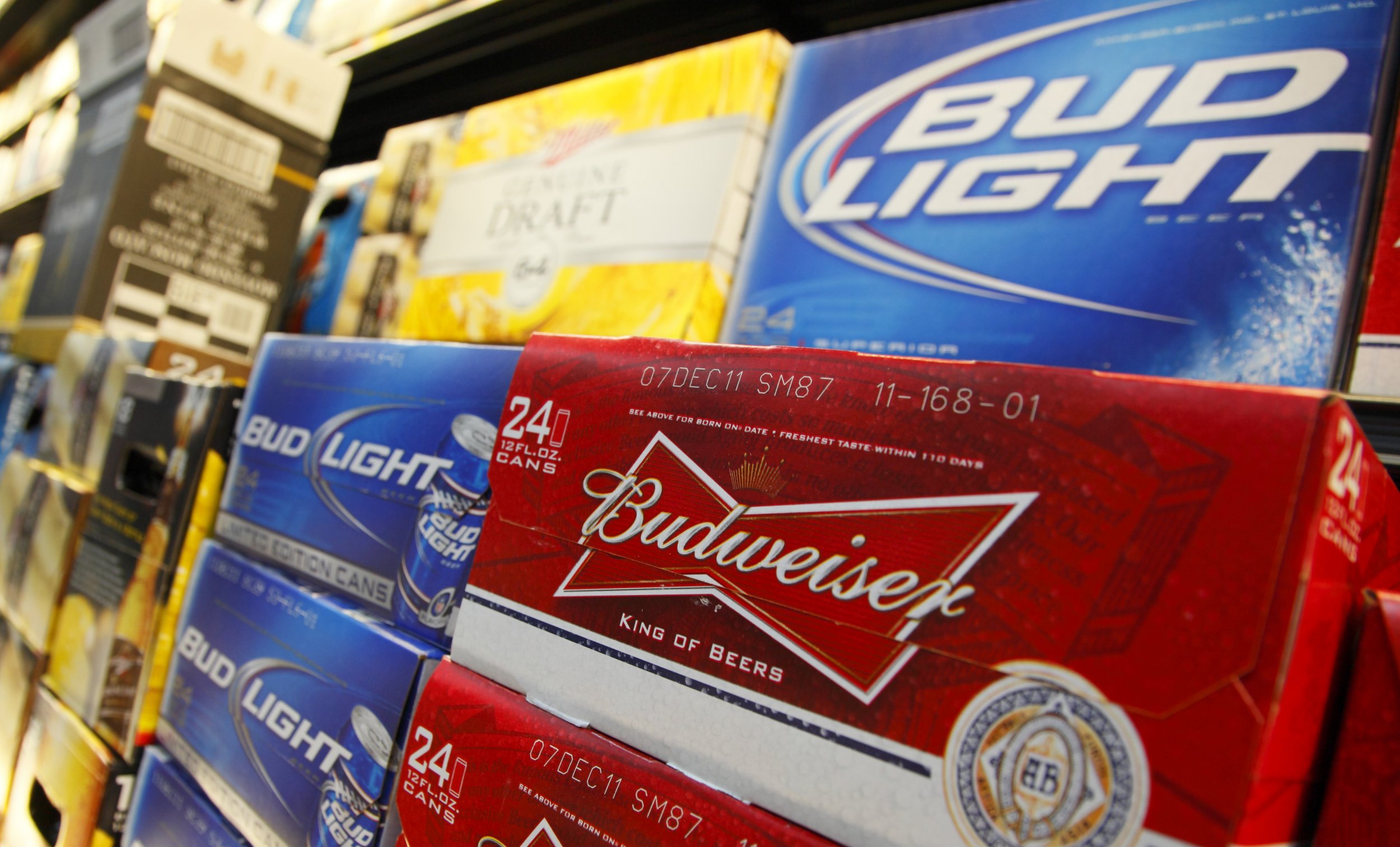 "What a fiasco," Edward Boches, a professor of advertising at Boston University, said when he returned a call from Newsweek about the Bud Light tag line that has garnered a slew of criticism. "The perfect beer for removing 'no' from your vocabulary for the night," the line said.
Boches says he was completely stunned when he first saw the campaign. It was "beyond belief to me that a mainstream brand...could be so tuned out to cultural trends and important topical news issues," he says, and "that they could not see the connection between saying 'no' and the ability to resist unwanted sexual advances."
The connection was certainly obvious to many, who slammed the tag line on social media:
Anheuser-Busch, which owns the Bud Light brand, apologized on Tuesday and promised the tag line would not be printed on any additional bottles. Alexander Lambrecht, vice president of Bud Light, said in a statement:
The Bud Light Up for Whatever campaign, now in its second year, has inspired millions of consumers to engage with our brand in a positive and light-hearted way. In this spirit, we created more than 140 different scroll messages intended to encourage brand engagement. It's clear that this particular message missed the mark, and we regret it. We would never condone disrespectful or irresponsible behavior. As a result, we have immediately ceased production of this message on all bottles.
Anheuser-Busch did not immediately return Newsweek's request for comment.
"Look at what you said," wrote Alexandra Petri on The Washington Post's ComPost blog in a kind of "open letter" to the brand. "Do you not hear how this sounds? Do you not hear how horrible this sounds, when associated with an alcoholic beverage? Have you never heard of consent?"
Newsweek contacted experts in advertising and marketing to ask how such a seemingly obvious problem could have been overlooked and whether the mistake would likely have an impact on the brand. None of these experts had any direct knowledge of the discussions that led to putting the "removing 'no' from your vocabulary" tag line on Bud Light bottles, but they were willing to speculate.
"This isn't like a tweet that went bad; this is copy on the bottle," says Boches. In other words, it was not a spontaneous sentence published with a few taps on the keyboard and without much thought by a careless social media editor. "It absolutely had to go through some committees of some sort, which comes back to how could it happen."
One possibility, Boches says, is that the connection between the tag line and consent never occurred to anyone throughout the process, which happens sometimes when excitement surrounds an idea. Lee Ahern, a professor of advertising and public relations at Penn State, says this kind of phenomenon, called "groupthink," can "lead to tunnel vision" and "make you blind to things that to other people will be offensive."
It's also possible that someone in the room raised the concern but it was silenced since it was seen as the interpretation of a minority of people. The brand might have assumed that "anybody who interprets that way is crazy, they're obviously going to know what we mean," says Boches. The most cynical point of view, he says, is that the company anticipated the tag line could kick up a storm but wanted the media attention.
"They should certainly have the foresight to think through ramifications," says Ahern. When he discussed the incident with his colleagues, he says, the "consensus was that they hadn't done that." It was clear, they felt, that the campaign "wasn't researched adequately in terms of associations and interpretations people were going to have. It wouldn't have taken too much research before [they] started to unearth the idea...[that the] connotation could easily be taken that the 'no' that you'd be saying would be in the context of consent for sex."
With the rise of the Internet and social media, companies have had to handle growing numbers of avenues for advertising and brand engagement. These platforms also lend themselves to research of the kind Ahern says was lacking in the Bud Light campaign.
"It's very easy to engage in research in a very speedy and low-cost manner, [more so] than it was 10 years ago," says Priya Raghubir, a professor of marketing at New York University's Stern School of Business. But "you need to know what you're looking for," she adds.
And you need to be open to hearing criticisms of the campaign rather than just evidence in its favor. When companies or brands are launching a new advertising campaign, they often "try to confirm what they would like to do rather than play devil's advocate," Raghubir says.
Boches brings up another potential reason why such a glaring connection could be missed: The percentage of women in senior roles on advertising's creative side remains very low. "The lack of female sensitivity just in the creative arena is a huge reason why things like this could even happen," he says. "It's hard to imagine [that] if there's a woman in the room," such a tagline would make it to the bottle without objection, he adds.
It's also likely, he says, that any focus groups that might have been convened would have reflected Bud Light's target demographic of young men, who might have been more likely to interpret the tag line in the innocuous way Bud Light hoped for.
Raghubir, however, says that while it would be tempting to conclude that the mistake was the result of men running, or giving feedback on, the campaign, it would be premature.
Ahern says that "taken generically or taken in a different context [such as a case of improv or brainstorming], the idea that you shouldn't say no isn't necessarily a bad thing. However in the context of alcohol, you have to be really, really careful."
As Petri writes in the Post, "Bud Light, you may be many things. But you are also an alcohol, which is to say, a mind-altering substance. You can lower people's inhibitions. You can alter their decision-making. You can impair their ability to consent."
In its Code of Responsible Practices for Beverage Alcohol Advertising and Marketing, the Distilled Spirits Council of the United States (DISCUS) addresses this issue, suggesting brands self-regulate references to women and sex:
Beverage alcohol advertising and marketing materials should not degrade the image, form, or status of women, men, or of any ethnic, minority, sexually-oriented, religious, or other group...

While a brand preference may be portrayed as a mark of good taste and discernment, beverage alcohol advertising and marketing materials should not rely upon sexual prowess or sexual success as a selling point for the brand. Accordingly, advertising and marketing materials should not contain or depict:

• graphic or gratuitous nudity;

• overt sexual activity;

• promiscuity; or

• sexually lewd or indecent images or language.
Though such codes are not enforceable, DISCUS has in the past asked brands to pull advertisements. Skyy Vodka, for example, came under DISCUS scrutiny when it published a suggestive ad that featured a woman's legs wrapped around a bottle.
Anheuser-Busch's reaction was "classic crisis management," Raghubir says. "'Acknowledge, apologize, move on.' Whereas if you try to defend or explain or rationalize or argue, you're really going to make a big scandal out of it."
Especially with a quick apology, "I don't think they would lose traction among their loyal customers," she says. Boches and Ahern agree, echoing Raghubir's view that the fiasco ultimately won't have any effect on the brand's sales.
"I don't think this is going to hurt at all," says Boches. It may "raise the consciousness of all brands to have a little bit more foresight when [they] put anything out into the market, and make Bud Light a little bit gun-shy" in the future. But the brand "might even get a boost, because I don't think the idea is offensive to its core target audience."
Raghubir adds, "Without any disrespect to Bud, but I don't think they are particularly targeted to the intelligentsia who would be sitting around debating the finer points of the hashtag."