Three men have been arrested in northern Thailand in connection with the murder of a wealthy British couple.
Alan Hogg, 64 and Nod Suddaen, 61, vanished from their home in the country's Phrae province last week. The two lived in a luxury three-storey home built by Hogg, who made his fortune with his Scottish-based dry-cleaning firm Clayfull and a handful of other enterprises.
The pair's disappearance came to police attention when friends of Hogg and Suddaen had arranged to meet the couple in the nearby city of Chiang Mai, but were left waiting in vain, prompting police to retrace the couple's last steps to their home and begin an investigation.
"We have arrested three men who have confessed," Police General Sanpat Prabpudsa, the officer leading the investigation, said, according to The Guardian. The trio admitted they had killed the couple in their home and ensured that the bodies were disposed of by burying them far away from property.
Upon first searching the premises, police found bloodstains in the sink and the changing area by the pool, as well as signs that suggested the tainted surfaces may have been wiped. Officers located no further trace of the two victims but their suspicions that the couple had left against their will were further confirmed after they found Suddaen's cell phone, which had been left charging with its owner nowhere in sight.
The three detained suspects said they had shot Hogg in front of the duck pen and then attacked his wife, beating her to death with a hammer inside. According to their testimony Hogg's brother-in-law, Warut Satchakit, was complicit in the killings, suggesting the tragedy was linked to a family dispute.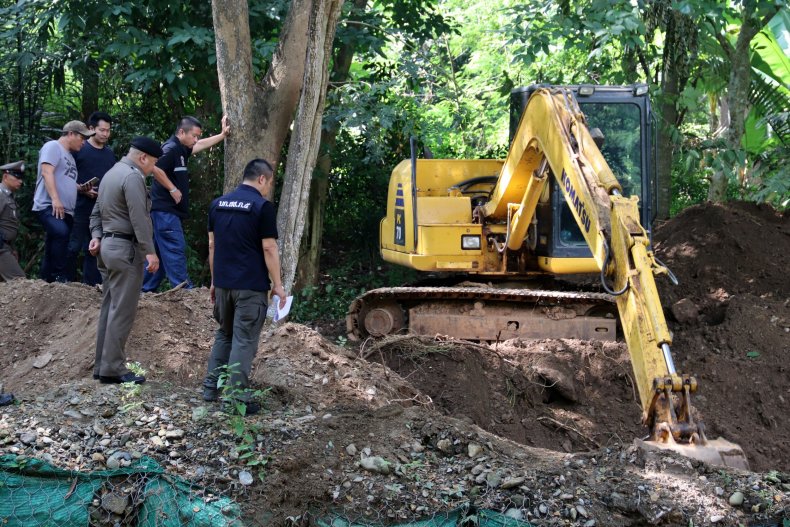 "The brother-in-law had problems with money and there were family issues," Prabpudsa said. The three men charged with the murder of the couple said that the woman's brother was the one who took the bodies and buried them, though the suspected perpetrators knew where the remains of the couple lay. "We know the spot they are buried; I think we can find the bodies today," Prabpudsa added.
Satchakit has already disappeared after his movements aroused police suspicion before the three men's confessions. Authorities took him in on Monday after finding CCTV footage that showed him entering the murdered couple's home on Thursday morning and then taking their car and driving away in it. Officers released him on bail and he has not been seen since.
The couple's daughter has traveled back from the U.K. to assist with the investigation.