Three Biden Executive Actions That Earn Majority Support From Republicans
President Joe Biden's decision to turn to his executive authority instead of Congress in his early days of office drew criticism, but a recent poll shows his actions so far are popular policies, including some that earn majority support from Republicans.
Biden signed more than two dozen executive actions since taking office last week, more than any of his immediate predecessors. Unlike legislation passed by Congress, executive orders can be reversed by another president and many of Biden's actions undid executive orders former President Donald Trump signed.
Those actions, including ending wall construction at the southern border and the ban on travel from some Muslim-majority nations to the U.S., were heavily opposed by Republicans. Others, however, have support from the majority of Republican voters.
Republicans are on board with Biden's executive orders to prohibit workplace discrimination, commit to a government-wide focus on racial equity and require masks on federal property. A poll conducted by Ipsos found 64 percent of Republicans supported the workplace discrimination order, which requires agencies to review policies to ensure they fully comply with anti-discrimination laws and decide if new actions are necessary.
Biden's signed at least four executive actions focused on racial equity, including strengthening anti-discrimination housing policies, end the Department of Justice's contracts with private prisons and fight back against violence and xenophobia against Asian Americans and Pacific Islanders. He also signed an executive order directing the heads of each federal agency to conduct a review of policies to assess whether underserved communities "face systemic barriers" in accessing benefits and opportunities.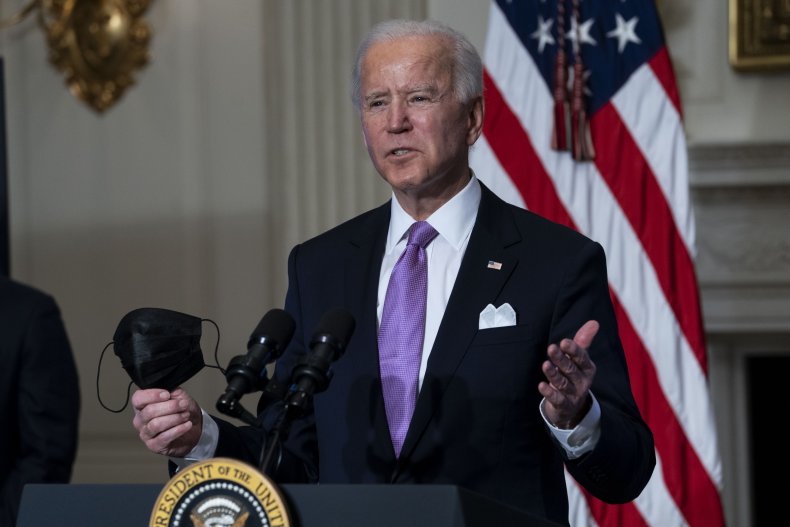 Ipsos conducted its poll before Biden signed three of the four executive actions, but the poll found 52 percent of Republicans backed his whole-government focus on racial equity.
"We're in a battle for the soul of this nation, and the truth is our soul will be troubled as long as systemic racism is allowed to exist," Biden said on Tuesday. "I'm not promising that we can end it tomorrow, but I promise you that we're going to make strides to end systemic racism, and every branch of the White House and the federal government will be part of that."
Minority voters helped propel Biden to the White House, and he's indicated that reforming the system to help minority communities will be a priority of his administration. Another top priority for Biden as a candidate and Biden as president will be the pandemic.
One of the executive actions he's taken to combat the pandemic is mandating masks on federal property. While Biden took flak for appearing on federal property without a mask that same day, it's one of his more popular policies among Republicans. Fifty-nine percent of Republicans in the Ipsos poll supported the measure. While only 47 percent of Republicans in a Morning Consult poll supported the mask mandate, it was the second most popular executive order of the 10 that were given.
While Republicans have indicated support for some of Biden's actions, there's staunch opposition to others, and his administration is likely to face pushback in Congress. Republicans have already launched attacks at him for his actions running contradictory to his inaugural calls for unity and his administration is starting out amid a divisive impeachment trial, which is likely to intertwine with his legislative agenda.