Greek authorities have charged three people with murder after a boat laden with migrants capsized in the Aegean Sea late Friday, killing 16 travelers while on the way from Turkey to Italy. The 16 killed on Friday are part of at least 30 migrants who died at sea in three incidents around Greece last week.
The three suspects were charged with causing an accident at sea, intentional manslaughter and membership in a criminal organization, according to the Greek coast guard. They were among the 63 people rescued after the vessel capsized near the Greek island of Paros.
Another boat sank near the Greek island of Antikythera last week after it struck rocks, and divers recovered 11 bodies across Thursday and Friday after the accident, the New York Times reported. About 90 migrants who survived the crash were stranded on the island overnight until Greek authorities could carry out a rescue mission.
Another boat loaded with migrants sank off the island of Folegandros late Tuesday, leaving at least three people dead and dozens of others missing, according to the coast guard, which said that 12 passengers were rescued from an inflatable dinghy.
"The survivors made it onto a dinghy that was tethered to the [bigger] vessel. Only two of them were wearing life jackets," Nikos Kokkalas, a spokesman with the country's coast guard, told state-run ERT television.
Most of the survivors said that 32 people were on the larger vessel before it sank, but one said there were as many as 50.
"We always presume the worst-case scenario, in this case, that 50 people were on the boat," Kokkalas said.
In light of the deadly incidents, Greece's immigration minister, Notis Mitarachi, called on Turkey to stop migrant smuggling boats from even starting the journey.
"Greece continues to save lives at sea and fight the smuggling networks, but it's not enough," Mitarachi tweeted on Saturday. "The loss of life in the Aegean is shocking. We must all condemn this criminality while calling on Turkey to redouble its efforts to prevent illegal departures."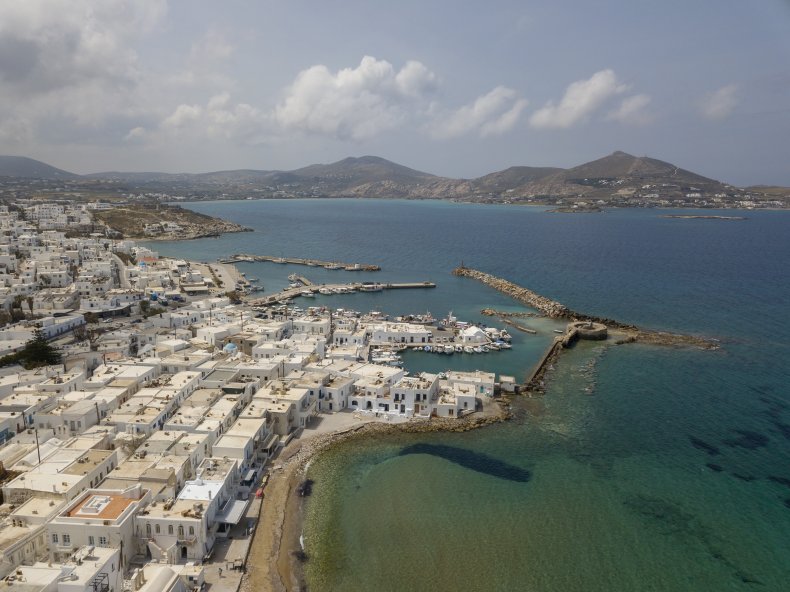 More than 160 were rescued across the separate incidents last week, including the capsizing near Paros. Smugglers are now seeking to avoid Greek islands near the Turkish coast that are heavily patrolled by the coast guard and European Union border protection agency Frontex.
Over the weekend, Merchant Marine Minister Yiannis Plakiotakis described the smugglers as "ruthless killers" who are cramming people onto unseaworthy boats and failing to hand out life vests, even to underage passengers.
Two of the suspects arrested Monday were 31 years old and the third was 40.
The Associated Press contributed to this report.