Three Charged in NYC After Yelling 'Kill All the Jews,' Attacking Jewish Teens With Baseball Bat
Three young men have been charged with a hate crime after they allegedly harassed and assaulted Jewish teenagers with a baseball bat and yelled antisemitic slurs outside a synagogue.
The New York Police Department (NYPD) arrested Danial Shaukat, 20, on Tuesday—and then Haider Anjam, 20, and Ashan Azad, 19—in connection with the alleged hate crimes and assaults, which took place last Saturday. The Brooklyn natives were charged with aggravated harassment as a hate crime, NBC News reported. While Shaukat has been arraigned in court, the other two have not yet gone before a judge.
On Saturday, the three men allegedly pulled up in their car outside the Agudath Israel of Sixteenth Avenue synagogue in Brooklyn's Borough Park neighborhood. They then reportedly proceeded to yell anti-Jewish remarks at a group of four men gathered outside the worship center, before the men quickly locked themselves inside.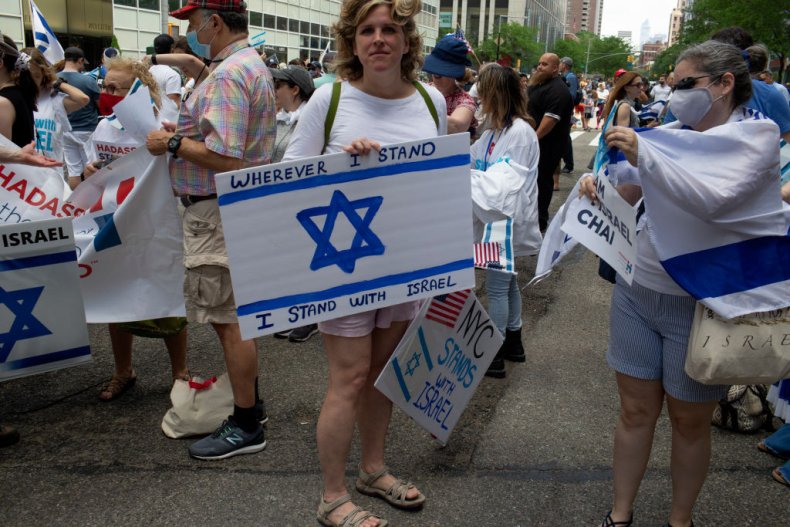 The men reportedly yelled, "Free Palestine. We'll kill all the Jews."
Police said the men then got out of their car and banged on the synagogue door and broke the mirror of a 2014 Audi Q7, according to surveillance footage. The suspects were also allegedly behind the assault of two Jewish teenagers shortly afterward. According to the criminal complaint, Anjam and at least one other man demanded that the teenagers yell "free Palestine." When the teens declined, they were allegedly beaten by the men with the bat.
The antisemitic attacks came amid an apparent uptick in violence targeting Jewish Americans as the long-standing conflict between Israel and the Palestinians escalated earlier this month. Although the Israeli military and the Palestinian militant group Hamas have agreed to a cease-fire, tensions remain high.
At least 230 Palestinians were killed as the Israeli military carried out airstrikes in Gaza, according to the Associated Press. Of those killed, 65 were children, while more than 1,700 Palestinians were wounded, the AP said. In Israel, 12 people died, including two minors.
New York City Mayor Bill de Blasio said earlier this week that the NYPD would be out "in force in Jewish communities to protect people" amid the uptick in antisemitic attacks. In a Monday statement, New York Governor Andrew Cuomo said he was "sickened" by the antisemitic assaults.
"This behavior does not represent who we are as New Yorkers, and the cowards responsible for these despicable acts are only seeking to divide and intimidate us—but we will never let hate win," Cuomo said.
Newsweek reached out to the NYPD for further comment but did not hear back before publication.