A lightning strike on a New York City beach sent six people to an area hospital on Thursday. Three among the injured were children.
The New York City Fire Department (FDNY) said crews responded to reports of injuries related to lightning striking Orchard Beach in the Bronx, where the National Weather Service had issued an excessive heat warning Thursday. The hot weather saw large crowds at the popular beach where the tragedy took place.
The six victims were all sitting on the sand when a fast-moving storm came in, rain started, and lightning struck the beach at 5:20 pm local time, according to city Parks Department spokeswoman Meghan Lalor.
"Prior to the incident, lifeguards had cleared all swimmers from the water, and Parks staff made announcements over the public address system instructing patrons to clear the beach," she said.
One person, a teenage boy, is reportedly believed to have suffered a direct hit that witnesses said appeared to send him flying into the air. He was hospitalized in critical condition and suffering cardiac arrest according to police sources. All six people who were injured were taken to Jacobi Hospital in the Bronx.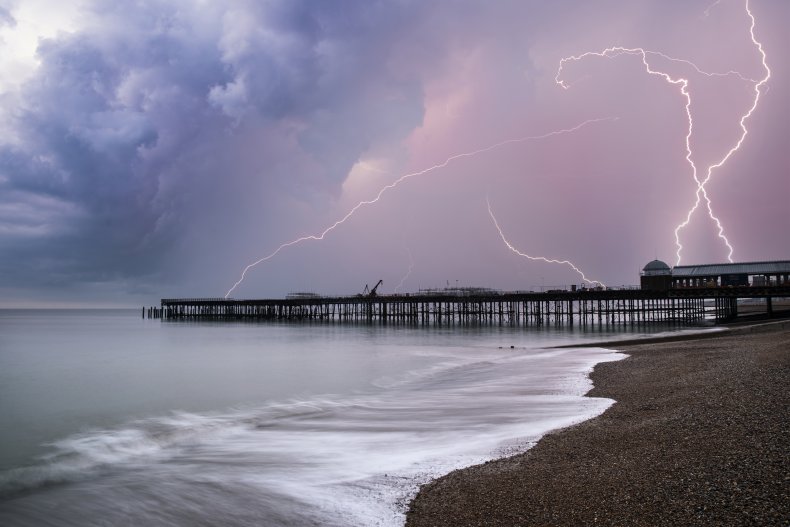 One of the victims is a 5-year-old boy, whose father told New York Daily News, "I was able to speak with my 5-year-old over the phone. He seems like he's going to be OK."
"They were out for an ordinary day at the beach. Once the rain started they got ready to leave, and out of nowhere, they were struck," he added.
The uncle of a teenager who was hurt said, "I don't know what condition they were in. They were getting ready to leave the beach and it came, the lightning. They were all struck. One of them was hurt really bad. They have him in a separate room and they're working on them."
Witnesses said other lightning strikes in the area near the boardwalk scared the crowds and sent people running for cover, according to reporting by News12. Witnesses also reported screaming, running and confusion in the midst and aftermath of the lightning strikes.
Details about the three injured adults have not been released.
According to the National Weather Service, lightning kills an average of 49 people per year in the United States, while injuring hundreds. The odds of being struck by lightning within an 80-year lifetime are 1 in 15,300.
There is not much a person can do to protect themselves from lightning during a thunderstorm except to seek shelter in a building or a car.
Newsweek reached out to the FDNY and Jacobi Medical Center for comment.