Details About Death of Three Children at Camp Lejeune Scarce
Officials at Camp Lejeune, a military base in North Carolina, say that three children died there on April 16 in two separate incidents. But few details have been released about the circumstances of their deaths.
The ages of the children and the manner of their deaths have not been made public at this time. However, Raleigh news station WRALreported that there were no shootings involved. The deaths are being investigated by the Naval Criminal Investigative Service (NCIS), which is "the civilian federal law enforcement agency uniquely responsible for investigating felony crime, preventing terrorism and protecting secrets for the Navy and Marine Corps," according to its website.
"We are aware of the tragic passing of three dependent children in two separate
and unrelated incidents on MCB Camp Lejeune April 16, and offer our deepest
condolences to the families of those affected," a Camp Lejeune spokesperson said in a statement to Newsweek.
"Out of respect for the families and the investigative process, we are not
providing additional information and [the Naval Criminal Investigative Service] does not comment on or confirm details relating to ongoing investigations," the spokesperson added.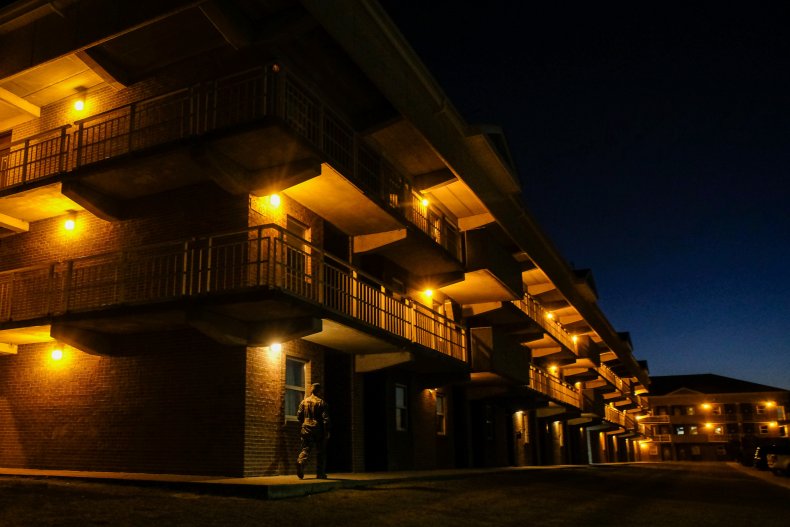 In an email to Newsweek, a spokesperson for the Naval Criminal Investigative Service said: "I can confirm that the investigations remain ongoing. Out of respect for the investigative process, NCIS does not comment on or confirm details relating to ongoing investigations."
Camp Lejeune is host to several Marine Corps commands and one Navy command, according to its website.
"The base and surrounding community is home to an active duty, dependent, retiree and civilian employee population of approximately 170,000 people. The base generates almost $3 billion in commerce each year, coming from payrolls and contracts to support the structure required to train and equip our modern Marines," its website states.
In a separate incident near Camp Lejeune earlier this year, a U.S. Marine was charged in connection with the deaths of two fellow Marines after he rolled over a military vehicle. An additional 17 service members were injured during the incident which occurred when the driver allegedly attempted to make a turn onto a highway but lost control, causing it to roll over. The vehicle being driven is known as a "seven ton," which the Department of Defense stated is used mostly to transport troops and equipment.
In another incident at the base in June 2020, a shooting and stabbing left one person dead and another seriously injured. The same year, officials at the Camp Lejeune warned personnel not to jog around an area creek at night after a slate of coyote attacks.
Newsweek reached out to Camp Lejeune for comment.