Three Designer Electric Fiat 500e Concepts Point to an American Comeback
The original Fiat 500e, an electric version of the teeny Fiat 500 coupe, went on sale in 2013 and lasted until 2019 in the United States, but it was only sold in California and Oregon. Now it's coming back to select locations country-wide, as Olivier Francois, Fiat CEO and CMO Global of Stellantis, officially announced plans to offer the fully electric Fiat 500e in North America at the Los Angeles Auto Show.
Fiat didn't say exactly where the electric 500e would land, but did say it will be targeted to select areas where short ranges are needed and the electric infrastructure is good.
"The Fiat brand had for some time been assumed to be on its way out of the US market. Dealerships across the country have closed and been replaced by Alfa Romeo and Maserati stores," president and chief analyst at AutoPacific told Newsweek.
"The sole offering for the last few years has been the 500X, which has sold in low four-digit volumes for several years now. However, the introduction of the all-electric 500e means that the brand definitely isn't dead in America, and it in fact brings the company firmly into the electric age."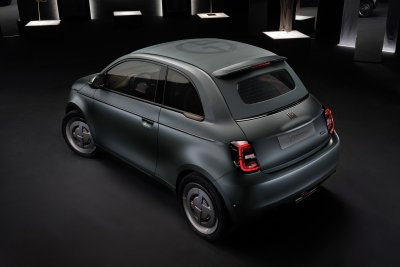 Francois was joined by three Fiat 500e concepts created by famous designers. They reflect Italian craftsmanship, creativity and sophistication and are a symbol of made in Italy, Fiat says. They were created with three pillars in mind: sustainable design, sustainable fashion and sustainable luxury.
The 500 Giorgio Armani features laser-etched bodywork to create a two-tone affect, leading to a gray/green color. It also has a unique opaque paint that is activated by UV light and reduces air pollutants and bacteria.
The "GA" logo is featured on the wheels and the fabric of the soft top. Amber-colored windows match the certified full-grain natural leather, sourced from Poltrona Frau, in color called "greige." The dashboard insert has reconstituted open-pore wood, with thin layers of aluminum inlay.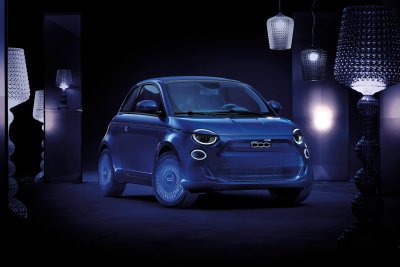 The 500 Kartell features sustainable plastics that the company has been working on in recent years. The exterior is all Kartell blue, but in many types of materials. Metal, glass, rubber, plastic and fabric all wear the hue.
The bodywork is in mirror-effect Kartell blue, which it obtained using an environmentally friendly chrome paint.
The brand logos stand out from the bodywork with a sandblasted polycarbonate overlay, to convey a sense of depth. That same recycled polycarbonate is used in the grille, mirror caps and wheels, inspired by the pattern of Kartell's Kabuki lamp. The interior is brightly lit and features recycled tactile plastic.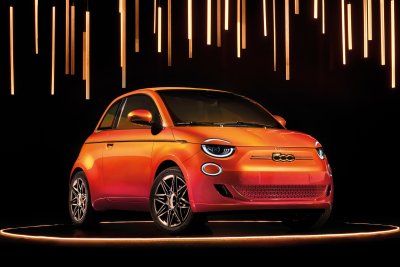 Bvlgari's 500e pays homage to Italian excellence with a one-off saffron-colored pearlescent paint, which is an iconic shade at Bvlgari "inspired by Roman sunsets." The "saffron" paint includes gold powder, recovered from the scraps of jewelry production. The B.500 Mai Troppo (meaning never too much) has glazed side sills and front moldings and star-shaped wheels, the historical symbol of Bvlgari. They also feature black lacquer with gold trim with a diamond-encrusted B.500 logo.
Inside, the B.500 has a dashboard made with heritage Bvlgari silk scarves of the past. The seats are leather with "Diva" pattern embroidery, gold details and inserts. Three semi-precious amethyst, topaz and citrine stones sit in a removable brooch in the center of the steering wheel.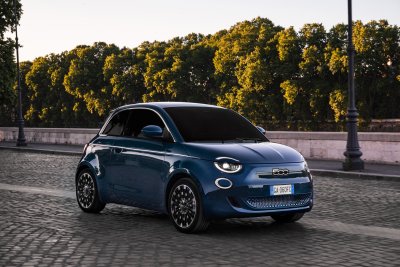 Francois didn't give an indication of an exact powertrain, but the new Fiat 500e, called Fiat New 500 in Europe, features a 199-mile range on the European test cycle (the US's harsher EPA cycle rates them lower) and 116 horsepower from an electric motor with a 42-kWh battery pack. A less expensive model on the European market comes with a 24-kWh battery and 94 horsepower.
It was offered as a two-door coupe first, but a three-door version was added in 2020. That model has a small rear-hinged door on the passenger side to help access to the rear seat. The Euro version features the Android-based Uconnect5 infotainment with a 10.25-inch touchscreen.
"The 500e is full of character and promises to be a fun drive. It will, however, be a niche vehicle in the US market. Its minuscule size, two-door bodystyle, and modest range (expected to be well under 200 miles on the EPA cycle) makes it a perfect second car for affluent city dwellers, but it won't likely be very relevant to those needing a primary car with good space and range," said Kim.
"Rather, it could be seen as automotive jewelry and a very stylish around-town conveyance for a well-heeled customer who also has a Maserati, Alfa Romeo, or a Porsche sharing garage space with it. In that sense, the new 500e won't likely generate huge volumes, but it promises to be a very cool high-image EV that will look right at home in the city."
The advanced driver assist systems include Autonomous Emergency Brake with pedestrian and cyclist detection, Intelligent Speed Assistant, Lane Control, Intelligent Adaptive Cruise Control and Lane Centering, and emergency call.
We'll get a better look at the production car next year at the Los Angeles Auto Show.