Three Firefighters Killed, Four Injured Battling Washington State Wildfire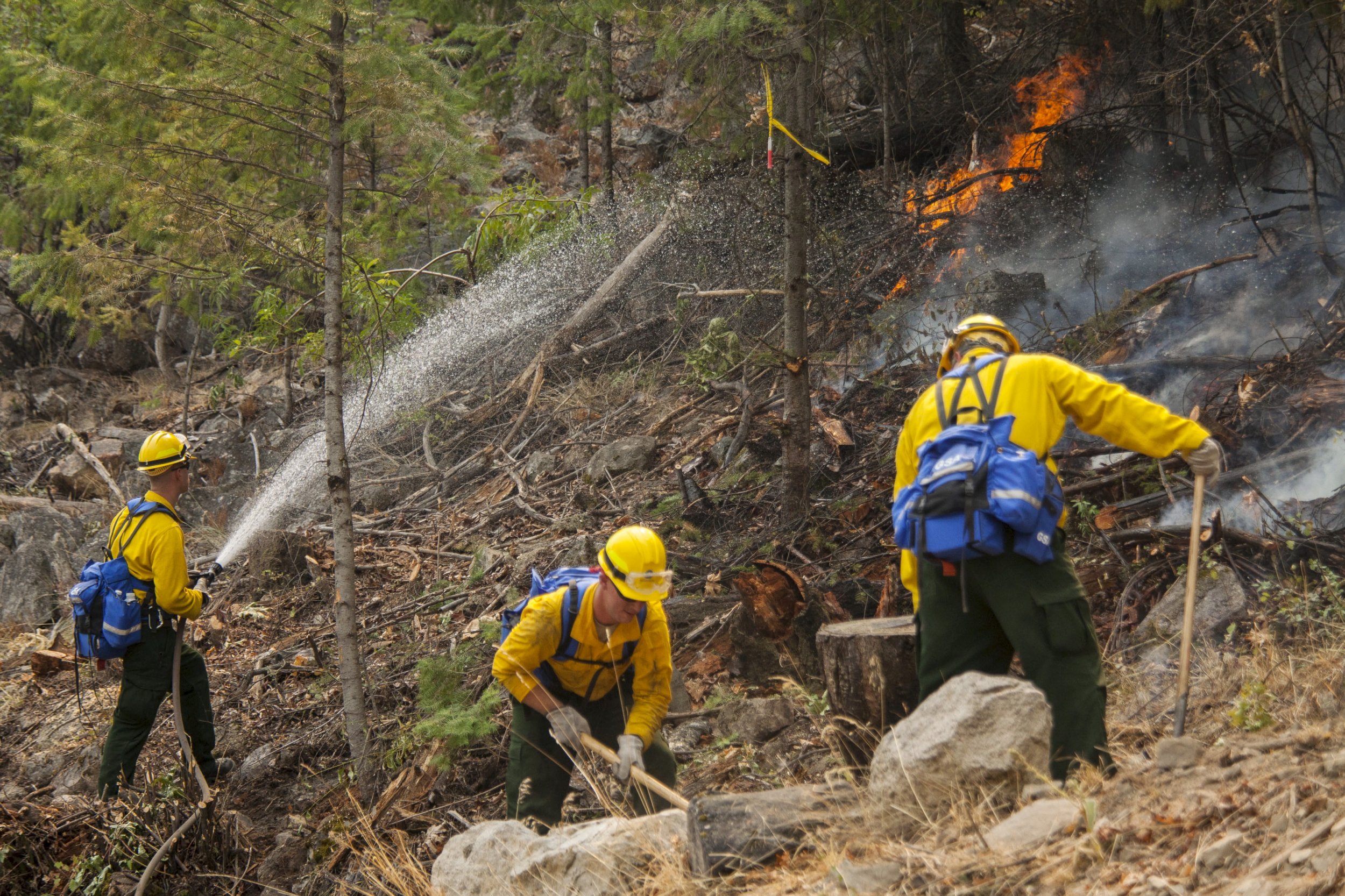 Three firefighters in Washington state were killed and four injured while battling a wildfire threatening the town of Twisp, officials said on Wednesday, as more than a dozen major blazes burned in parched Western U.S. states.
The deaths came as a fast-moving wildfire forced authorities late on Wednesday to order the evacuations of about 4,000 homes in Twisp and Winthrop, towns in the foothills of the Cascade mountains of north-central Washington, an emergency management team said on Facebook.
"I was just told that three firefighters died while battling the Twisp fire and four were injured," Washington governor Jay Inslee said in a statement.
The local county sheriff in Okanogan, Frank Rogers, said
the firefighters had been in a car accident before flames probably overtook the vehicle.
Fires have blackened more than 1 million acres (400,000 hectares) across the arid Western region, prompting fire managers to call in help from the U.S. Army and abroad to reinforce civilian crews.
Okanogan County officials were continuing to expand the evacuation zones late on Wednesday, and warned residents that forecasts over the next two days indicated strong winds that could fan the flames across dried-out forest.
Oregon Governor Kate Brown toured the fire area in her state on Wednesday and joined Idaho Governor C.L. "Butch" Otter in calling up state National Guard troops backed by military aircraft to help combat blazes in their respective states.
Based on "extreme fire danger," Washington state's Department of Natural Resources said on Wednesday it was moving to shut down all industrial forest activities, including timber harvest operations and road construction, across almost all of its eastern forested areas, believed to be the first such action in more than 20 years.
Inslee said he requested a federal emergency declaration, which would free up resources to help cover firefighting costs.
This week, the national year-to-date tally of area burned passed 7 million acres (2.9 million hectares). That figure had not been reached so early in the year for two decades.
To the south of the Twisp blaze, firefighters had dug containment lines around about half of a wildfire burning on the outskirts of Chelan, Washington, a resort town, fire information officer Lorena Wisehart said.
In central Oregon, wildfires near the rural community of John Day had destroyed three dozen homes and threatened many others.
In the mountains of north-central Idaho, blazes that grew to 100 square miles (260 square km) forced evacuations on Tuesday from dozens of homes near the small town of Weippe.
Fires in and around the Nez Perce Indian Reservation have consumed 50 homes and 80 outbuildings near the logging town of Kamiah, Idaho.
In California, suffering its worst drought on record, about 2,500 people were forced to flee Christian camps east of Fresno at Hume Lake as the so-called Rough Fire crossed Highway 180, officials said.
Another blaze that broke out on Wednesday near the northern California city of Livermore expanded to 2,500 acres (1012 hectares) in just hours, fire officials said.