Three Governors in Support of Lockdowns Have Been the Target of Kidnapping Plots in 2020
Ohio Governor Mike DeWine is the third governor reported to be the target of a kidnapping plot this year, joining Michigan Governor Gretchen Whitmer and Virginia Governor Ralph Northam.
All three governors are known for their support of lockdowns during the coronavirus pandemic. But business closures and stay-at-home orders have drawn opposition from those pushing for the economy to reopen, despite rising cases of the virus.
While DeWine is the only Republican and Trump supporter among the three, he was one of the first governors in the country to order a statewide lockdown. Even before Ohio reported a single confirmed case, the governor closed much of the annual Arnold Sports Festival, an event that draws roughly 60,000 spectators daily and was expected to bring in $53 million to the city of Columbus.
After three people tested positive for the virus in early March, DeWine declared a state of emergency for Ohio. Earlier this month, he refused to rule out a second lockdown.
"We don't have any plans to do shutdowns, but no governor can stand up here during a pandemic and say, 'Under no circumstances will we shut something down,'" DeWine said during an October 15 press conference. "That would be irresponsible. We have no plans to shut anything down." His actions have drawn criticism from state residents who have protested his stay-at-home order.
Over the weekend, state media reported a plot to kidnap the governor and put him on trial for "tyranny," with exile or execution a possible penalty. Republican activist Renea Turner, who is accused of leading the alleged plan to build a "posse" to arrest DeWine and has protested his coronavirus policies, has been connected to a group of Republican state legislators calling for the governor's arrest over the economic damage caused by his lockdown measures.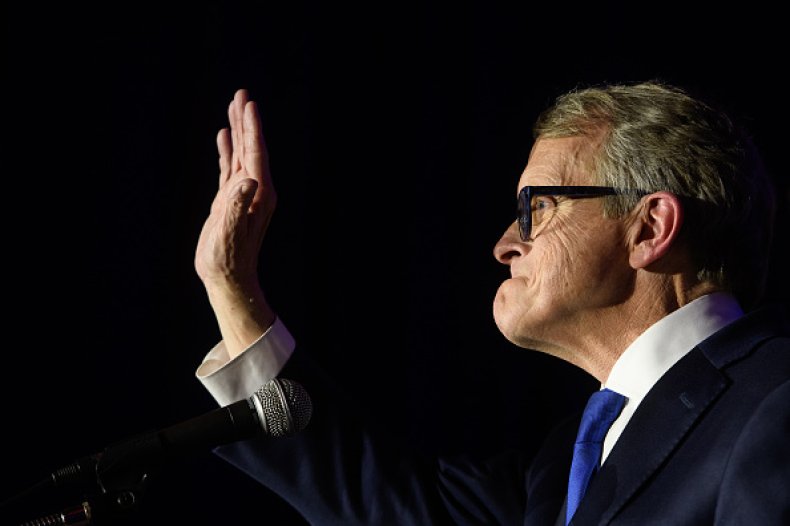 Last week, an individual whom Turner contacted filed a police report with the Piqua Police Department, saying he refused to participate in Turner's alleged plan.
The report states that the man received a phone call from Turner, who told him about plans to arrest DeWine. The man told her that he did not want to be involved and that he planned to report the incident to the police.
Turner confirmed to Cleveland.com on Friday that she discussed placing DeWine under "house arrest" with the man but said no specific plans were brought up. She also said state police visited her after reports of the alleged scheme surfaced.
The Piqua Police Department confirmed that the case has been referred to the Ohio State Highway Patrol. There are no reports that charges have been filed.
On Friday, DeWine addressed the reports of a plot in a press conference, saying he was not aware of any plans to place him under arrest.
"But look, we have people in every state who believe that they can take the law into their own hands," he said. "We have people who believe the government's illegitimate and they have every right to go and basically overthrow the government in one form or the other. I think it's incumbent upon all of us to denounce that and say that's wrong."
The alleged plot against DeWine comes just two weeks after federal officers arrested a group of men for conspiring to kidnap and kill Whitmer and discussed targeting Northam.
Earlier this month, DeWine called the plot against Whitmer "a despicable act."
"Thank heavens officials took appropriate action to stop this from taking place," DeWine said at an October 8 press conference. "It is horrible, and everyone has to denounce this."
At the time, he said he had not been the target of any similar scheme.
On October 9, the FBI said that 13 men accused of involvement in the plan against Whitmer were charged with various state and federal crimes, including terrorism, conspiracy and weapons possession. Several days later, authorities confirmed that the group also discussed "taking" Northam over his coronavirus safety measures.
President Donald Trump has openly encouraged protests against governors who have imposed strict lockdown restrictions in Virginia, Michigan, Minnesota and other states.
The alleged plot against DeWine is not known to be connected to the one against Whitmer and Northam.
Newsweek reached out to DeWine for comment but did not hear back before publication.
This story was updated with details from the police report filed with the Piqua Police Department.