Three Identity Thieves Arrested For Trying to Steal $120K From Deceased Surfside Victims
Three people have been arrested in connection to an identity theft case involving several victims in the deadly Surfside building collapse that devastated the Florida beachfront community in July.
Miami-Dade State Attorney Katherine Fernandez Rundle announced at a Wednesday press conference that seven victims of the condo collapse—five deceased and two who are still alive—were impacted by the identity theft.
On Wednesday morning, 30-year-old Betsy Alejandra Cacho-Medina, 38-year-old Rodney Choute and 34-year-old Kimberly Michelle Johnson were taken into custody for allegedly stealing the identities of the seven victims of the Surfside condo collapse.
They are being charged with multiple counts of identity theft, organized scheme to defraud and trafficking in credit cards.
"Johnson, Medina and Choute, and potentially other yet unidentified co-conspirators were all acting in concert to steal and utilize the identities of both deceased, and living survivors, of the Surfside tower collapse," Rundle said.
"Our community has been shaken at the horror that we've seen with the collapse of the Champlain Tower South condominium. Now we're also further aggravated and shocked by those who would use this tragedy," she added. "But we will not let any of those involved in these crimes get away with them."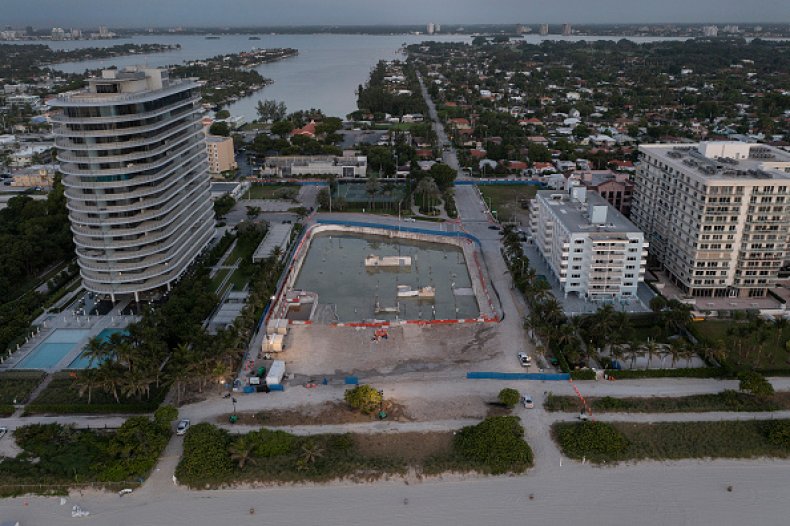 Rundle said the actions of the three suspects were first recognized by a sister of one of the deceased victims roughly two weeks after the 12-story building partially collapsed, leaving 98 dead.
Recorded phone calls played during the press conference showed the thieves allegedly pretending to be surviving victims of the building collapse asking for replacement credit cards to be sent to a new mailing address. A number of wire transfers were also initiated from the account of the deceased to other accounts.
Officials said the thieves allegedly put the cards to use immediately, with the lead suspect, Medina, allegedly purchasing a black Versace purse valued at $1,658.50 in Miami's Design District.
Days later, the same suspect, carrying her distinguishable bag, allegedly rang up a charge of $2,500 at Bloomingdale's in Aventura Mall to a different account belonging to another Surfside victim.
Investigators estimate that Medina, Johnson and Choute successfully stole $45,000 from the deceased victims. The suspects also attempted to steal an additional $67,000, but those attempted transactions were rejected by various banking institutions and different stores at the malls.
Medina's bail has been set at $1 million, Johnson's for $500,000 and Choute's for $430,000.
"This investigation has also shown that these individuals appear to be very skilled identity thieves. They're professionals," Rundle said. "Except for their names, almost nothing else seems to be true."
The suspects all used multiple addresses where they have reportedly never lived. They also provided counterfeit social security cards and driver's licenses.
The investigation remains ongoing at this time.
Speaking about the suspects, Surfside Mayor Charles Burkett said, "Today they got what they deserved and we're all much happier for it."
Update- 9/8/21 3:50 PM - This story has been updated with additional information.