These Are the 3 Inmates AG Barr Ordered Be Executed Ahead of Anti-Death-Penalty Biden Admin
Attorney General Bill Barr on Friday scheduled three death row inmates' executions, and each will take place shortly ahead of President-elect Joe Biden taking office on January 20. The move runs counter to Biden's plans to stop the death penalty.
Barr directed the Federal Bureau of Prisons to schedule the executions. A press release by the Department of Justice detailed the three men being sentenced to death: Dustin John Higgs, Cory Johnson and Alfred Bourgeois. All of their executions are now scheduled for December and January.
Bourgeois is being sentenced for abusing, torturing and murdering his own daughter. He had taken his two-year-old daughter with him for a trucking route, where he abused her by "punching her in the face, whipping her with an electrical cord and burning the bottom of her foot with a cigarette lighter," according to a DOJ press release. He killed his daughter in July 2002 by slamming her head against a truck window and dashboard, after she knocked over a training toilet.
Bourgeois had been found guilty and sentenced to death in March 2004. He had previously been scheduled to be executed in January 2020, but that was delayed for legal reasons. His execution is now scheduled for December 11 in Indiana via lethal injection.
Johnson was found guilty of murdering seven people and was part of a drug-trafficking conspiracy. The conspiracy took place between 1989 and 1992 in Richmond, Virginia. Johnson killed the seven victims "for perceived slights or rivalry in the drug trade."
Johnson was found guilty in February 1993, when seven death sentences were recommended by a jury. Johnson has appealed his case on at least one occasion. His execution was originally scheduled for May 2006, but was delayed due to a "preliminary injunction," which was cleared earlier this year. His execution via lethal injection is now scheduled for January 14 in Indiana.
Higgs was sentenced for kidnapping and killing three women between the ages 19 and 23. He had invited the women to his apartment. When one rejected an advance from him, he drove the three to a secluded area where another man shot and killed the three women. He had offered them a ride back to Washington, D.C.
In October 2000, a jury found Johnson guilty on many charges, including "three counts of first-degree premeditated murder, three counts of first-degree felony murder, and three counts of kidnapping resulting in death." He had also appealed his sentence at least 17 years ago. Higgs' execution is now scheduled for January 15.
Biden reiterated his stance on the death penalty on Saturday. "The president-elect opposes the death penalty, now and in the future, and as president will work to end its use," his campaign press secretary TJ Ducklo said in a statement to Axios.
Newsweek reached out to the Department of Justice via an Office of Public Affairs contact form, but did not receive a response in time for publication.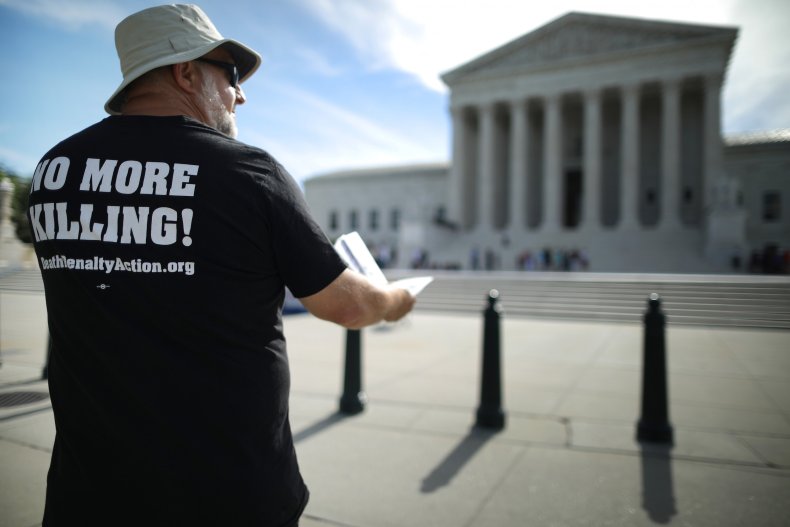 Update 11/21/20 3:15 p.m. EST: This story has been updated to include the statement from Biden's press secretary about the president-elect's stance on the death penalty.