Three Israelis Killed in West Bank Shooting, Hamas Lauds 'New Chapter' of Palestinian Uprising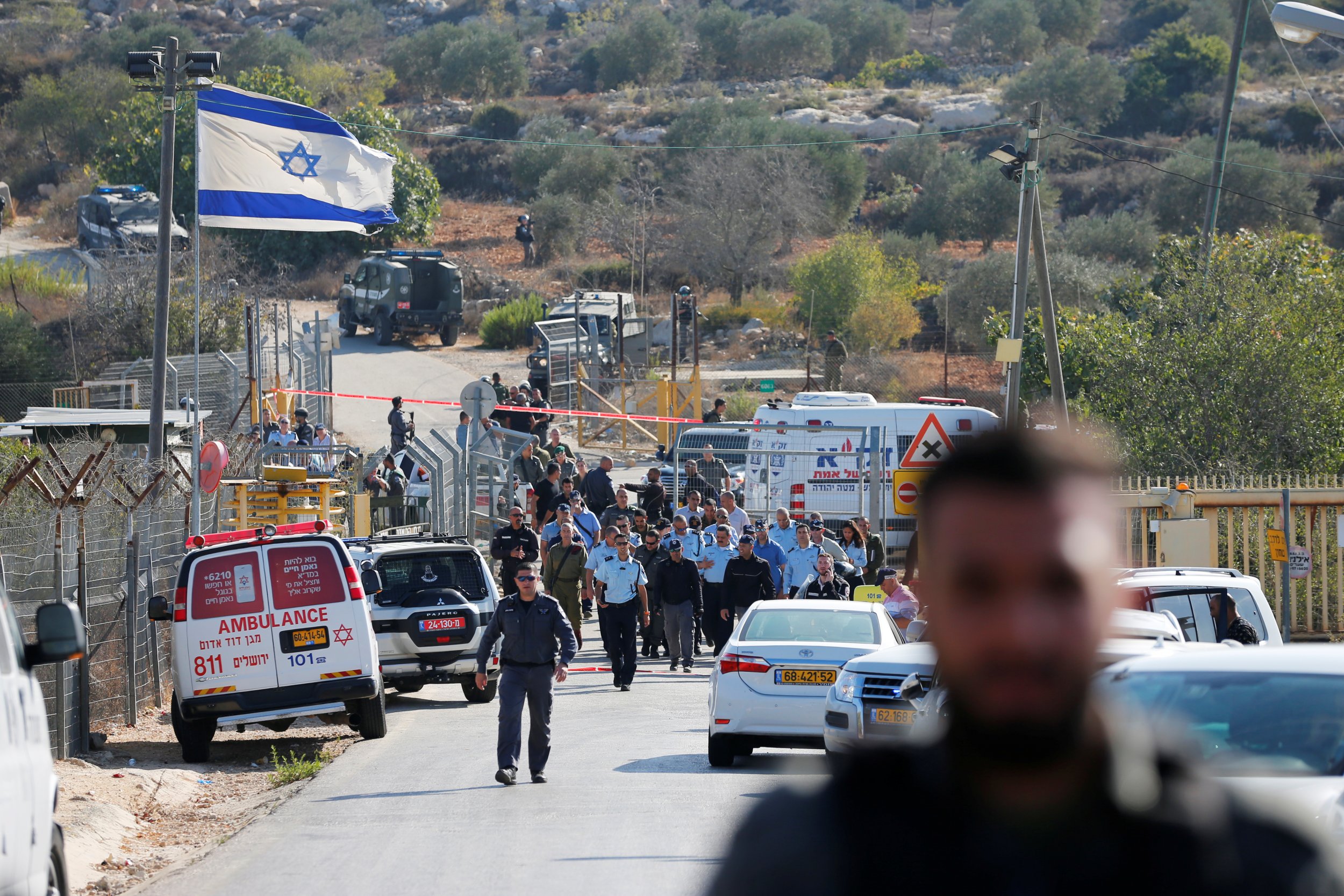 A Palestinian gunman killed three Israelis at a West Bank settlement on Tuesday before being shot dead, in an attack that Palestinian militant group Hamas called a "new chapter" of a Palestinian uprising.
In reaction to the attack, Hamas did not claim responsibility but suggested the attack was related to alleged Israeli moves to impose its identity on the contested city of Jerusalem. A Hamas spokesmen Hazzam Qassam said that "the terror attack in the Jerusalem area is a new chapter in the Al-Quds intifada that proved all attempt to Judaize the city will not change the fact that Jerusalem is an Arab and Islamic city, whose residents and tourists will redeem in blood or life," referring to the Arabic term for Jerusalem, or the "holy one."
The 37-year-old attacker from the West Bank village of Beit Surik killed an Israeli border policeman and two security guards at the settlement of Har Adar, situated west of Jerusalem.
The man had a work permit and entered the settlement at a back entrance with other construction workers before border policemen stopped him for suspicious behavior, at which point he pulled a gun from underneath his shirt. Security personnel shot him dead in response.
The gunman had passed through Israel's stringent security checks that would have allowed him to receive a work permit in the settlement, as well as Israel.
An Israeli police spokesman did not reply to requests for comment.
Hamas, which presides over the Gaza Strip, a coastal enclave, has fought three wars with Israel since 2008. Its core aim is to eradicate Israel and restore what it says is "historic Palestine," in reference to territory before the creation of the State of Israel in 1948.
From September 2015 onward, Palestinians launched a campaign of individual stabbing, shooting and car-ramming attacks against Israelis in the West Bank and Jerusalem, and several Israeli cities. Israeli security forces killed more than 200 Palestinians in clashes in the same period, say more than half of them were attackers.
Palestinians have accused Israel of seeking to alter the status quo at a contested holy site known as the Haram al-Sharif, or Noble Sanctuary, to Muslims, and the Temple Mount to Jews. Israel denies that it is changing the status quo, but only implements new measures to enhance security at the site.
Several attacks have taken place at settlements, most by unauthorized infiltration or people do not have a work permit to enter or approach the settlement. Since the wave of attacks began in 2015, there has only been one other case like that of the gunman on Tuesday, Israeli newspaper Haaretz reported.
Israeli President Reuven Rivlin said that "in these difficult hours, our hearts are with families of the killed. The cruel terror attack proves once again the daily front that our security forces face in the most important mission—protecting and defending the safety of the citizens of Israel."
The peace process between the Israelis and Palestinians remains moribund after a series of failed peace moves between the two over a range of issues. Palestinians cite the military occupation of East Jerusalem and the West Bank, the wide network of Jewish settlements in these territories, and the continuing economic blockade of Gaza.
The Israelis say that Palestinian leaders are no partners for peace, accusing them of incitement to violence, with rhetoric that pushes young Palestinians to carry out attacks against Israelis.