Three Judges Suspended After Drunken White Castle Gunfight
A trio of judges who got into an alcohol-fueled donnybrook outside of a, Indianapolis White Castle restaurant have been suspended from the bench, reported the Indianapolis Star.
Bradley Jacobs, Andrew Adams and Sabrina Bell have all been suspended without pay for the incident on the morning of May 1 at the 55 West South Street branch of the franchise.
The judges were in town for the annual Spring Judicial Conference and had been barhopping. When they found that Red Garter Gentlemen's Club was closed for the night, they went to the White Castle.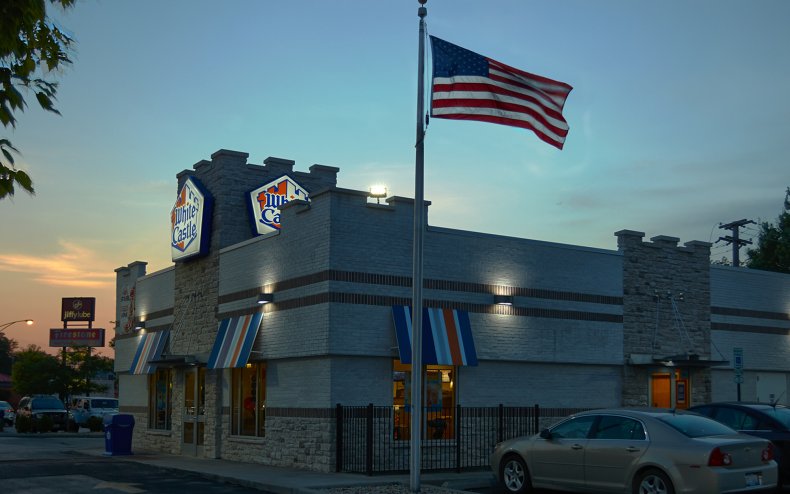 According to the Star, while the three judges waited outside of the restaurant a blue SUV drove up. One of the two men in the vehicle yelled something, after which Bell flipped them off.
Alfredo Vazquez, the SUV's driver, parked the vehicle, and he and passenger Brandon Kaiser got out. They approached the group of judges and began to argue. Adams, Jacobs, Kaiser and Vazquez physically fought, and at one point Adams kicked Kaiser in the back as he was attempting to regain his footing.
Kaiser allegedly retaliated by pulling a pistol and shooting Adams in the stomach and fired an additional two shots in to Jacobs' chest.
A fourth judge, Clark County Magistrate William Dawkins, was inside the restaurant during the altercation. Kaiser and Vazquez got into their car and drove away.
According to Fox 59, police heard the gunshots from a distance and moved to the White Castle to investigate. They called emergency medical services to transport the wounded judges to the hospital, and police took a statement from Adams where he admitted to drinking "a lot of Pabst Blue Ribbon."
Kaiser and Vazquez were picked up later by police. Vazquez has already been sentenced to 180 days of home detention and a year of probation for his role in the fight as well as for violating his parole.
Kaiser will stand trial in January for eight felony charges, including four counts of Level 3 felony aggravated assault, and six other crimes.
The court's opinion ruled that all three judges "engaged in judicial misconduct by appearing in public in an intoxicated state and behaving in an injudicious manner and by becoming involved in a verbal altercation."
Adams pleaded guilty one count of misdemeanor battery and was sentenced to a year in jail, with two days served and the rest suspended. He will serve a 60-day suspension, while the other two judges will be away from the bench for 30 days.