Missouri Juveniles Arrested for Bullying 13-year-old Autistic Boy By Pointing Gun at His Head
Three juveniles have been arrested in connection with a video that appeared online showing a 13-year-old with a gun pointed at his head before being punched several times by an older youth.
Police in Independence, Missouri, confirmed that 17-year-old Alexander Schrader turned himself in. He had been sought as a person of interest after the shocking video was shared on social media. Two other juveniles have also been taken into custody.
"We take incidents like this very seriously and handling cases involving violent crime is a top priority," the Independence Police Department said in a statement. The force added that additional information, including what criminal charges will be brought, will be disclosed at a later time.
The video shows a boy on his knees being taunted by a group of youths, demanding that he kisses a teen's foot. At one point, another male points a pistol at the boy's head while appearing to also record the incident on his phone.
The first teen then tells the boy to stand up before repeatedly punching him in the face.
The young victim was later identified as the 13-year-old son of Emily Bridges, with the boy reported to be on the autism spectrum.
Bridges said she saw her son come home covered in cuts and bruises and wasn't sure why. It was only when her other son showed her the clip that she realized what happened.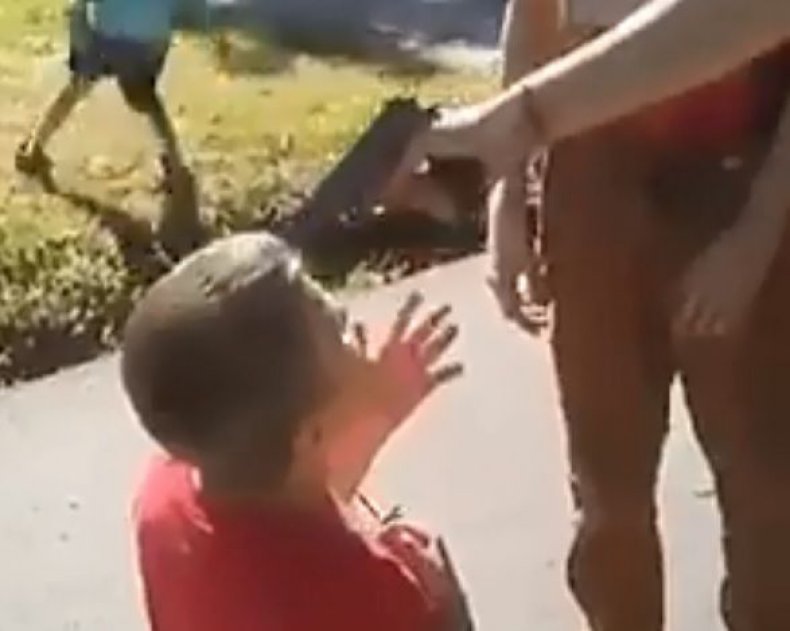 "I was hurt," Bridges told KDFW. "I was angry. I was crying. I was mad. I was upset because he didn't defend himself.
"It's sad that other kids think it's OK to treat people that way," Bridges said. "I don't want my kids to treat people that way, and I don't allow them to.
"I think a lot of them don't have parents that care," Bridges added. "Not that they don't have them but just aren't around and don't care."
Joseph Lee, the medical director at the Hazelden Betty Ford Foundation Youth Continuum, which deals with youth bullying, said the video is proof that young people need to be taught how actions have consequences.
"As a child psychiatrist, I know that the impacts of this don't go away quickly. These situations can impact people for a lifetime," Lee told KDFW.
"We have a responsibility to teach young people to treat other people as fellow human beings. It's obvious that we are failing them too often when it comes to situations like this."
Missouri Juveniles Arrested for Bullying 13-year-old Autistic Boy By Pointing Gun at His Head | U.S.